You don't need to be a competitor to have an offseason. Many lifters who never set foot on a stage still use the cold weather—and its accompanying extra clothing—as an opportunity to load up the plates and train heavy, while also loading up their dinner plates and allowing their body fat to climb a little higher.
Adding size is fairly incompatible with keeping your midsection ripped, so ab training often takes a back seat during the offseason. This is a mistake!
While you'll never achieve that lean six-pack when following a bulking diet, it would be a mistake to think ab training is now a waste of time. You're just not following the right kind of ab workout!
Here's the plan to help you add the good kind of mass to your midsection, so you'll have more impressive definition the next time you cut down!
Offseason Ab Training for Peak Development
Most ab workouts are built around moderate to high reps, making your midsection burn. Combined with a restricted diet and cardio to tip you into a caloric deficit, that's a great way to approach your springtime or summer ab training.
But in the middle of winter, when your focus is on getting every other body part to grow, why not take the same approach to your rectus abdominis, which is the muscle that makes up your six-pack. You won't have to change up your offseason nutrition one bit.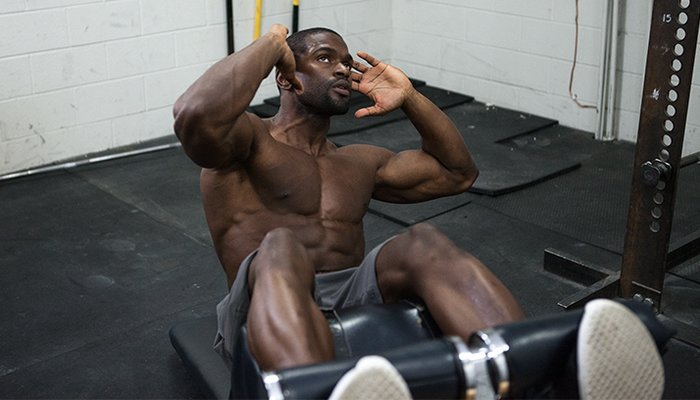 So what will change? Your training style. While the abdominals have a greater percentage of slow-twitch muscle fibers than other skeletal muscle groups, the focus here is on the fast ones, those that respond best to heavy training by growing. That means doing fewer reps and blasting your abs with resistance-based exercises that spark significant hypertrophy, building up the ridges and peaks of your midsection—even if you can't see them right now. By thickening them up, when you return to your spring diet to lean out, you'll have a more three-dimensional six-pack to ultimately show off.
You'll be forgoing bodyweight ab exercises for ones that require resistance. And while there's no magic target rep range, you'll focus on the classic hypertrophy range of 8-12 reps, training to failure, and increasing the load when you can complete more than 12 reps. This approach doesn't make the abdominals burn the way high-rep sets do, but it will surely increase their strength and size, particularly if you don't often train in this rep range.
Building An Offseason Ab Routine
The "offseason" isn't a defined time of year for noncompetitors, and it depends on where you live and when you plan to start leaning out. For our purposes, we're going to give it three months, which may well correspond to your offseason training for your other body parts.
While you may have a program in mind for chest, back, and legs, you're going to follow three one-month programs for your abs, which will be defined below. Training abs three days a week for 4-1/2 weeks—with at least 48 hours between workouts—essentially gives you 13 workouts per month, at which time you'll choose another routine for the next 13 workouts.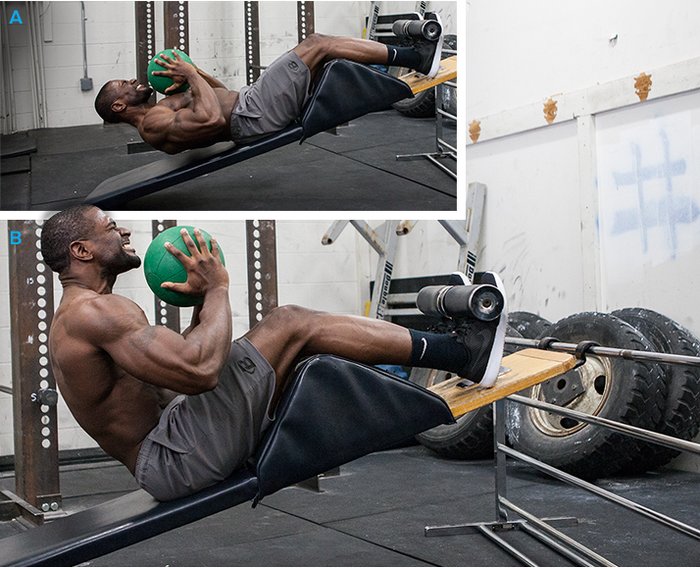 Provided is a short list of exercises to choose from, but it's not an exhaustive list, so you can add to it. You'll notice that all of the movements allow you to change the load, either by adding more plates or increasing the difficulty of a movement by increasing the bench angle. You'll want to select a weight that you can do for just 8-12 reps. Just as important, as you get stronger, don't fall into a comfort zone in which you simply repeat the workout you did earlier; add weight once you can do 12 reps.
Increasing your weight shouldn't be a foreign concept, because it follows the same principle of progressive overload that you use with all your other muscle groups. As you get stronger, don't simply increase the number of reps you can do. Once you hit 12 reps, bump the load up by 5 percent. The number of reps you'll be able to do will fall, but quickly rebound as you gain strength. This will help ensure you better build up the ridges of your six-pack.
How To Get The Most Out Of This Program
While this program is designed to give you options, stick with your initial approach for a month, so you can measure progress and have the opportunity to increase load. Randomly mixing up movements makes it difficult to measure progress.
After a month, feel free to change up the order of the movements (starting with lower abs, for instance) or performing two movements from one group and dropping another group.
Write down your weight and reps, and keep rest time between sets consistent—about 45-60 seconds between sets. As fatigue builds up during a workout, you may have to adjust the resistance downward to ensure you stay in the target rep range. Remember, you're not training for a "pump" here, so you may experience a different feeling in your abs from other kinds of workouts.
Give this three-month ab-building program a try, then launch into a cutting program to burn off the body fat. You'll definitely want to dial in your diet to help bring your body fat down. That's when you'll realize the uniqueness of this program!
3-Month Ab-Building Program
3 sets, 8-12 reps (rest 45-60 seconds)
3 sets, 8-12 reps (rest 45-60 seconds)
3 sets, 8-12 reps (rest 45-60 seconds)