The 2022 NOBULL CrossFit games is right around the corner as the season kicks off February 24th with the CrossFit Open. With the Open quickly approaching, I sat down with Dani Mosbrucker. She is a CrossFit Level 1 Trainer who was deemed the fittest woman in Idaho in 2018. She was on the team that took 15th in the CrossFit games in 2016 (Took 1st in West Regional) and was a part of the Boise State University Cheer team that won USA Nationals in 2016. Dani has competed in the Open since 2014, so I asked her to give us a better understanding of the life of a CrossFit athlete and how the games work. 
Hey Dani. First Introduce yourself and tell us how you got into Crossfit originally?
I'm Dani Mosbrucker. I grew up doing competitive gymnastics for eleven years until I retired and started college at Boise State University in 2012. During that time in college, I wasn't participating in any sports. This, for me, was challenging since I had spent most of my life in sports and stayed constantly busy. Then, in 2014, I was living in the dorms, scrolling through Facebook one night, when I came across a friend's post of her doing a rope climb at a local CrossFit gym. When I saw this, I thought to myself, "Hold on. What is she doing?" I started looking more into the post and saw that she tagged Boise CrossFit. This intrigued me enough to start googling CrossFit, and I started seeing clips of previous games and ripped women doing muscle-ups on rings. I thought to myself, "This is amazing. If they are climbing ropes and conditioning like I used to in gymnastics, I am interested in doing that." That same night, I googled the location of Boise CrossFit and drove over there. Of course, they were closed since it was late, but I saw the schedule on the door and decided to drive back the next day. When I showed up the next day, one of the coaches approached me and I asked him how to get started. He asked if I could come back later for a class, so I did. At that time, they didn't have an onboarding class like we do now, so I just jumped in and followed along. The rest is history. This experience also gave me the motivation to try out for the Boise State Cheer Team, so I did that for the last couple of years of college as well.
What is your favorite part about being in CrossFit? 
For me, it's all about how inclusive they have made it. CrossFit does an amazing job of making sure anyone and everyone can be involved. For example, in the CrossFit Open, it is available for anybody. One thing we tend to hear from newer CrossFit athletes is "I'm new to CrossFit. I can't compete." However, that's not the case. Yes, it is a part of the journey to get to the games, but the bigger picture is to be a part of the biggest fitness community in the world. It lets you be a part of this huge community where you can have fun with other CrossFitters around the world. We always encourage newer people to join because it also makes them work harder, usually they learn a new skill, and it gives them a measurable benchmark to beat next year.  
To take this even further, CrossFit has introduced 16 adaptive divisions to ensure people are able to compete with others who have similar disabilities. They even have age groups that range from 14 to 60+, so you can compare that way as well. Most importantly for me, CrossFit does a good job of making it an even playing field for men and women. Women who compete in the Games get the same media exposure, same number of spots, complete the same workouts, and win the same amount of prize money if they place. This is definitely my favorite part about being in CrossFit.
What made you want to get into competing in CrossFit?
Coming from a competitive background, it was inevitable for me. About two months after I started doing CrossFit, everyone around the gym was talking about the Open and encouraging me to sign up. I didn't even know what the Open was, but I still signed up because everyone said to sign up. I am so glad I did though because every year, they do repeat workouts. If you don't do the Open, then you don't see how much you improved the next year because they test that same workout. Although you don't do that same workout every day or very often in between each Open, you still get to see the improvements you made in your overall fitness. I wasn't doing it competitive per se, I did this more to be involved with the CrossFit community. The next year (2015) though, I did much better in the Open and was leader boarding a little bit. I was seeing how far I was ranking next to women in the US and women in Idaho. At the time, they had the fittest woman in Idaho and that really drove me to wanting to be more competitive. I also was asked to partner with another woman in my gym for the Fort Vancouver Invitational, so that was my first real exposure to a competition outside of the gym. That experience at the invitational was eye opening because I did horrible. I thought I was fit until I competed at this invitational with all the other women. This made me realize I had a lot to work on and I wanted to try to be able to make it to the games.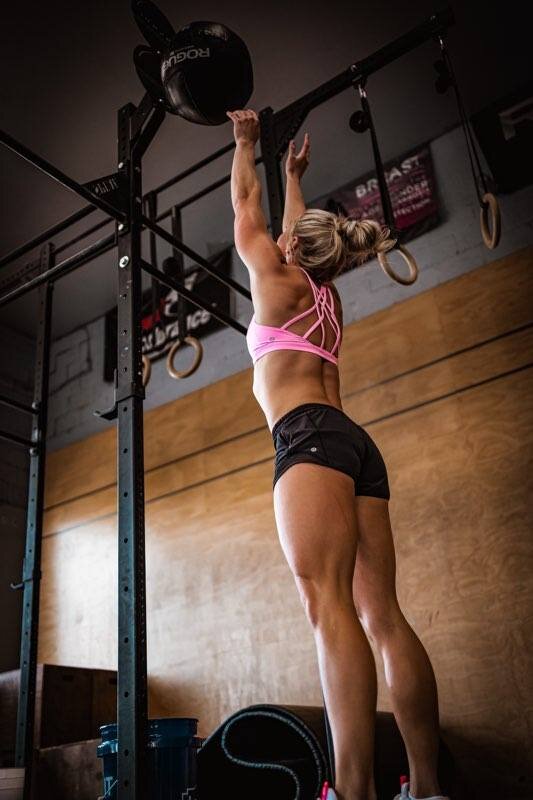 Can you explain how the CrossFit season and games work? 
The first phase to qualify for the CrossFit Games is the worldwide CrossFit Open. This is available for anyone to join and hundreds of thousands join each year. It is three weeks long and there is one workout per week. Each week, the workout opens on Thursday online and closes on Monday, so you only have 4 days to complete the workout. You are welcome to do the workout as many times as you want in that timeframe to improve, but it is always super challenging. Once you feel comfortable with your results, you submit them online and they have to be validated by a judge.
Once that is completed, the top 10% from each continental region move to the Quarter Finals. This is also an in-house competition, so you can do it at your gym, garage, or wherever you workout. Instead of it being three weeks long though, it is only four days long and if I remember correctly, we had four workouts to complete last year in those four days. This means you don't have time to re-do workouts and you have to strategically plan which workouts you're going to do each day. From here, depending on the region, the top 30 to top 120 men and women move on to the Semi-Finals. 
The Semi-Finals is a live competition and is over a weekend. Depending on which region you're in, they'll send you to the Semi-Final closest to you. To move on the CrossFit Games, again dependent on the region, you have to place in the Top 5. 
At the CrossFit Games, it is the top 40 male and female athletes that compete. This is usually a four to five day competition and after certain events, they cut the playing field down to 30 athletes and then 20 athletes.This is why you have to be well-rounded because the events are totally randomized. 

How do you prepare for the Open and Games as you progress through the different stages? 
One of the funnest parts about this whole experience is preparing for the unknown. We don't know what the workouts are going to be until the day of. This means the whole year, you are just preparing for what's trended in the past competitions. With the Open for example, we know there will be certain workouts they won't do like running because you can't validate it easily. This means it is confined to movements in a gym setting that are easy to judge to a common standard. This means we focus on common workouts that are easily accessible about 2 months leading to the open to prepare. Usually, the open workouts are high in intensity and short. This means we emphasize high intensity workouts to gain that endurance and stamina, so we can push as hard as we can when it comes to the actual Open workouts. Also, one thing Boise CrossFit does specifically is Open clinics. We usually start these 5 weeks out from when the Open begins, and it's one class a weekend. During these classes, we focus on specific movements. For example, last weekend we did an advanced gymnastics clinic, and it was focused on bar muscle-ups, ring muscle-ups, handstand walking, etc.  
Who do you think will be the top contender and a couple people to watch for in the Games? 
For the male Division:
Favorite: Justin Medeiros. Justin actually was a member at our gym, Boise CrossFit, when he was going to school at Boise State. I feel like he is the favorite to win though because he took first in last year's competition.
People to watch: Patrick Vellner, Saxon Panchik, and Roman Khrennikov
All of these guys have done very well in the past and think they could be up there this year. With Roman, he has actually qualified for the last 4 years, but hasn't been able to get a visa to compete in the Games. He has one this year, so he might surprise a lot of people. 
For the female division: 
Favorite: Tia-Clair Toomey. Tia-Clair has won the last five years in the women's division. I am putting her as my number 1 because she just seems unbeatable. 
People to watch: Laura Horvath, Amanda Barnhart, and Mallory O'Brien
All of these girls can put pressure on Tia-Clair. With Mallory O'Brien, last year was her rookie year and she finished in the top 10 which is just insane. 
For someone just getting into CrossFit, what supplement recommendations would you give? 
Diet will be key first. You want to make sure you are eating real food, but also watching the amount you eat. After that is dialed in, then I recommend: 
Creatine - With CrossFit requiring a lot of endurance, creatine may help your body produce more cellular energy, so you can do that extra rep. When you are able to complete that extra rep especially in something like the CrossFit open, it can help you place hundreds of places higher in the rankings due to how many people join. 
Fish oils - With CrossFit being high intensity, inflammation does happen in the muscles and joints. By taking a fish oil, it could help counteract that, and fish oils are associated with a lot of other benefits for overall health. 
Protein -  it is super important to make sure you are getting the nutrients needed to repair muscle after these workouts, so this is definitely something I recommend taking post workout.