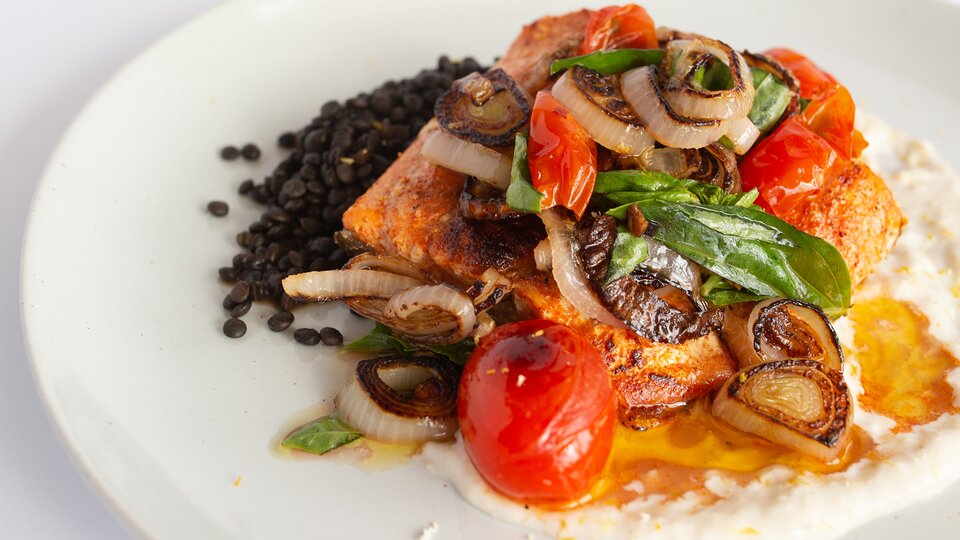 This protein-packed dish looks fancy, but it's easy to prepare. Named after the glistening black beluga caviar they resemble, black beluga lentils hold their shape and texture once cooked to make the final meal look quite extravagant. If you can't find black lentils, replace them with French green lentils (Le Puy). You can also use grilled chicken instead of salmon.
Ingredients
1 cup black lentils
1 whole bay leaf
4 fillet salmon fillet
1 tbsp extra virgin olive oil
2 tsp olive oil
3 tbsp olive oil
2⅓ cup cherry tomatoes
1 shallot, finely chopped
⅓ cup fresh basil leaves, chopped
2 tbsp red wine vinegar
¼ tsp table salt
¼ tsp, ground black pepper
1 cup nonfat plain Greek yogurt
3 tbsp horseradish
1 tsp lemon zest
Directions
Place lentils, bay leaf, a couple pinches of salt, and 3 cups of water in a medium saucepan. Bring to a boil, reduce heat to medium-low, cover, and simmer for about 20 minutes until lentils are tender but still al dente. Drain any excess liquid.
Meanwhile, preheat oven to 300 degrees F. Season salmon with salt and pepper and place on a baking sheet lined with parchment paper. Bake fish for 15 minutes, or until just barely cooked through in the thickest part of the flesh. You can also prepare the fish on an outdoor grill.
Heat 2 teaspoons of oil in a skillet over medium heat. Add tomatoes and shallot; heat until tomatoes soften and begin to shrivel, about 3 minutes. Place tomatoes and shallot in a bowl and stir in 3 tablespoons oil, basil, vinegar, salt, and pepper.
Stir together yogurt, horseradish, and lemon zest.
To serve, spread 1/4 cup yogurt mixture onto each of 4 serving plates, and top each plate with an equal amount of lentils. Place salmon on lentils and top with tomato dressing.