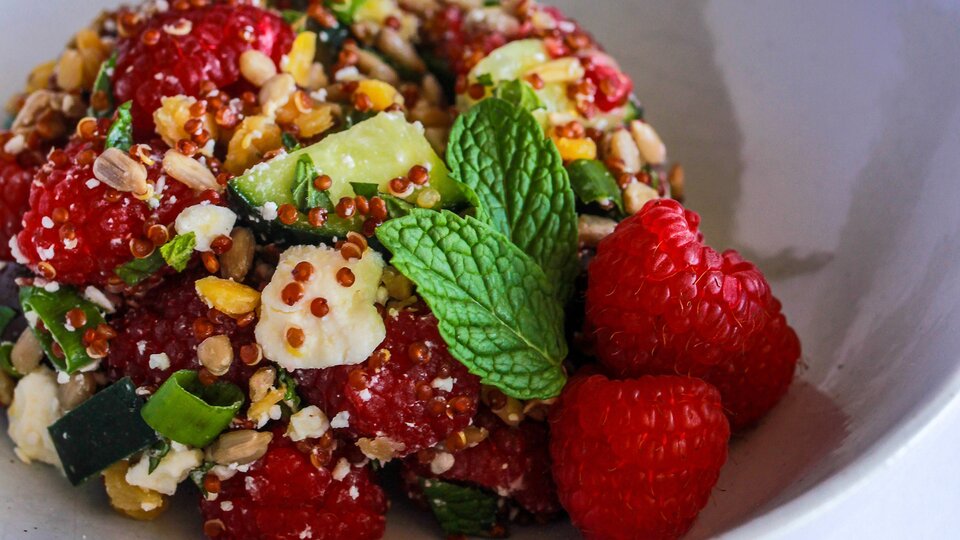 Looking for a way to breathe new life into your lunch routine? Prep this satisfying and ultra-nutritious salad that combines all sorts of great flavors and textures. Fresh raspberries add a nice sweetness, while lentils will help keep your blood sugar on an even keel. You can also use black lentils in this recipe, and replace the quinoa with brown rice. The salad can be made up to three days in advance and chilled for subsequent use.
Ingredients
¾ cup green lentils
¾ cup red quinoa
2 cup raspberries
1 cucumber, chopped
½ cup kalamata olives (pitted)
½ cup reduced-fat feta cheese
⅓ cup mint leaves, chopped
2 whole green onion, chopped
⅓ cup sunflower seeds, roasted, without salt
3 tbsp extra virgin olive oil
2 tbsp lemon juice
¼ tsp red chili flakes
¼ tsp, ground black pepper
Directions
Place lentils in a medium saucepan and cover with about 2 inches of water. Bring to a boil, reduce heat, cover, and simmer for about 20 minutes until lentils are tender but still al dente. Drain, place in a large bowl, and let cool.
In a separate saucepan, bring quinoa and 1-1/2 cups of water to a boil, reduce heat, cover, and simmer 12-15 minutes until quinoa is tender and water has been absorbed. Keep covered and set aside for 5 minutes, then fluff with a fork. Add quinoa to bowl with lentils.
Add raspberries, cucumber, olives, feta, mint, scallions, and sunflower seeds to the lentil-quinoa mixture and toss gently to combine.
Whisk together olive oil, lemon juice, black pepper, and red chili flakes. Add to salad and toss gently.