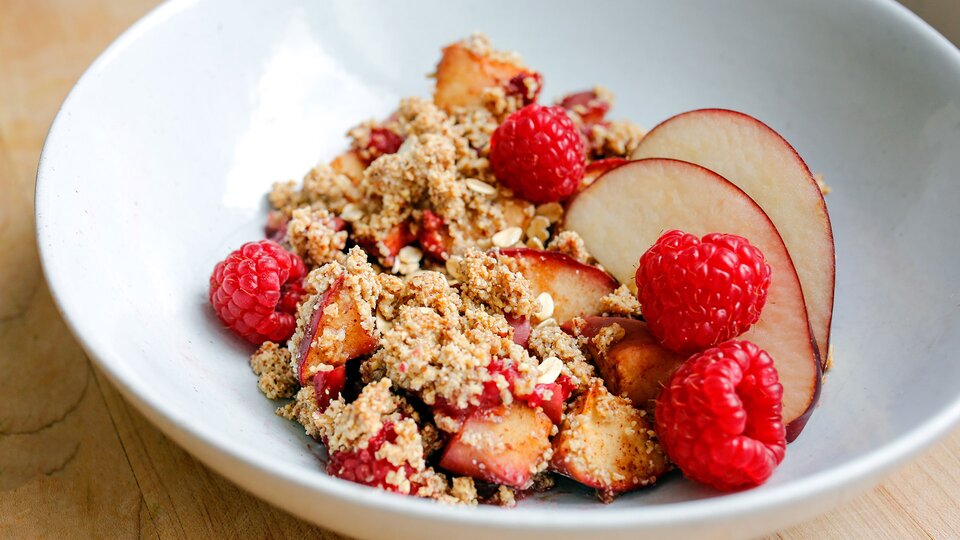 This healthy crumble recipe is free from the eight primary allergens and is a health-conscious treat fit for any diet plan. Once again, quinoa provides a complete source of protein in this dish, even in the form of dessert.
Ingredients
2 red delicious apples, chopped
2 cup raspberries
2 tbsp coconut sugar
1 tbsp cinnamon
¼ cup extra virgin coconut oil
1 tsp cornstarch
¼ cup ground oats
¾ cup quinoa flakes
2 tsp lemon juice
1 pinch table salt
Directions
Heat the oven to 350 degrees F.
In a large bowl, combine the apples, cornstarch, lemon juice, 1 tablespoon of coconut sugar, and half of the cinnamon. Once thoroughly mixed, add in the raspberries and mix gently as to not lose the shape of the berry. Set aside.
Place the quinoa flakes and oats in a Magic Bullet or other blender that can produce a fine grind. Pulse blend grains a few times.
Add a pinch of salt and the remaining coconut sugar and cinnamon to the grain mixture and blend again.
Drizzle melted coconut oil into the dry mixture and pulse again to form a crumbly mixture.
Transfer the apple and raspberry mixture to a baking dish and top with the crumble mixture.
Cover the crumble with foil and bake for 25 minutes. Remove foil and bake for 10 more minutes.
Let crumble stand for 10 minutes before slicing and serving. Garnish with fresh raspberries.