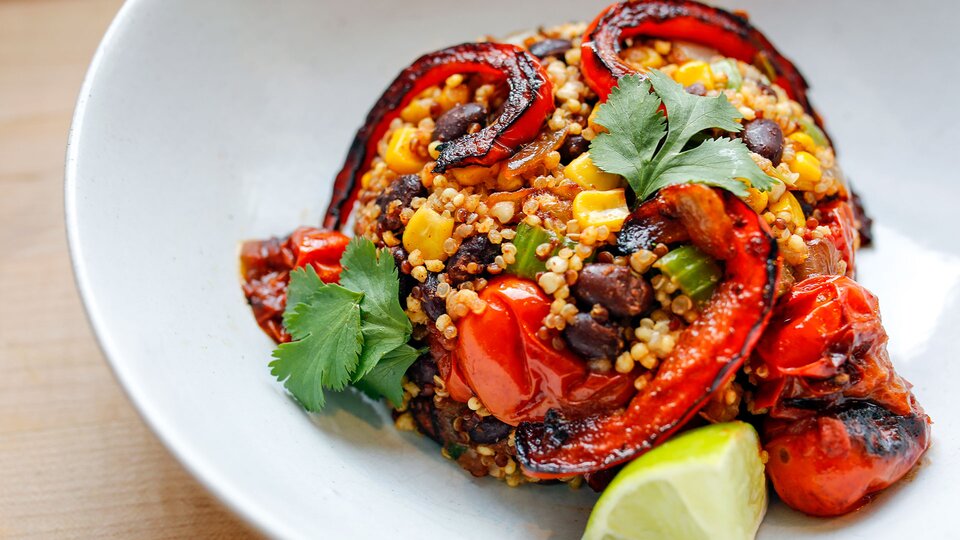 This vegetarian recipe has it all. It is flavorful, packed with natural antioxidants, and overflowing with natural vitamins and minerals.
Ingredients
1¼ cup quinoa
1 cup kernels corn kernels
2 cup water
1 15 oz can black beans, drained and rinsed
½ cup, sliced red bell pepper, sliced
½ cup fire-roasted diced tomatoes, drained
1 cup mini heirloom tomatoes
2 whole stalk celery
¼ cup cilantro
2 tsp lime zest
2 tbsp lime juice
2 tsp chili powder
1 tbsp paprika
salt and pepper to taste
Directions
Bring water, corn, quinoa, and salt to a boil in a saucepan. Cover and let simmer for about 20 minutes.
Sauté red bell peppers and mini heirloom tomatoes until cooked through. Add in black beans and fire-roasted tomatoes and cook for an additional 2-3 minutes. Set aside.
In another bowl, whisk together the lime juice, lime zest, chili powder, smoked paprika, cilantro leaves, and salt and pepper to taste.
Once the quinoa has finished cooking, transfer to a large bowl and toss with the bell pepper, tomato, and black bean mixture.
Drizzle herb and spice mixture over top. Toss again and serve with a cilantro garnish.