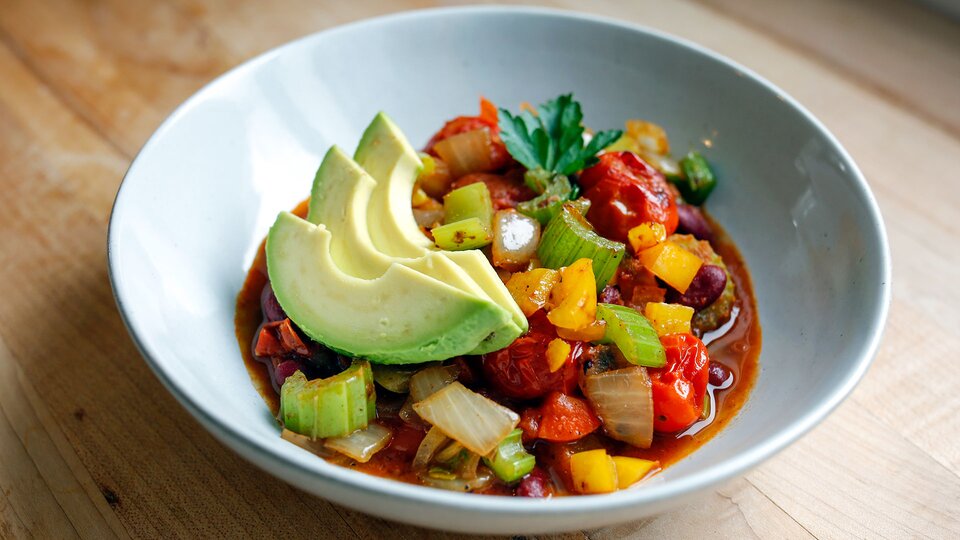 Our Buckwheat Chili is protein-packed and full of hearty grains. Buckwheat is an excellent addition to any diet plan, and, like quinoa, serves as a complete source of protein. As if that wasn't enough, we have also added in a second source of protein: kidney beans. This recipe also boasts a powerful dose of lycopene and vitamin C thanks to the tomatoes.
Ingredients
1 tbsp olive oil
1 onion, chopped
2 clove garlic, minced
½ cup celery, peeled and chopped
½ cup carrots, chopped
1 whole diced yellow bell pepper
1 cup buckwheat grouts
2 cup low-sodium vegetable broth
16 oz fire-roasted diced tomatoes, drained
1 15 oz. can red kidney beans
2 tsp cumin
1½ tsp chili powder
1 tbsp paprika
1 tsp, ground oregano
1 tbsp powdered Stevia
salt and pepper to taste
1 tbsp parsley, chopped
2 avocado
Directions
Heat oil in a saucepan over medium heat.
Once the oil is hot, add in the onion, celery, carrot, and bell pepper and cook for 4-5 minutes, stirring often. Add in the garlic and cook for 1-2 more minutes.
Transfer ingredients to a large pot.
Add the buckwheat, vegetable broth, tomatoes, and spices to the pot and cook for 20 minutes or until buckwheat is smooth and creamy, stirring frequently. If the mixture gets too thick, add a small amount of water.
Once the buckwheat is done, add in the kidney beans and cook for an additional 3 minutes.
Serve chili hot with sliced avocado on the side.