Memorial Day kicked off the official beginning of summer. We have 3-4 months of glorious weather to look forward to, as well as lots of beach-time activities and plenty of outdoor fun.
Chances are, you're going to want to indulge in many, if not all, of the BBQ parties and patio dinners you'll be invited to, without having the effect on your waistline and all the progress you've made during the winter, in order to look great this season.
But have no fear. There's a way to have your cake, literally speaking, and eat it too! I've whipped up a collection of some of my favorite, light, easy-on-the-waistline, easy to make, healthy foods for you and your family and friends to enjoy during the BBQ season.
Appetizers
We all know how good veggies are for us: antioxidants, fiber, vitamins, minerals... you name it, vegetables have it. So what better way to start off a meal than with some amazing salads, sure to help your health and your diet.
Starting a meal off with vegetables is a great way to add volume and substance to your meal without adding a lot of calories. As long as you use 'root veggies' (potatoes, onions, tomatoes, carrots, etc.) sparingly, there's nothing wrong with going for seconds (or thirds) on these courses.
You can also top salads with healthy fats like extra virgin olive oil, walnuts, or almonds in order to give it that extra bit of taste and texture. Not to mention, the fats I suggested have Omega-3 fatty acids, and all of the nuts add protein and heart-healthy polyunsaturated fatty acids; both of which have been shown to lower the risk of certain health problems.
For a little extra flavor (and carbs), you can add in summery fruits like berries or mango. If you want to make your salad more of a meal, consider adding protein like sliced chicken breast, canned tuna, or some salmon (which also has the added healthy fats).
1
Low Fat Chicken Caesar Salad
Make your own tangy, low-fat Caesar salad dressing, and use either fat-free croutons from the grocery store or bake your own croutons.
Arrange torn Romaine lettuce in a big serving bowl.
Top with chicken, croutons and sprinkle with cheese.
Whisk dressing ingredients together and drizzle over salad.
Gently toss until combined.
Add freshly ground black pepper to taste.
Nutrition Facts
Serving Size 4 Servings

Amount per serving
Calories 188
Calories from Fat 39
Total Fat
4.5g (Sat 1.5g)
Low Fat Chicken Caeser Salad PDF (133 KB)
2
Three Bean Salad
Low fat, high fiber, high protein salad.
3
Low Fat Potato Salad
Bring a large pot of water to a boil and cook potatoes until tender.
Drain and allow to cool.
In a large bowl, combine red onion, Dijonnaise and plain yogurt.
Add cooled potatoes and mix well.
Refrigerate until ready to serve.
Nutrition Facts
Serving Size 6 Servings

Amount per serving
Calories 125
Calories from Fat 5 (sat 0.5g)
Low Fat Potato Salad PDF (133 KB)
Entrees
Sure you could make your standard boneless, skinless chicken breast on the grill and call it a meal, but why not try and spice things up a bit while keeping in line with your macros and diet? It is possible!
Grilling and barbecuing are great ways to cook your food, make it flavorful and stick to your diet, because those methods of cooking don't add unnecessary calories. Thanks to Jeff Behar for these incredible recipes that are sure to please the tongue, and the abs!
4
Tasty Chicken Kabobs
Marinating these chicken kabobs all-day or overnight in a simple blend of yogurt and lemon juice makes them succulent and juicy, but the active cooking time is only about a half an hour, so they're a great quick dinner.
For a nutritious side, thread cipollini onions, red-pepper chunks, and mushrooms on a skewer and brush with olive oil to grill alongside the chicken.
Nutrition Facts
Serving Size

Amount per serving
Calories 192
As a side to this dish you can add a salad or more grilled vegetables. This will add fiber to this meal helping you feel full.
Note:
Soak bamboo skewers in water for 10 minutes (so they don't burn on the grill).
5
BBQ Pork Chops
Lean pork chops make a nice change from eating chicken, and the leanest cuts—from the loin—are leaner than chicken thighs, so don't feel guilty about eating pork chops from time to time. As with all meats, be sure to trim any excess fat before cooking. These barbecued pork chops are tangy and delicious.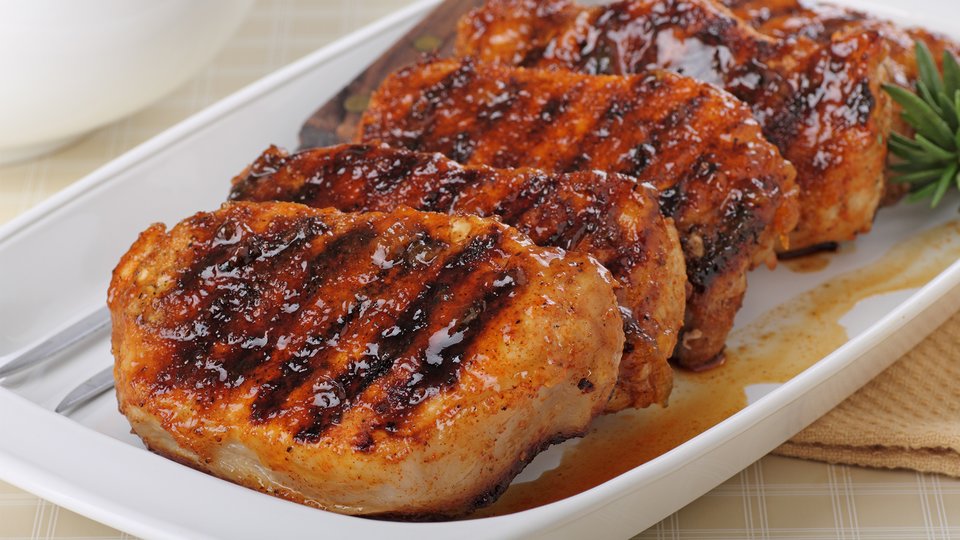 Dessert
I know, you're probably a little nervous or worried about having dessert. But I can assure you that these are totally bodybuilder physique friendly (provided you control your portion sizes and eat them in moderation).
7
Muesli
8
Low-carb Protein Bars
9
Oat Applesauce Muffins
Combine Dry ingredients and wet ingredients separate.
Then combine both but do not over mix.
Pour into non-stick muffin tin & bake at 400 for 12-15 minutes until a toothpick that is inserted comes out dry.
Oat Applesauce Muffins PDF (133 KB)
Foods To Pack for a Camping Trip or Picnic
Chances are you're eating clean now, as we speak, so there's nothing wrong with having leftovers from your salmon/lean steak/turkey dinner last night with some add-ons like a healthy baked sweet potato, steamed veggies, and something nice and light for dessert like protein powder pudding, healthy protein cookies, or homemade granola bars.
You'll want something light (if you're carrying it in a camping backpack), easy to clean up after (so there's less mess made after you finish eating), and convenient to eat (in order to avoid excess waste from plastic utensils and plates).
Here are a couple finger foods you can make in advance, and then pack in the cooler as you get ready to leave for the camp site.
10
Onion Rings
Cover baking sheet in tin foil (much easier clean up) and spray with Pam
Preheat oven to 425
Mix milk and eggs in one dish until blended evenly
Mix all dry ingredients (cream of wheat, pepper, salt etc.) in another bowl
Dip rings in wet mixture with one hand and then place in dry mix
Cover rings with dry mixture and press down into mixture with other hand.
Shake of excess and place on baking sheet. (They can be close to each other because they wont stick to each other plus they also shrink)
Bake for 15-18 minutes then flip them over. The bottoms by now should be browned.
Place back in oven for another 5 minutes and this should help brown the other side a little more
Onion Rings PDF (134 KB)
11
Low-carb Pancakes
References
Recommended For You
Chicken and waffles: always delicious, not always nutritious. Prove that you can have it both ways with this muscle-making recipe!
Growth doesn't always come easy, but this muscle-building meal is guaranteed to deliver serious gains for even the scrawniest hardgainers.
Forget the side dish. Make potatoes the star of your meal with these carb and protein-packed recipes. You'll never eat potatoes the same way again.