It's the same in gyms around the globe: If it's Monday, it's chest day.
Yep, guys of all shapes, sizes, and training levels give their pecs the leadoff spot in their splits. And it's not hard to figure out why. Chest training is fun. You get the instant gratification of pushing a heavy weight and a tight, strong pump. It's a showcase muscle, and the number-one exercise to hit it, the bench press, is the world's most renowned exercise. What's not to love?
The thing is, many of us tend to struggle with the bench. Sometimes, 1RM strength can plateau for months, even years, with no appreciable progress. If that sounds familiar, we have an incredible solution—an eight-week program, designed by elite powerlifter and NutraBio Brand Ambassador Nick Ramey, that can add up to 7.5 percent to your 1RM.
Best of all, it's almost completely unobtrusive—you just do the listed workout on Monday (or whichever day of the week you usually do chest) and continue to follow the rest of your weekly training plan, whatever that may be.
"I made this plan as simple as possible, so it could fit in with anybody's normal split," says the 27-year-old Arkansas native, who benched 445 at a January 2019 meet while also breaking an all-time world record with an 825 squat at 197 pounds. "It's built to improve your bench press strength directly but also includes ancillary movements to improve the strength, power, and mechanics of your whole upper body. Follow it closely and make sure you're getting good nutrition, and you should increase your current 1RM by about 2.5-7.5 percent at the end of the eight weeks."
How Much Ya Bench?
Before you start off with the Week 1 workout, you need to figure out your 1RM on the bench—your real max.
"You definitely don't want to inflate that," Ramey warns, "as that can cause you to miss lifts in this program that are calculated based on your 1RM, which will make progress more difficult for you."
To determine your max, you can take one of two approaches: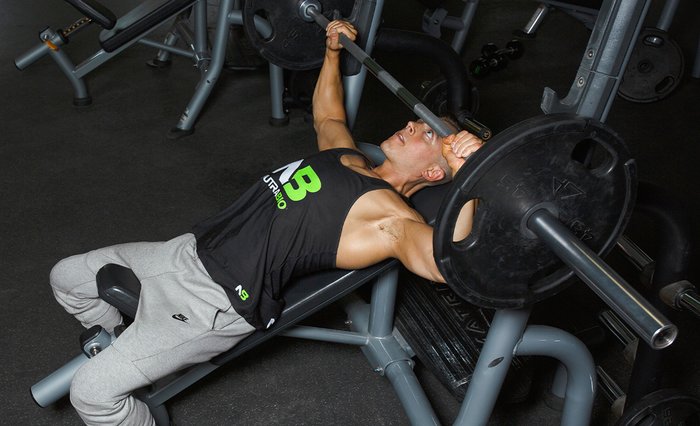 1. Do a 1RM Test
The most important thing you'll need is a spotter—someone who knows how to read your cues and is ready to pull the weight up and into the racked position the instant you falter. After 2-3 very light, easy sets that prompt blood flow into your pecs, delts, and triceps, quickly but safely pyramid up to what you believe is your 1RM weight. Let's say you think you'll be able to bench 225 for one rep, based on your previous workouts. Your pyramid could look like this:
135 pounds for 5 reps
175 pounds for 3 reps
205 pounds for 1 rep
225 pounds for 1 rep
If you can push 225 cleanly and without extra assistance from your spotter, add 5-10 pounds and try one more rep.
2. Use the Bodybuilding.com Calculator
If you are nervous about attempting a 1RM (which is understandable), you can do a 10-rep test instead. For this, you'll still want a spotter! After a brief but effective warm-up—you don't want to overtire yourself—do a set holding a weight you can't get more than 10 reps with. If you can get more than that, add 5-10 pounds and try again, and if you can't get 10, drop 5-10 pounds and re-attempt.
Note: If you end up doing 3 sets and you still don't have a 10RM figured out, you'll probably want to set aside the test for another day when you can hit it fresh. It pays to have a good record of your bench totals from at least a few weeks' worth of workouts to help you gauge your ideal starting point. Otherwise, you'll end up having to do too many test sets, burning through your strength and energy levels unnecessarily.
Once you have your 10-rep max, enter that weight into our one-rep max calculator to determine your 1RM.
100% Whey Protein Isolate, 2 Lbs.
100% Whey Protein Isolate For Supporting Muscle Growth
Start Smart
For the first week and in every bench workout throughout the program, be sure to warm up before jumping into the working sets. You can personalize your warm-up, just be sure to stretch and do lightweight sets that engage the pecs, delts, back, and triceps, or you can try Ramey's approach, adjusting the weights to match your own strength levels.
Nick Ramey's 8-Week Bench Workout Warm-Up
Barbell Bench Press - Medium Grip
1 set of 15 reps with only the Olympic bar 1 set of 15 reps with 135 pounds 1 set of 8 reps with 225 pounds 1 set of 4 reps with 275 pounds 1 set of 2-3 reps with 315 pounds
5 sets, 15, 15, 8, 4, 3 reps
"Then I do single reps until my top weight," Ramey says. "The key here is to get warm with light weight. Doing high volume before getting to your main work will be detrimental."
Nick Ramey's 8-Week Bench Schedule
Week 8
On this final week, use your workout to test your new 1RM. Using the result from the test you did before the program, adjust your target 1RM or 10RM anywhere from 2.5-7.5 percent higher.
After the eight weeks is up and you've established a new personal-best 1RM, you have a few choices.
"You can go back and do the program all over again, trying to nudge your max up even further," says Ramey. "Or you can switch to another compound exercise and do a similar program. Or you can simply fall back into your regular training regimen, saving this program for occasional use, whenever you want to blast your bench strength to the next level."
You may never hoist 490 pounds—Ramey's personal best at a body weight of 215—but you can still vastly improve your raw bench total, no matter your starting point. And you don't have to give up your Monday fun-day!