Ask experienced lifters why they set aside a special day to train biceps and triceps, and you'll get all kinds of interesting biomechanical reasons. Ask bodybuilding competitor Lawrence Ballenger and he'll get straight to the point. "Bis and tris are fun to work together," he says with a laugh. "I just love a good arm day."
But, as this 30-year-old MuscleTech-sponsored athlete readily admits, his arm-blast workout is not for the faint of heart. You'll face plenty of volume, some brutal strip sets, and a couple of supersets that will leave you struggling for a week just to button your shirt.
Lawrence Ballenger's Big Fun Arm Blast


+ 6 more exercises

BodyFit
$6.99/month
2,500+

expert-created single workouts

3,500+

how-to exercise videos
Detailed workout instruction
Step-by-step workout tips
Training at gym or at home
Access to Workout Plans
Access to Bodyfit App
Store Discounts
Already have a Bodybuilding.com account with BodyFit? Sign In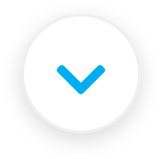 What comes with BodyFit?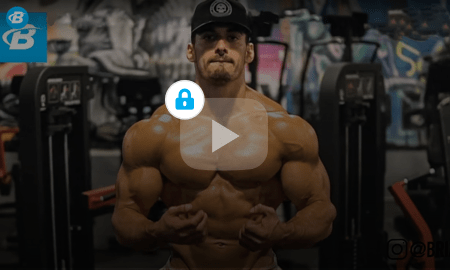 Instructional Videos

Don't risk doing a workout improperly! Avoid injury and keep your form in check with in-depth instructional videos.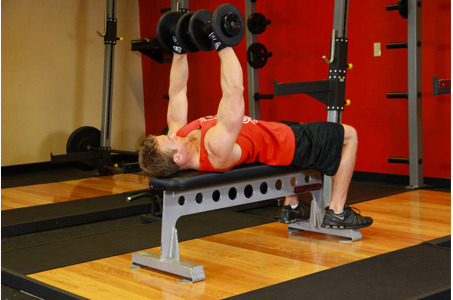 How-to Images

View our enormous library of workout photos and see exactly how each exercise should be done before you give it a shot.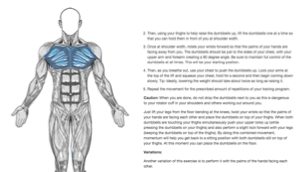 Step-by-Step Instructions

Quickly read through our step-by-step directions to ensure you're doing each workout correctly the first time, every time.
Technique Tips
Preacher Curl
You could go with an EZ-bar for your preachers, but Ballenger's weapon of choice is the Olympic barbell. He prefers a standard shoulder-width grip on the bar, but says if you want to focus on the long head of the biceps (the "peak"), to use a narrower grip. If you want to work the short head (the inner head of the two-headed muscle), use a wider grip.
Ballenger likes to start with some warm-up sets: 7 to 8 sets of 10 reps apiece, pyramiding up weight from set to set. Start with just the bar for the first warm-up set. For each successive set, add a 10-pound plate to each side. "We keep adding weight until we can barely get 10 reps, which usually happens once we add about six to seven 10-pound plates per side total [165 to 185 pounds]," he explains.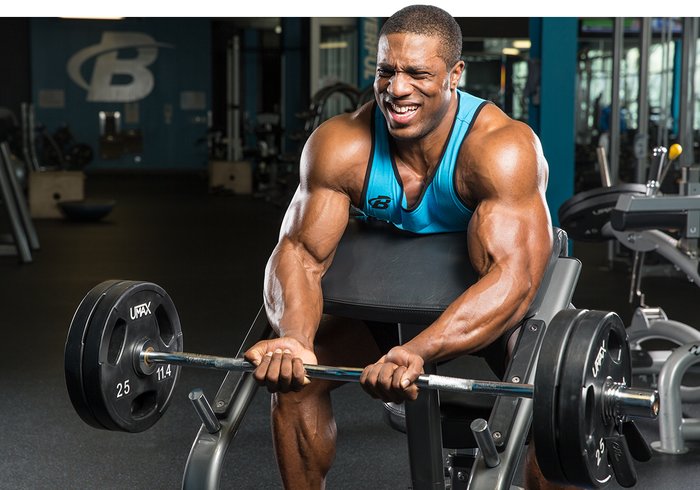 At that point, they begin their 5 to 6 working sets, doing 3 to 5 reps per set. Going all the way down into such a low rep range isn't common for arms, which Ballenger says is a mistake. "Most people don't go heavy enough when they're doing arms, so they don't get that thickness," he points out. "Most guys arms usually stop growing somewhere around 17-18 inches. But I've found that everybody I meet who has 20-inch arms or bigger has lifted quite heavy for low reps as part of their training."
The preacher curls wrap up with one more set that'll have you praying for mercy. "Once we finish our 5 to 6 working sets, we'll do one drop set," Ballenger says. "We'll do 3 reps with all the weight that's on the bar, take off a plate and do 5 reps, take off a plate and do 7 reps, and continue that pattern until we get to the bar, at which point we aim for 20 reps."
Dip
Next up are dips, using an old-fashioned weight belt with a chain for hanging plates. "If I'm traveling and the gym doesn't have one of those, I'll hold a dumbbell between my feet, which makes for a helluva hamstring workout too," Ballenger says.
His first warm-up set is 10 reps, using body weight only. As he does with the preacher curls, he adds weight with each set of dips until he can no longer complete 10 reps. But instead of adding 10-pound plates, he'll jump up to 45s, usually ending up with four or five plates on each side.
Once he's powered through his warm-up sets, it's on to his 5 to 6 working sets of 3 to 5 reps apiece, followed by one more devastating drop set. For this last set, he'll start with 3 to 5 reps with five plates, then try for 7 reps with four plates, 9 reps with three plates, and so on until he's back to body weight.
"Once you get to body weight," he says, "go for as many reps as you can get, even if that's only 2 or 3 more."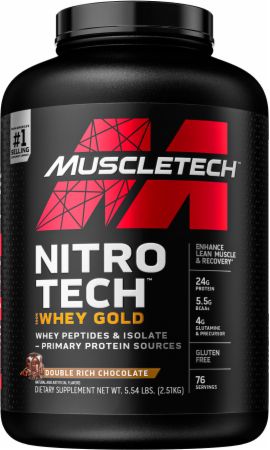 MuscleTech NITRO-TECH 100% Whey Gold
Each Scoop Serves Up 24G Of Ultra-Premium Micro-Filtered Protein. Incredible Pure Protein Powder Featuring Whey Protein Peptides And Whey Protein Isolate.
Dumbbell Alternate Curl
"Alternating curls are probably my favorite," Ballenger says. "I pick a weight I can do 8 to 10 reps with, then once I get my 10 reps, I'll cut the weight in half and do 25 more. That's one set."
Just go as heavy as you can on this exercise.
"People tend to pick lighter weights at the beginning of workouts because they want to pace themselves," he says. "They get this idea in their head that they should be just as strong at the end of the workout as they were at the beginning."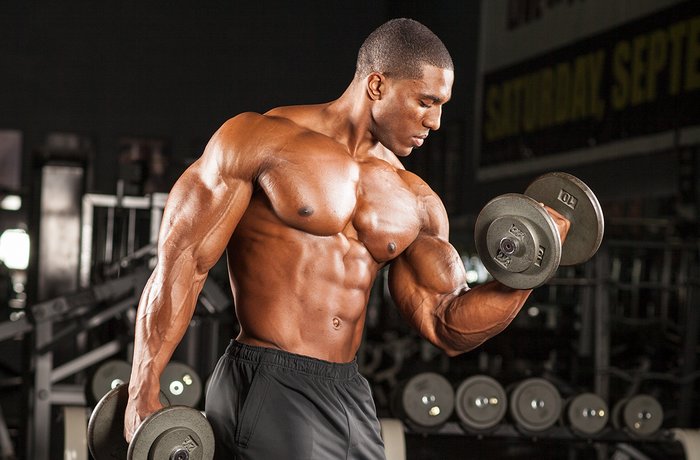 But this is no time to leave a little extra in the tank.
"My philosophy is to push yourself to the limit on every exercise," Ballenger says. "Sometimes I'll go from curling 80s or 90s in my early sets to 15s by my last set because my arms are so dead. It doesn't matter exactly how much weight you're moving. It's about the intensity—how difficult it is to complete the motion."
Rope Press-down
Rope press-downs bring us back to the triceps, all part of Ballenger's plan to keep his upper arms working at full capacity.
"I switch back and forth between bis and tris," he says. "Otherwise the pump can become too much to handle, and you can't get a good contraction. By alternating between the two muscles, you can promote blood flow without overdoing it. One muscle is working while the other is stretching and resting a bit."
Ballenger's approach here is a triceps version of "21s." He starts the press-downs by standing away from the weight stack so his elbows are shifted slightly in front of his body for his first 7 reps. Then he'll take a small step forward, bring his elbows directly in line with his torso, and do 7 more. For his final 7, he'll move his elbows to the rear so they're just behind the plane of his back.
"This technique allows you to work the triceps through multiple ranges of motion, and as your elbows move back, the exercise gets easier, which helps you extend the set," he explains.
You'll feel your outer lateral head working a lot more when your elbows are behind you, and your long inner head when your elbows are out in front of you. The net result? Complete triceps.
The challenge is keeping up with Ballenger's pace. Throughout the 4 to 5 sets, he maintains the same resistance instead of backing off to avoid fatigue. He also keeps his rest between sets to no more than 60 seconds.
"The intensity of this exercise makes it a perfect partner workout," he adds. "By the time your partner finishes their set, you're rested up and ready to start your next one."
Zottman Curl
To continue this arm annihilation, Ballenger throws in two superset combos: one for biceps and one for triceps.
First, he has you do the Zottman and high cable curls for 20 reps per set for all 5 supersets, while cutting down your rest periods to just 30 seconds between supersets.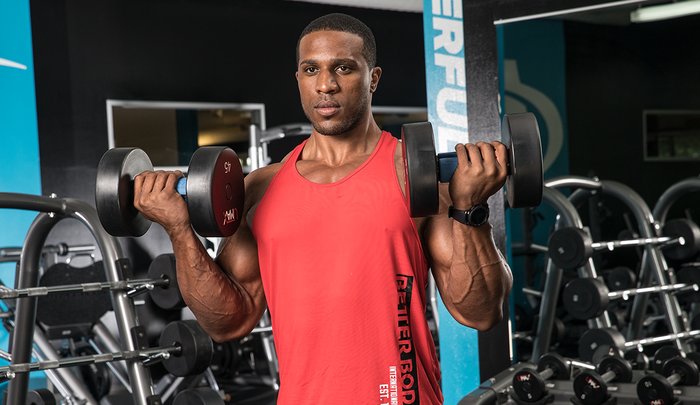 Start the Zottman curls with both palms facing each other. As you bring the weights up, twist them so your palms are facing behind you by the time you reach the top. Twist your wrists again so your palms now face forward. Now, lower the weights. At the bottom, turn your wrists slightly so your palms face each other again.
"I like Zottmans because they give you a good pump in the inner head of your biceps, as well as on the brachioradialis on your forearm," Ballenger says. "You can feel the high cable curls in the outer head, so this superset hits both heads of the muscle at the same time."
High Cable Curl
Zottman curls are paired with high cable curls. Stand between two cable stacks with D-handles attached at about shoulder height. Basically, this exercise mimics hitting a front double biceps pose, only you do it for reps.
Cable Rope Overhead Triceps Extension
Ballenger's final superset combines cable rope overhead triceps extensions and underhand cable pulldowns. He wants you to do it unilaterally, so you'll do 20 reps per arm per set—5 supersets total. That means you'll hit 100 reps with each arm during this exercise, you stud.
"With single-arm overhead extensions, you can use a D-handle, but I actually like grabbing the end of the cable itself," Ballenger says. "It just feels better on my wrist to do it that way. When I do the reverse grip, I'll use the D-handle."
While the weight isn't overly heavy at this point, it's still a challenge.
"At the end of 20 reps, you should feel like you can't touch your shoulders—and forget taking off your shirt," Ballenger says. "The final reps should be so difficult and painful that you want to lower the weight and call it good. Don't do it. This is where your mental strength comes in. Just keep thinking, 'This is light, it's just a little bit of pain that'll end in a few minutes.'"
If you find yourself having to pause mid-set to catch your breath and let your muscles regain a morsel of strength, that's fine. Just be warned that when you're training with Ballenger, nothing is free.
"You can take a 5-second rest, but every time you do, you have to add 2 more reps to the set," he says of his universal workout rule. "It doesn't matter if you're doing 5 reps and you break on 4. You still owe me two more. This little rule is one of my favorite ways to keep people motivated." Works for me!
Reverse-Grip Triceps Push-down
Start by setting a D-handle on a high pulley machine. Facing the handle, grab it with your palm facing up (supinated grip) at shoulder width. Lower the handle until your arm is fully extended by your side. This is the starting position.
Slowly elevate the handle as you inhale so it is aligned with your chest. Then begin to lower the handle back down to the original starting position while exhaling and contracting your triceps intensely. Repeat for the recommended amount of repetitions.
Do the same number of reps for each arm.