Arnold's Best Training Principles | Chest and Back Like Arnold | Legs and Abs Like Arnold | Shoulders and Arms Like Arnold
Few bodybuilders are made in the mold of Arnold Schwarzenegger. Sure, everyone wants to be the next Arnold, but who could conceivably duplicate the mind-numbing training volume and frequency he achieved? He didn't just train shoulders and arms for 60-plus sets—he did it 2-3 times a week with incredible intensity!
That's one reason "The Oak" stood out among his peers. Where others would call it quits, Arnold took pleasure in his own pain. While this kind of volume can't be sustained long-term, it certainly can flip your personal anabolic switch and help you dial in your ideal physique—provided you can learn to love a bone-crushing delt-and-arms workout.
Here's a blueprint of how Arnold trained these body parts!
Arnold's Shoulder Workout
Arnold trained shoulders with the same high-volume approach he employed with other body parts, ensuring that each deltoid head was targeted from different angles. Because multijoint presses from the front of the neck recruited the anterior (front) delts to a greater degree than behind-the-neck presses, he typically included both in his shoulder workout for maximal development.
"There's no one exercise that will work all three areas of the deltoids," Arnold once said. "Therefore, when you're planning your shoulder routine, you have to include the right variety of movements, so that you get full shoulder development."
His full-throttle approach occasionally meant that he did 50 or more sets in a single workout! Remember, too, that Arnold trained shoulders with arms at least twice per week—an impossibly challenging combination of volume and frequency that helped build the biggest delts the world had ever seen at the time.
Here are some of the basic principles Arnold followed when training shoulders:
Arnold's Shoulder Workout
Golden-age bodybuilders had to grit their way through their post-workout protein shakes. Yours can be the treat you earn after a hard workout!
Arnold's Arm Workout
Arnold's guns were his calling cards, and his mental visualization of his biceps as mountain peaks reflected his larger-than-life approach. Arnold frequently did up to 20 sets for biceps, split evenly between mass-builders and those he did for definition.
He commonly supersetted biceps and triceps movements, which served to flush his arms with blood. Combined with his high-volume approach, his shirt-sleeve-busting routine included movements that sought to isolate the three triceps heads, which he achieved by manipulating arm position.
Here are some of Arnold's best arm-training tips, culled from the many articles he wrote and interviews he gave over the years.
Arnold ranked the standing barbell curl as the top mass builder, but often did the incline bench dumbbell curl as well, which emphasizes the long head a bit better. For Arnold, a mass-building movement meant three things: He could push heavy weights; he'd ensure the movement was taken from full extension to full contraction; and he'd use a weight at which he could barely do 6-8 good reps.
Definition-building movements, on the other hand, were done with lighter weights for sets of 8-12 reps. Here the focus was on squeezing and contracting the muscle, and holding the peak contraction for a long count. Concentration curls, preacher curls, and alternating dumbbell curls were among his favorites here.
While "The Oak" took his curls to failure, he didn't stop there. Once he reached a sticking point, he'd use just enough momentum to keep the set going. Such cheat curls allowed him to complete an extra couple of reps.
Arnold's approach to triceps was a bit different. Because his chest was always a strong point, his triceps were already at an advantage. More often than with biceps, he allowed his rep range to drift up to 20 per set in an effort to hyper-pump the muscle.
With triceps, Arnold's advanced technique of choice was partial reps. After doing a set of full-range push-downs, for example, he'd extend the set with 5-6 partials, over either the top or bottom half of the movement.
Arnold frequently supersetted biceps and triceps movements, which meant that an enormous amount of blood was flooding the muscle. Blood carries oxygen and nutrients critical for growth, and enabled him to achieve his ultimate training goal: the pump. And you've no doubt heard about Arnold's insatiable thirst for a good training pump.
Even an old-school arms workout works best with a cutting-edge pre-workout with the best pump and fatigue-fighting ingredients.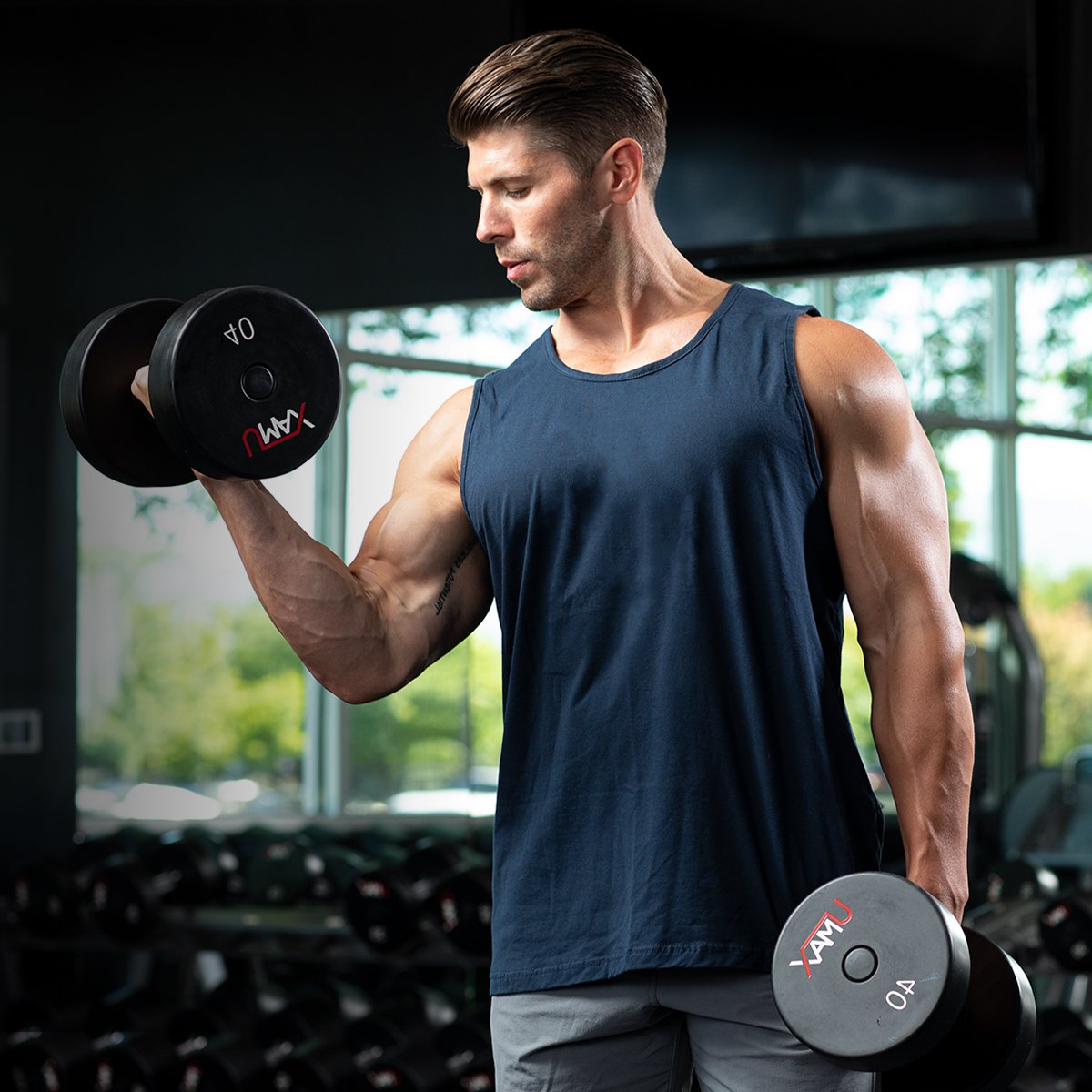 Old-School Training for Gains
The Blueprint to Mass is a classic high-volume plan for serious lifters. You'll hit chest and back, legs and abs, and shoulders and arms twice a week, eat big, and grow like crazy.