Female 20-39 Muscle Building Training Video Recap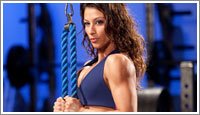 Maybe you've experimented with lifting weights before, but now it's time to get you on a program that will tone, shape, and redefine your figure. You don't need to lift extremely heavy weights to build lean muscle, but you do need to lift progressively heavier weights with each workout.
In order to change your body, you must push yourself beyond your comfort zone. With the perfect balance of weight training, cardio and recovery time you'll be able to challenge yourself every day and the results will be well worth it.
Female 20-39 Muscle Building Training Routine
Keys To Your Training Success
Geared For Success
Before you start training, it's important to be prepared. When starting any exercise program, safety is of the utmost importance. Lifting straps, gloves, and lifting belts are some very useful pieces of equipment to have when you are seriously training. Equipment is great for supporting correct form and preventing injury. Put your guard up, and lift smart.
Having the right apparel is also good for working out. You don't want any uncomfortable chaffing from not having fitness-friendly clothing. The body should only be concerned with exercising, not worrying about an uncomfortable pair of shorts. Wear clothing that you can move in and sweat in comfortably.
Having a gym bag, lock and water bottle is also useful - keep your gear secure, and have something to drink so you can stay hydrated! It's very easy for personal items to "get up and walk away" at gyms, so it's nice to always have a gym lock and bag to prevent any sticky fingers from nabbing your stuff.
You can check out tons of training gear, apparel, and accessories right here at Bodybuilding.com, so make sure to be equipped for success.
( Expand All )
Final Word On Female 20-39 Muscle Building Training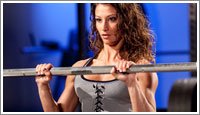 You now have the principles and program that will add curves, build strength, and forge a sexy and more confident you. All that's needed now is time, hard work, and dedication. We're here with you every step of the way. Check back with us daily to see the latest training articles, exercise advice, and expert information. Get out there and get started; you'll love the way you look and feel!