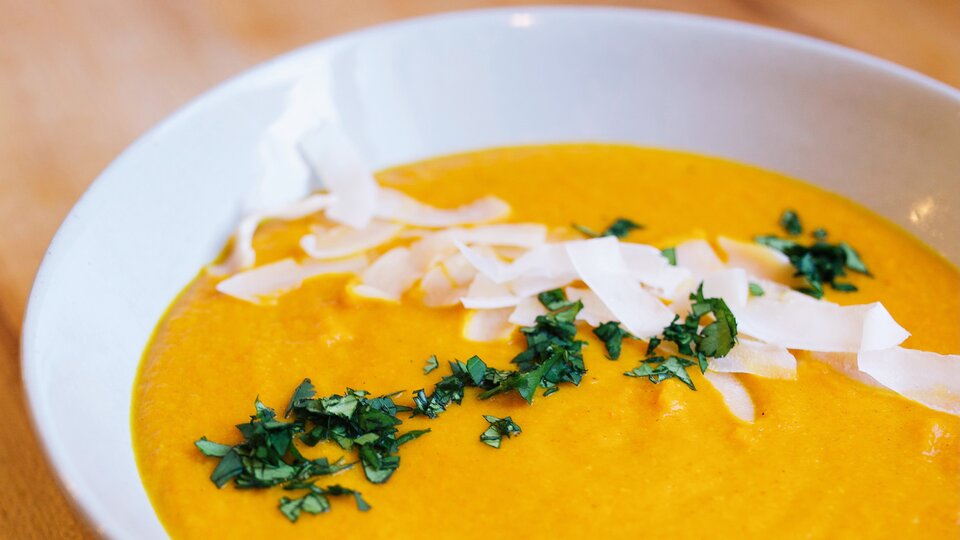 Sweet potatoes are an excellent carbohydrate source. Rich in fiber, high in nutrients, and sweet in taste, they're a can't-miss food for fitness enthusiasts. Have this spicy soup hot on a cold night, or chill it for a refreshing summer side.
Ingredients
1 tbsp olive oil
1 small onion, diced
1 cup sweet potato, cut into cubes
6 medium carrots, chopped
1½ cup unsweetened coconut milk
1 cup low-sodium vegetable broth
½ tsp chili powder
½ tsp cinnamon
½ tsp turmeric
½ tsp cumin
½ tsp paprika
salt and pepper to taste
Directions
Heat olive oil in a medium pot over medium-high heat.
Once the pot is hot, sauté onions, sweet potato, and carrots for 8-10 minutes; stir occasionally.
Add the spices, coconut milk, and broth to the pot. Cook for another 5 minutes, then cool for 3-4 minutes.
Transfer to a blender and puree until smooth. (Always be careful blending hot ingredients. If they are too hot, they can blast the top off the blender, sending hot liquid in all directions.)
Place the blended ingredients back in the pot and warm for another 2-3 minutes.
Add a garnish of your choice and serve. Options include: fresh cilantro, grated coconut, or coconut cream.