[ Matt ] Shannon, thank you so much for taking time out of your busy schedule for this interview. I figured we would start the interview to get to know you a little better.
Can you give us some background information on yourself? Did you play any high school or college sports? What got you into competing? Basically anything that pertains to what helped you get to the point where you are at now.

[ Shannon ] Growing up I was the furthest thing from being athletic! If anything required running, throwing, catching or jumping... forget it! I wasn't that girl! I was instead, a girly-girl at heart and spent all of my spare time either in dance class or pretending that I was a dancer on "Solid Gold"!
Performance was in my blood and was the driving force behind my interest in fitness. I spent my 20's cheering on the sidelines as a Cheerleader, first for the University of Kansas and then in the NFL as a Captain of the Kansas City Chiefs Cheerleaders. I also took my 5'7" 113lb frame to the beauty pageant circuit and even won a bikini round or two in the process.
My interest in fitness competitions began on the NFL field. One of my teammates, IFBB Pro Lovena Tuley asked me to use my pageant skills to help her learn to gracefully walk in heels for her first fitness competition.
I still remember laughing uncontrollably at my stick legs standing next to her beautiful well developed quads! It was her physique that lead me to the weight room and the rest is history!

[ Matt ] Where do you currently live? Do you belong to a gym there or do you workout at home?

[ Shannon ] My husband and I live in Daytona Beach, Florida and own and operate a small chain of health clubs named "Boom Fitness." I do the majority of my training at our Daytona Beach club. But I do have a Stairmaster at home for those early morning sessions!

[ Matt ] I was told that you are also the NPC Chairperson for the state of Florida. Can you fill us in on what all you do in that position?

[ Shannon ] Yes! On May 14th, NPC Vice President and Florida Chairman. Peter Potter surprised me following my guest performance at the Superior Championships in Miami, by presenting me with the nomination of "NPC Florida Fitness and Figure Chairperson." Wow! What an honor!
So far, my position has included answering countless e-mails about shoe selection and tanning! Just kidding!! It does include answering those types of questions, but also I am hosting several Charity Figure and Fitness Seminars (all proceeds donated to the ASPCA) throughout the State of Florida to help recruit girls and assist them in understanding what the judges are looking for. My next seminar will be held on September 23rd along with NPC Central Florida Chairman, Pete Fancher.

[ Matt ] You also have your own Fitness and Figure Classic, which I find amazing. Can you fill us in a little about your Classic and how it got started?

[ Shannon ] After I received my Pro Card, I was guest appearing at the Southern States when longtime friend and confidant, NPC North Florida Chairman, Pat Sporer, asked me if I would be interested in lending my name to his 26th Annual Southern USA Championships.
This show is a National Qualifier with a long history of producing NPC National Champions and Pros. Of course, I said yes before he even finished the sentence and this coming spring will be the third Annual Shannon Dey Figure and Fitness Classic.
In its first year, our Overall Figure Winner, Elisha Archibold went on to receive her pro card four months later and recently placed 4th at her pro debut! This year's Figure Winner, Jan Horn along with Fitness Winner, Joanne Murphy are hot on the heels of earning their pro status. This show consistently draws over 60 top notch figure and fitness competitors from around the country!

[ Matt ] On top of your own show you also have a Bombshell Fitness and Figure Academy. Can you give us some information about your Academy and how it got started?

[ Shannon ] I have helped figure and fitness competitors for several years now and one of them suggested that I do a weekend seminar to cover all of the basics... one month later, the Bombshell Academy was born and has since become a monthly event!
We hold the camps in Daytona Beach and it is the ultimate girl's weekend! From training to posing, tanning and everything in between... we cover it! Recently I added a mock show on Sunday's that follows exact show protocol so that the girls know what to expect every step of the way.
I also talked my husband, Southern Muscle Plus Magazine Editor, Rob Rosetti into holding a professional photo shoot after the girls makeup lesson, so that they all get to learn the basics of fitness modeling and get some great shots to use for individual promotion.
These camps are a ton of fun, and most girls return month after month! Several of our Team Bombshell girls are on the verge of graduating the Academy and making their way to the National stage!

[ Matt ] With the Europa coming up, what does your contest prep workouts look like?

[ Shannon ] I train on weights 5 days per week. Because of my fast metabolism (I'm a skinny girl!) I generally only do cardio for 20 minutes in the morning and every few days a second session in the afternoon.
As contest time gets closer, I work on my routine just about every day for about 45 minutes and do abs every day as well. Being a fitness competitor, I have to STRETCH and do so twice daily.

[ Matt ] What do you workouts look like during the off-season, any different?

[ Shannon ] In the off season, the only change is that my Stairmaster becomes a clothing rack! Don't hate me, but I actually get thinner in the off-season when I don't eat 7 times a day!

[ Matt ] Do you have a workout partner or personal trainer?

[ Shannon ] Prior to last year, I trained myself and was pretty successful... I earned my pro card that way. But once I got into the Pro's and saw my pictures standing next to my peers, I realized that I needed to seek out a guru in the sport.
After doing my research, all signs pointed to Mike Davies as being the most accomplished trainer of pro athletes. When I went to him, I thought I was in great shape... boy did he put me in my place! His style of training is like nothing else and seeing is believing that it builds pretty, round, feminine muscles.
I have been under Mike's guidance for about 18 months and am VERY pleased with the changes in my physique. I also have to add; he's a great guy to boot and tells it like it is, which in this sport is 100% necessary.
When you are an IFBB Pro, everyone tells you how great you are... THAT isn't going to get you anywhere or help you improve. Mike tells you like it is, and makes you WANT to improve. I would recommend him to anyone.
My training partner is NPC Figure Competitor, Kristen Nagrani. A fellow "skinny girl" that has paid her dues in the weight room and at the nutrition table to build a beautiful, National quality physique. Both of us are competitive and so the training is hard and fast!

[ Matt ] With the upcoming contest, what does your diet look like? How many weeks out do you start dieting?

[ Shannon ] I eat 7 meals per day. My diet, written by Mike Davies specifically for me and my fast metabolism is well balanced in high protein, moderate fat and carbs. I'm lucky, I lose body fat very easily. The trick with me is not losing muscle in the process.

[ Matt ] What foods do you crave the most when dieting for a show?

[ Shannon ] I LOVE cheese and crackers with a good glass of Cabernet!

[ Matt ] Is there anyone that you would like to thank who helped you get to where you are today?

[ Shannon ] I have been extremely blessed to meet some extraordinary people in our sport. My biggest fan is my husband Rob Rosetti who has been there for every pound of muscle growth and every rep. I definitely would not be here if it weren't for him!!
Key people who have played a major role in my development include Pat Sporer, Robert "Billy Jack" Haines, Jack Harley, Peter Potter, Pete Fancher and of course all of the figure and fitness girls whose hard work keeps me motivated!

[ Matt ] Thank you again Shannon for taking the time out of your busy day to do this interview. Is there anything else that you wanted to add to the interview before we part?

[ Shannon ] Thank you so very much to you, Matt, and Bodybuilding.com for conducting this interview. Bodybuilding.com has rapidly become the voice of authority in Bodybuilding, Fitness and Figure. The site is a safe, positive place for athletes to learn about the sport and promote themselves. Thank you for your commitment to our sport and I hope to work with you again in the future!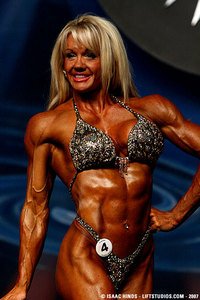 Click To Enlarge.
Shannon Dey At The 2007 Europa.
View More Pics Of Shannon Dey Here.

2007 Europa Fitness Results

| | |
| --- | --- |
| 1 | Adela Garcia |
| 2 | Tanji Johnson |
| 3 | Mindi O'Brien |
| 4 | Julie Lohre |
| 5 | Amy Haddad |
| 6 | Brenda Santiago |
| 7 | Amy Villa-Nelson |
| 8 | Kendra Elias |
| 9 | Angela English |
| 10 | Nicole Duncan |
| 11 | Michele Mayberry |
| 12 | Amy Huber |
| 13 | Sandra Wickham |
| 14 | Susan Groshek |
| 15 | Stephanie Worsfold |
| NP | Sandie Ward |
| NP | Lori Kimes |
| NP | Shannon Dey |
| NP | Bridgette Murray |
| NP | Myriam Capes |
| NP | Oksana Grishina |
| NP | Mandy Polk |
| NP | Lisa McCormick |
| NP | Jennifer Cassetty |
| NP | Jennifer Becerra |
| NP | Tami Ough |