It's true: You can eat healthy, get fit, and gain quality muscle without spending your entire paycheck. I learned this lesson firsthand when I was living on a very limited income. I would scour the Internet for various healthy, muscle-building diets while wondering how in the world I was going to afford groceries.
But, after shopping around at different stores, I found that it was actually much easier than I anticipated. With a little creativity, I discovered that I could achieve my fitness goals on a limited budget.
After hearing feedback from many of you, especially college students and people with families, I decided to challenge myself. The task: Create a diet of five meals per day for an entire workweek—five full days—using as many fresh ingredients as possible while spending only $75.
I'm happy to report that I accomplished my mission and am proud to share the results with you!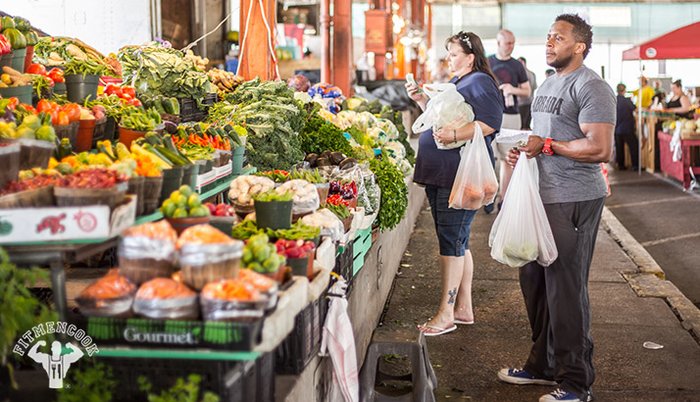 A few notes before getting started
This is not a custom meal plan. This outline should serve as inspiration for you to create a plan to meet your personal goals. Calorie ranges will vary, so instead of sticking to these macros exactly, use this guide as a way to jumpstart your meal planning and, more importantly, your creativity! Unlock your inner #FitMenCook and #FitWomenCook.

Seasonings, spices, oils, supplements, and vitamins are excluded in the weekly budget since those items generally last for a few weeks.

To preserve the freshness of your meals, freeze after preparing and defrost in the refrigerator the night before consuming.

This article will likely raise many questions. Post yours below so we can answer them as a community!

Remember $75 does not spend the same everywhere. Consider the cost of living and wages in your area to determine what the equivalent of $75 would be for you. In some places it may be less, others it may be more. In all, make it relevant to you!
My budget breakdown = $75
Bargaining at local farmer's market (paid in cash so there's no receipt): $16.50
Grocery store 1: $35.84
Grocery store 2: $22.24
Total spent: $74.58
Grocery List
Protein and Dairy
6.5 lbs Chicken Breast
2.32 lbs Lean Ground Turkey
1 carton Eggs (omega-3)
1 carton Liquid Egg Whites
16 oz Cottage Cheese
1 small bag shredded Mozzarella
Carbs
2.75 lb Sweet Potato
Instant Oatmeal
Quinoa shell pasta
Honey Sticks*
Dried Papaya*
Fats, Sauces
Naturally more Peanut Butter
Two 6 oz cans Tomato Paste (low sodium)
1 can Chicken Broth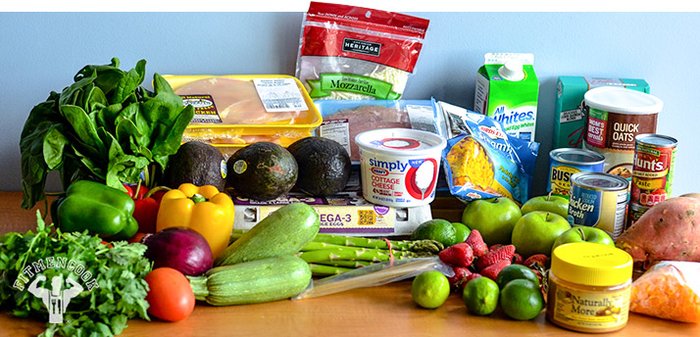 Produce
1 bundle Spinach
4 colorful Bell Peppers
4 Roma Tomatoes
1 bundle Cilantro
2 Zucchini
1 bundle Asparagus
1 small carton Strawberries
1 small bag of Limes
4 Granny Smith Apples
1 bag steamed Corn (frozen)
1 Red Onion
Supplies
BPA-free food storage containers. You can generally find these at Walmart stores for 5 for $3.
Mini, disposable foil pans
Sandwich bags
Airtight containers
Epic $75 Meal Prep!
Don't forget the caloric benefit of adding a protein shake to your diet!
1. Egg, Spinach And Mozzarella Scramble With Apple Cinnamon Oatmeal
Eggs are affordable, lean sources of quality protein. Add in a bit of spinach for iron and antioxidants, and mozzarella for a hearty dose of bone-building calcium. Oh, and don't forget that this meal tastes absolutely delicious!
To save time in the morning, I carefully measure out each portion of liquid egg whites and store them in airtight containers. I store single servings of spinach and oatmeal in separate plastic bags.

2. Spicy Grilled Chicken With Stuffed Avocado
Chicken is among the cheapest and leanest proteins out there. Pair this muscle-making staple with cholesterol-lowering avocados filled with an inventive take on Southwest salsa.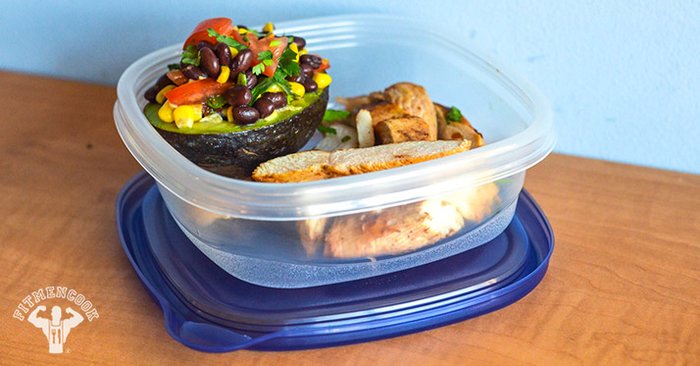 3. Grilled Chicken, Spicy Southwest Sweet Potato, Asparagus, And Bell Pepper Stir-Fry
Skip the grease and sneak in the stir-fry with this guilt-free meal. With chicken as the main protein, and sweet potatoes and asparagus as sides, it's sure to meet your macros and leave you feeling satisfied.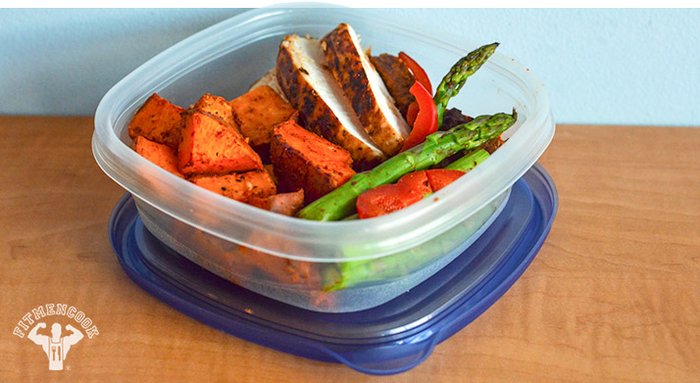 4. Grilled Chicken Breast, Cottage Cheese, Peanut Butter, And Berries
Pair lean chicken with slow-digesting cottage cheese to feed your muscles over time. Coupled with peanut butter, this makes for a healthy snack that keeps you fuller longer!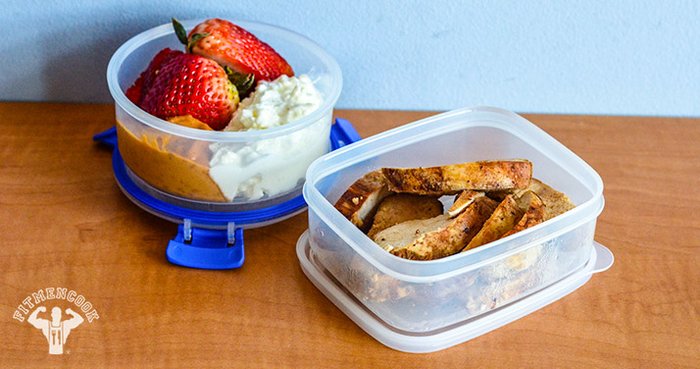 5. Turkey And Zucchini Quinoa Pasta Casserole With Mozzarella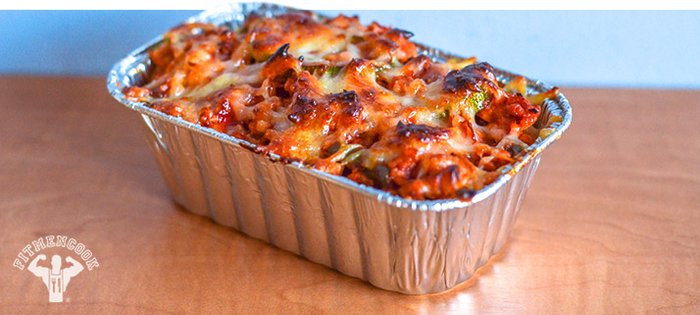 Shopper's Guide
To round out this list of epic meals, check out these quick grocery shopping tips. Put them to use next time you're on the hunt for fuel.
1. Prioritize Protein
The bulk of your money should be spent on purchasing the highest-quality protein possible for your budget. Look for labels with key words like these before purchasing: minimally processed, no added flavors, solution or coloring, grass-fed, pasture-raised, organic, and no added hormones.
2. Get Smart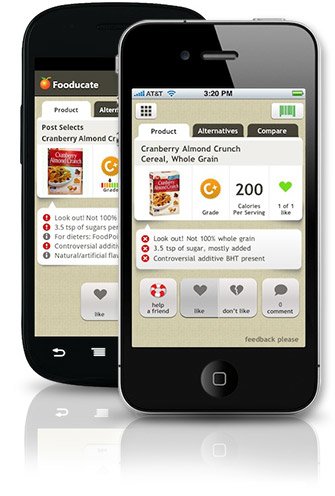 Use phone applications like Fooducate (on iPhone or Android) to help determine which products to purchase while shopping. The app gives you recommendations based on a product's ingredients and rates it on a scale from A (highest) to F (lowest). You'll be surprised that many of the expensive "natural and organic" products have low ratings!
3. Find the Farm
Perform a Google search for a local famer's market in your area. Farmer's markets are great places to find quality produce at reasonable prices while simultaneously supporting local businesses. Win-win!
4. Double Up!
Live with fitness-minded roommates? Consider purchasing quality meats in bulk on a monthly basis and then freezing them. More often than not, bulk quantities mean significant cost savings.
If quality protein is on sale, and you have a few extra dollars, purchase and immediately freeze it. An extra stash of meat can come in handy at the end of the month when you're looking to stretch the dollar.
5. Collect Coupons
Before checking out at grocery stores, ask if there are any coupons or store discounts. Many times the cashier might know of store promotions that can be used.
For more meal prep ideas and to connect with others, follow me on Instagram, Facebook and YouTube at FitMenCook!