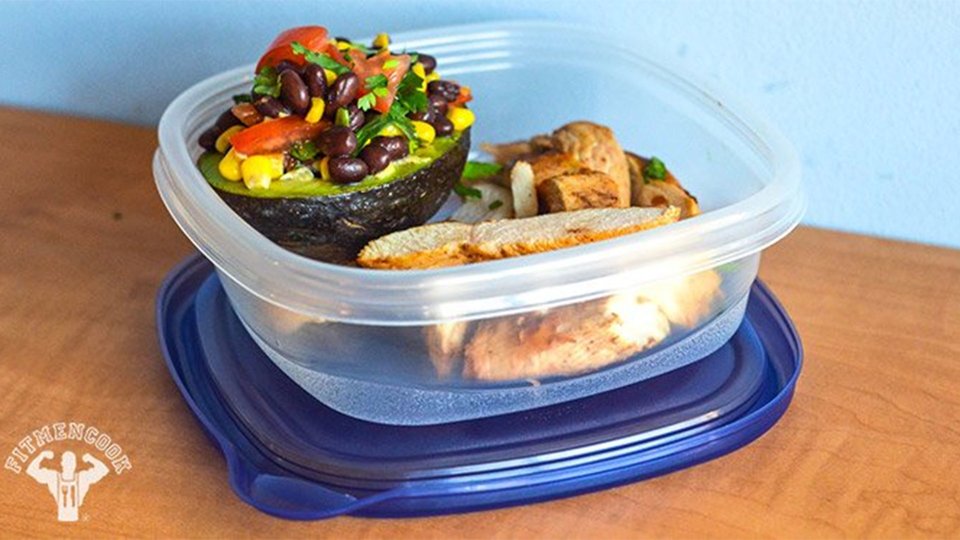 Chicken is among the cheapest and leanest proteins out there. Pair this muscle-making staple with cholesterol-lowering avocados filled with an inventive take on Southwest salsa.
Ingredients
30 oz chicken breast
2½ fruit, without skin and seed avocado
1 15 oz can black beans, drained and rinsed
1½ cup corn
2 tomatoes
1 cup cilantro
2 tbsp lime juice
Directions
Trim excess fat from chicken breasts. Wash and dry on a paper towel.
Carefully measure out a 30-oz portion of chicken breast. Slice thicker pieces of chicken breast in half.
Set a nonstick skillet on medium-high heat and lightly spray with coconut oil.
Add seasonings to the chicken and cook in skillet until all sides are seared and the inner portion of the chicken is no longer pink. Tip: Do not overcook the chicken. Even slight overcooking now will result in a very dry chicken once the meal is served.
Once the chicken is cooked, weigh the entire cooked dish and evenly divide into 5 servings.
Cook the corn and allow it to cool. Drain the can of black beans.
In a large bowl, mix black beans, corn, chopped tomatoes, cilantro, and freshly squeezed lime juice. You can also add freshly diced red onion.
Stir; season with salt and pepper to taste.
On the day you intend to eat the meal, slice a ripe avocado in half, remove the pit and fill with 1/5 of the bean and corn mixture. Place the uneaten half of the avocado in the refrigerator either submerged in ice water or with the exposed, green portion rubbed in lime/lemon juice. This will help preserve its color.