What does it mean to be an Everyday Beast? It means you are not just a weekend warrior, you're a daily grinder. Even when there is no competition on the horizon, and no trophy to win, you're still at it.
An Everyday Beast trains hard and eats right each day of the week. Not because there's an end game, but because it's their life. Being a Beast is an everyday goal.
Last year, I started the Everyday Beast video series with a trio of my favorite recipes: the kicked-up breakfast scramble, the SBTZ turkey skillet, and the legendary cheddar gains burger. But now, I'm going to mix it up by combining intense workouts with physique-enhancing recipes.
Ready? Let's sweat, eat, and grow—the right way.
Train Like a Beast
Before you dive into this smoothie, it's time to earn it. I do my sprints on a hill I like to call Bertha, but you can do yours on your own hill, or on a set of stairs if that's all you've got. Sprint up, walk back. That's one set. But you're not even close to done.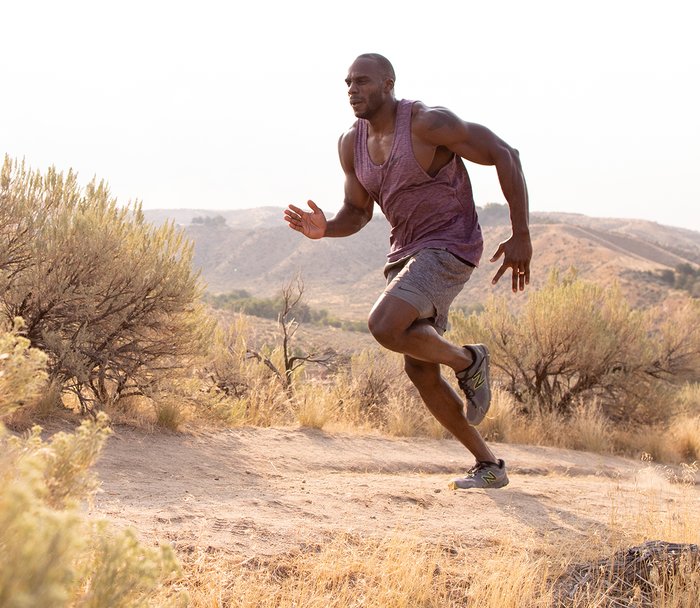 Everyday Beast Workout: Hill Sprints
10 sets of 20-30-yard uphill sprints
This is high-intensity interval training, or "HIIT," so give it everything you've got on your sprints. Your only rest is the walk back to your starting point, which helps keep your heart rate up and burns more calories overall.
This type of intense training is what Everyday Beast is all about. You don't just wake up as the most resilient person in the world, you have to train yourself for that.
Hill sprints combine cardiovascular endurance with muscular strength and power, the perfect total-body training weapon in your fitness arsenal. Keep your body upright as you sprint, and avoid the temptation to lean forward from the hips or look down.
Refuel With Real Foods
As you watch the workout, you'll see me hit the hill hard, tearing myself down again and again. But I keep coming back for every set. That's tenacity.
When you push yourself through that type of stress, and when you put your body through these types of grueling workouts, you need something to refuel you. That's what the avocado recovery smoothie is all about.
The avocado is the star of this smoothie. It's a great whole food not only for fats, but also a little of the protein and carbs you need after an intense HIIT workout. It's the perfect post-workout food, complete with a host of nutrients and loaded with healthy fats.

Ingredients
60 g avocado
½ tbsp honey
½ cup, sliced banana
4 oz unsweetened almond milk (vanilla)
1 scoop Nature's Best Isopure Whey Protein Isolate
1 handful ice
Directions
Place all ingredients in a blender and blend until smooth.
A lot of people talk about fat like it's the enemy of your physique goal. That's simply not the case. Fats are good for your physique because they support your testosterone levels, they help you recover, and they also help your joints.
What really matters is knowing how much of each macronutrient you put in your body. When I prepare my food, I measure everything out, whether it's a banana, an avocado, or a tablespoon of honey. Being an Everyday Beast means knowing exactly what's going into my body. Every macronutrient that you put into your body matters, and you keep track of that by measuring your food out.
This smoothie includes almond milk which adds extra vanilla flavor, but you can use regular milk or any other milk substitute. It's also got honey to help replenish your muscle glycogen and add a little sweetness.

For the protein, I use a whey protein isolate. It's zero-carb and zero-fat, and a great lean protein source. You're getting everything else—fats and carbs—from whole food sources.
Eating Right Everyday
When I first started out on my fitness journey, I was 176 pounds and I drank this smoothie at least 2-3 times a week. I'm now 220 pounds and I always go back to this same recipe whenever I start another mass-building phase.
It's a complete meal, bringing you about 400 calories plus proteins, fats, and carbs. It's cold, it's good, and it's exactly what you need after a hard workout. This is going to keep you on track to becoming an Everyday Beast.