The Best Of Jamie Eason
Welcome to Jamie Eason's home on Bodybuilding.com. Here you'll find her best articles and recipes, links to her social media sites, and even more inspiring content and videos!
What can we say about Jamie Eason Middleton? Her positive impact has reached far beyond the pages of Bodybuilding.com. She is a cancer survivor, model, women's fitness enthusiast, mother, and wife. Her LiveFit trainer, articles, recipes, and motivational photos have helped thousands of people get fit and change their lives.
Jamie has proven time and time again that lifting weights and building muscle are not only for men. Women all over the world have followed Jamie's lead and found that curling dumbells and squatting barbells have made them stronger, healthier, and happier with their appearance.
Although Jamie has already had an enormous impact on the fitness community, she's not done yet! Jamie continues to write articles, model, and star in video trainers. So, keep checking back for more great content from and about Jamie.
As a fitness professional and Bodybuilding.com spokesmodel, Jamie's often asked how she stays in shape. The answer? Her very own LiveFit fitness plan, which will help you lose weight, build shapely muscle, and get fit for life!
---
Ready to get fit after the birth of your new baby? Jamie Eason is here to help.
---
In the mood for fresh-baked oatmeal raisin cookies? Bake up a batch of these protein-rich morsels to satisfy your sweet tooth and support your fitness goals!
---
Ingredients
Wet ingredients
Almond butter:

1/4 cup

Maple syrup:

2 tbsp

Egg whites:

2

Unsweetened applesauce:

1/4 cup

Vanilla extract:

1/2 tbsp
Dry ingredients
Old-fashioned oats:

1-1/2 cups

Almond meal flour:

1/2 cup

Jamie Eason vanilla whey isolate:

1 scoop

Xylitol:

1/4 cup

Baking soda:

1/2 tsp

Ground cinnamon:

1/2 tsp

Raisins:

1/4 cup
Nutrition Facts
Serving size: 1 cookie
Recipe yields: 12 servings
Amount per serving
Calories 132
Carbs
14.8 g (2.4 g fiber)
Directions
Preheat the oven to 350 degrees F. Line a baking sheet with foil, spray with cooking spray, and set aside.
In a mixing bowl, whisk together the almond butter, maple syrup, egg whites, applesauce, and vanilla extract until smooth.
In a separate bowl, stir together the oats, flour, whey isolate, xylitol, baking soda, and cinnamon. Stir the dry mixture into the wet mixture, a little at a time, then add the raisins.
Form a cookie with about three tablespoons of batter. Place each cookie onto the baking sheet at least 1 inch apart. Repeat this process until 12 cookies are made.
Bake in the oven for 12-14 minutes, or until center of cookie is cooked through.
Jamie Eason is back in the kitchen, and her baking is better than ever! Indulge your sweet tooth with these delicious coconut cupcakes.
More LiveFit recipes, please! Go gourmet the lean and fit way with Jamie Eason's latest creation.
Delicious and nutritious meals are easier than you think! Hit your goals and your taste buds with Natalie Hodson's healthy, LiveFit-approved recipes.
Apple, cinnamon, protein - these are a few of our favorite things. Jamie Eason combines them into one healthy, portable, delicious snack recipe!
Jamie Eason brings sweet potatoes, applesauce, protein powder and a blend of spices together to make these awesome cookies!
Not all brownies mean a bulging waistline. Indulge the right way with this sweet treat.
Everyone is motivated a little differently. Learn what type of motivation best suits you and then use that knowledge to attack your awesome fitness goals!
---
Is your upper body lagging? Are your legs falling behind? Here's how to train your weaknesses for a more symmetrical and balanced physique!
Kendra started with Jamie Eason's LiveFit Trainer and built a stage-worthy bikini body. See her plan of attack to reach the next level and earn those marvelous IFBB credentials!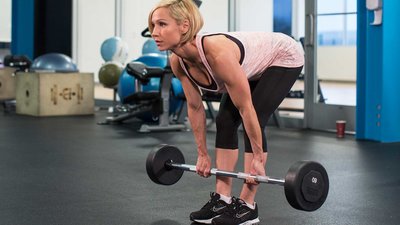 Want a taste of how Jamie Eason trains? Check out her new glute-focused workout program and go from flat to "all that"!