Mark Lost 50 Pounds In 12 Weeks And Is Still Going Strong!
Once Mark made the choice to eat right and follow a plan, his body took the stimulus and ran with it. His 12-week transformation was immense, but it was just the beginning.
Two years ago, Mark's health was in dire straits. He weighed almost 250 pounds, smoked like a chimney, and could barely make it through a full day of holding a boom mic for video shoots while performing his job as Bodybuilding.com's audio engineer. Healthy? Not a chance. And he knew it.
So what helped him right his sinking ship? It was an offhand comment from Kris Gethin that gave Mark the slap in the face he needed. Working for Bodybuilding.com didn't make Mark's transformation inevitable; it just meant that once the switch got flipped, he had an entire company lifting with him the whole way, unwilling to let him fail.
Almost two years later, Mark has lost—and kept off—56 pounds. He went from not being able to do a single pull-up to founding the company's "Pull-Up Patrol"—an informal group of Bodybuilding.com employees who participate in pull-up challenges in the facility's corporate gym—and is leaner and happier than ever.
Mark walks the walk, embodying Bodybuilding.com's spirit, motto, and enthusiasm for fitness and helping others.
What was your lifestyle like before you came to Bodybuilding.com?
Before coming to work here, I wrote jingles for commercials and produced sync licenses for TV and film. Naturally, this line of work was extremely stressful, and after three years, I became reclusive, depressed, uncomfortably introverted, smoked two packs of cigarettes a day at minimum, and ate only for comfort. Exercise was completely out of the question.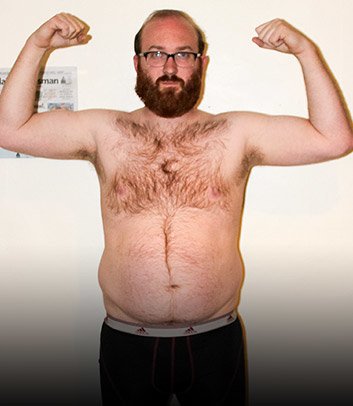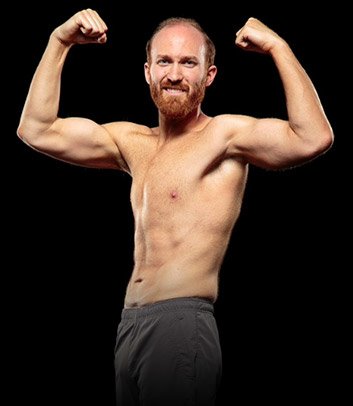 Age: 27
Height: 6'2"
Weight: 246 lbs.
Body Fat: 28%
Age: 27
Height: 6'2"
Weight: 190 lbs.
Body Fat: 12%
How has working for Bodybuilding.com changed your outlook?
Working at Bodybuilding.com means you're immediately surrounded by people who care about personal development—both in their career and in their health. I was dropped into the deep end of pool, so to speak, and it was essentially my time to learn to sink or swim—to whip my butt into shape or continue my self-destructive lifestyle.
After several months of attempting to start a training program with little success, my "aha" moment came while on a video shoot in Canada, with the one and only Kris Gethin. We went to get coffee, and I requested a Frappuccino. Kris responded with, "Why would you put that sugary shit in your body?"
For some reason, that stuck with me the entire trip. I realized that I have control over what I put into my body, plain and simple. So, when I came home, I signed up for Lee Labrada's Lean Body 12-Week Trainer on the site and followed it religiously.
Perhaps it was my newfound commitment, drive, or some weird juju, but I lost about 50 pounds on that program. When I'd finished that, I jumped immediately onto Jamie Eason's LiveFit program to add some muscle and definition. So my transformation was kick-started by 24 weeks of raw dedication to making a positive change.
Has working at Bodybuilding.com made it any "easier" for you to commit to the fitness lifestyle?
Yeah, I'm finding that a fitness lifestyle is infectious in the best possible way. When I first started here, Brandon—one of my bosses—told me that once I did a transformation, I'd understand our mission better. To this day, that has held very true.
Bodybuilding.com Employee Transformation 200k Challenge
Mark Doubleday
Watch the video - 7:13
Now having completed two 12-week training programs, I have a more positive attitude that bleeds over into every other aspect of my life. From giving fitness advice to friends whom I never thought would have had a desire to change their lives, to keeping in touch and drawing inspiration from the Instagram fitness community, this fitness lifestyle is the best thing that has ever happened to me.
What do you think was the key in helping to keep you going?
The most important point that changed from my last attempts was my attitude and how I viewed working out. I took the attitude that working out was just going to become a part of my daily routine. Like anything new, it was a foreign feeling at first. Once I was comfortable and knowledgeable enough with the equipment, it became a lot more fun.
If I had a question, I would always ask for advice from either a co-worker or gym-goer. The reality is that people who are in shape usually want to help. Of course, the first few weeks were the toughest. I chose to keep my fitness goal to myself at first. I never told anyone that I had started the program, and worked out late at night in secrecy.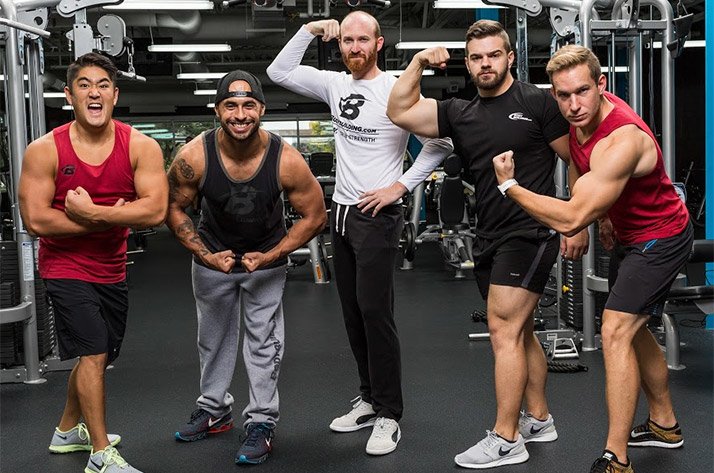 If I had a question, I would always ask for advice from either a co-worker or gym-goer. The reality is that people who are in shape usually want to help.
However, once I began telling people I had a desire to change, motivation came easier with that added accountability.
Were there times you wanted to quit, or found particularly challenging?
As I said, once I made the commitment—after easily falling off many times before—and decided that exercise and diet would be part of my routine, it came a lot more naturally.
When I first started, I just needed someone to tell me what to do. Having had zero idea about how to accomplish 80 percent of the exercises properly, I relied on the expertise of the trainers on the site and the videos on our exercise database. Plus, being on the video team and watching videos—that I also happened to be working on—always gave me a push in the right direction.
Probably the most difficult part for me was actually getting enough calories in to sustain a productive workout. It's really important for me to eat throughout the day, because I have difficulty eating a lot in one sitting, so I opted to snack throughout the day more. This really works out well for me because it helps when I'm busy, and I never get that "Oh, god, I'm so full," bloated feeling, while still getting the amount of calories that I need.
How has what you learned about fitness changed other aspects of your life?
I used to dread getting my picture taken because of how I knew I looked. It's something so small, but when that fear was lifted and I became comfortable in my own skin, it gave me the ability to want to try every activity I'd missed out on all those years. It's as if I'm making up for lost time.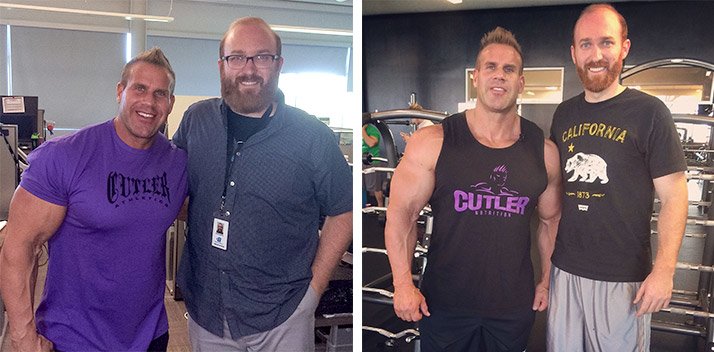 Overcoming my fear of failure and knowing that failure makes me stronger carries over into every other aspect of my life.
Also, working out is like nonstop failure. By that, I mean on every last set, there reaches a certain point where I cannot continue. Overcoming my fear of failure and knowing that failure makes me stronger carries over into every other aspect of my life. Fear of speaking up at work, fear of standing up for myself, fear of new challenges—they're all gone.
What do you want to do with your involvement in fitness and the #TransformForLife crew?
I see myself continuing a healthy lifestyle and continuing to encourage others. At this point, staying the course and treating my body well is my number one priority. My training is largely based around functionality and muscle, so competition would most likely not be in my future. I've only been active in the fitness world for a year and a half, so that may change someday.
What's the one thing you can tell new folks who may not have access to the incredible resource and support you have?
Meal prep, meal prep, and meal prep. The only time dieting was difficult was when I ran out of meals. Skipping a training day is not as big of a deal as eating garbage. I always think of the first couple weeks of training as a cleanse—in other words, no cheating. Keep clean snacks readily available in a lunch box, at work in drawers, or in the car. Integrating treats after a workout can be introduced later.
Whenever I'm eating clean, I find my motivation for everything goes up dramatically. So, yeah, do that.
What does your nutrition plan look like these days?
As I mentioned, I snack a lot throughout the day, so the number of meals I eat can look surprising. Basically, I keep a ton of food like nuts, freshly ground nut butters, Ezekiel bread, rice cakes, and whey protein at my desk. Things can get busy, so they're easy for me to grab and just munch on when needed.
I absolutely love cottage cheese. I could eat that stuff all day.
Meal 1
Eggs, scrambled:
5 whole eggs
---
---
Cottage cheese:
1/2 cup (used instead of dressing)
---
---
---
Meal 2
---
Meal 3
---
---
---
---
Meal 4
---
---
---
Meal 5
Mixed nuts, unsalted:
1 oz.
---
Meal 6
---
Meal 7
---
---
---
Meal 8: post-workout
---
Meal 9
---
---
Which supplements have helped you through your journey?
Morning (with breakfast)
Intra-workout
---
Post-workout
What sort of training regimen has kept you on track?
The actual exercises vary depending on how I'm feeling in any particular week. I concentrate on just getting good coverage of all different types of muscle groups and making sure to hit fast- and slow-twitch muscle fibers.
I do each exercise for 3-4 sets of 12-15 reps with 45-60 seconds of rest.
Day 1: Cardio
Day 2: Back and Biceps
Day 3: Chest and Triceps
Day 4: Legs
1
---
Superset
2
---
3
---
4
---
5
---
6
---
7
Swimming
20 min.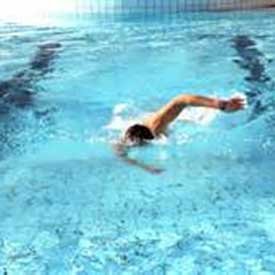 ---
Day 5: Shoulders and abs
Day 6: Cardio
Day 7: Rest
Mark's Favorite Gym Tracks
Battles

"Atlas"
Aesop Rock

"ZZZ Top"
Bloc Party

"Like Eating Glass"
Röyksopp

"Happy Up Here"
Battles

"Atlas"
Aesop Rock

"ZZZ Top"
Bloc Party

"Like Eating Glass"
Röyksopp

"Happy Up Here"
We Want Your Story!
Have you transformed your body by burning fat or building muscle? We want to tell your story. Send your before and after photos, plus a brief paragraph about your experience, to transformations@bodybuilding.com for a chance to be featured on Bodybuilding.com!