Healthy Recipes: 5 Breadless Sandwiches
Ditch the bread and dive right into the good stuff with these 5 protein-packed, breadless sandwich recipes.
There might be something to the low-carb craze. Consuming less than 120 grams of carbohydrates per day can aid weight loss, help prevent blood sugar spikes, and make your six-pack pop.
Low-carb diets also allow you to focus on the meal rather than the vehicle transporting it. After all, when it comes to sandwiches and burgers, the filling's what we're really after!
Don't let carbs have all the fun. Lay off the lunchmeat on wheat and reach for one of these breadless wonders instead. They're great recipes for lunch, a snack, or anytime you've got a wish for a tasty sandwich!
1
SUPERMAN HERO SWEET POTATO SLIDER MELTS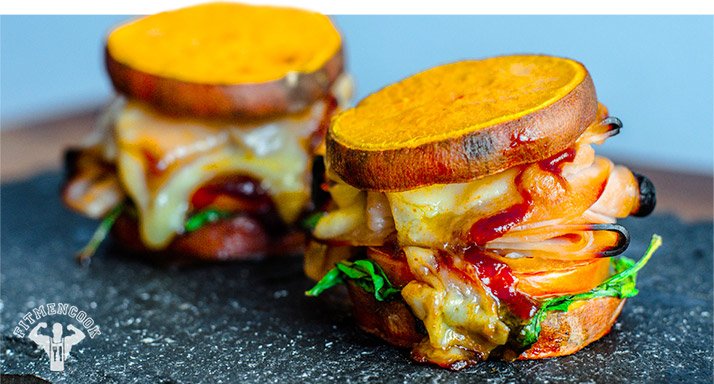 Sweet potatoes: they're great baked, broiled, and even mashed with marshmallows on top. They also make for great bread substitutes. Sweet pots are loaded with vitamin B6, carotene, and manganese, and their versatility makes them easy to incorporate into meals—and I'm not just talking boiled or mashed.
Fitmencook
Superman Hero Sweet Potato Slider Melts
Watch the video: 01:01
Ingredients
Sweet Potato
200 g, cut into thick pieces
---
---
Mozzarella Cheese
1 slice
---
---
---
---
Directions
Set oven to 375 F.
Slice a sweet potato into four thick pieces to make the buns for the sliders.
Cut the mozzarella slice into four pieces.
On one sweet potato slice, add spinach, one tomato slice, 3 oz turkey meat, two pieces of mozzarella cheese, and 1 tsp barbecue sauce.
Top with the other sweet potato slice. Jam a wooden kabob skewer through the slider so it pierces the sweet bun below. Repeat for the second slider.
Place sliders on a baking sheet and bake for 30 minutes at 375 F or until the sweet potato is cooked to desired level of softness. I prefer mine relatively firm so they can be held like a slider.
Allow sliders to cool. Devour!
Nutrition Facts
Serving Size: 1 slider
Recipe yields: 2
Amount per serving
Calories 239
2
SHRIMP-AND-VEGGIE STUFFED CHICKEN BREAST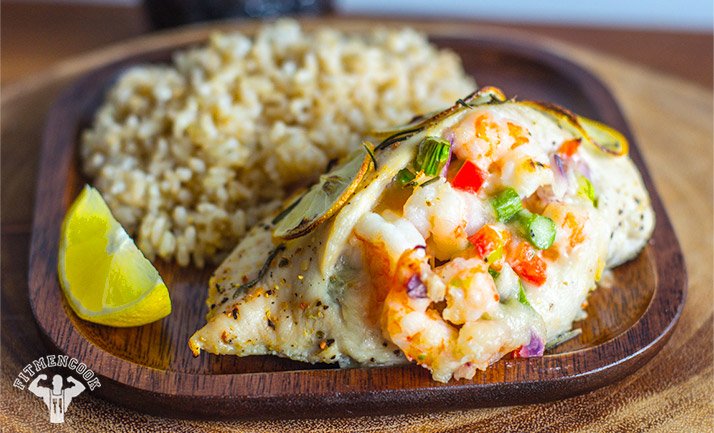 Sometimes, the filling speaks for itself. I mean, who needs a chicken club when you can indulge in a seafood-filled piece of poultry? That bread's just holding you back. Wrap your taste buds around this protein-inside-protein combo and take your meal plan to the max.
Fitmencook
Hi-Protein Shrimp & Veggie Stuffed Chicken Breast
Watch the video: 01:01
Ingredients
Chicken breast
18 ozs (three 6-oz chicken breasts, raw)
---
---
---
Low-Fat Mozzarella
1/2 cup
---
---
Red Bell Pepper
1/2 pepper
---
---
Green Onion (optional)
1 onion
---
---
---
Seasonings (optional)
lemon pepper, sea salt, rosemary
---
Directions
Set oven to 375 F.
Chop up veggies—asparagus, bell pepper, red onion, green onion, garlic—into small pieces. Remember to remove and discard the bottom of the asparagus stems.
Peel the cooked shrimp and chop into small pieces.
In a bowl, mix shrimp, veggies, yogurt, cheese, and a little sea salt and pepper.
Season the chicken breast with garlic, sea salt, pepper, rosemary, and fresh lemon juice.
Slice the chicken along the side, but be careful not to completely split it down the middle. The chicken breast should resemble a piece of pita bread.
Evenly divide the shrimp mixture among the chicken breasts. Stuff 'em.
Place the chicken on a baking sheet. Top with thin slices of lemon.
Bake in the oven for 20 minutes or until the juice from the chicken has run clear.
Nutrition Facts
Serving Size: 1 stuffed chicken breast
Recipe yields: 3
Amount per serving
Calories 294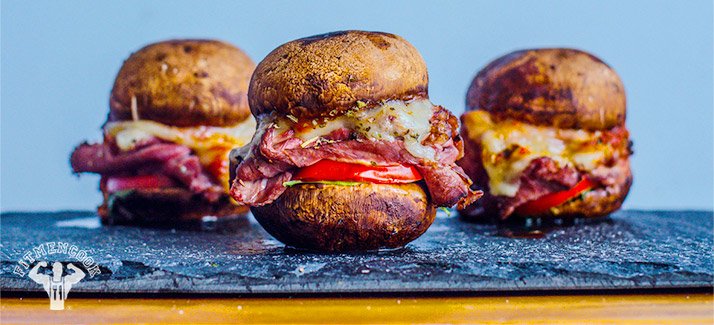 Mushroom caps don't have to be reserved for appetizers alone. Break out the big guns with this fungus-fueled dish. The combination of veggies, cheese, and meat has never been more on point—or delicious.
Fitmencook
Epic Low Carb Mushroom Sliders
Watch the video: 01:01
Ingredients
Shaved Lean Flank or Roast Beef (or choice of protein)
12 oz
---
Low-Fat Mozzarella
1.5 oz
---
Mushrooms
6 mushroom caps
---
---
Basil
handful of fresh basil leaves
---
Directions
Set oven to 350 F.
Wash mushrooms in cold water and use a knife to remove the stems. Then, use a small spoon to gently scrape the interior of the mushroom until it's white.
Build your slider: Part the mushroom cap (round side down), top with a few leaves of fresh basil, 1 roma tomato slice, 4 ounces shaved meat, 1/2 ounce mozzarella, 1 tbsp marinara, and the other mushroom cap to serve as the bun.
Skewer with a kabob stick and place on a baking sheet. Use foil to prop the sliders up to prevent them from rolling around the pan.
If desired, sprinkle with Italian seasoning. Repeat for the other two sliders.
Bake in the oven for 15 minutes.
Nutrition Facts
Serving Size: 1 slider
Recipe yields: 3
Amount per serving
Calories 270
4
BROWN RICE SPRING ROLLS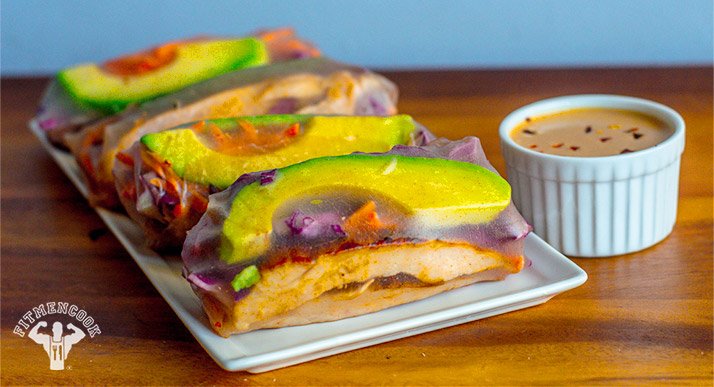 You don't need carb-filled pastry dough to make a wicked spring roll. Opt for this lower-carb version that uses transparent wrappers to really make your food the star of the dish. Play up the fun of eating with your eyes by using colorful veggies—with green avocados, purple cabbage, and orange carrots, you'll really taste the rainbow. Dip that bad boy into a heaping serving of protein peanut sauce for that added tang.
Ingredients (Spring Rolls)
Grilled Chicken Breast
5 oz
---
Brown Rice Spring Roll Wrappers
4 wrappers
---
Avocado (optional)
1/2 medium avocado
---
Fresh, Raw Veggies (your choice)
---
Purple Cabbage and Shredded Carrots
1.5 cups
---
Ingredients (Protein Peanut Dipping Sauce)
Peanut Butter Protein
3 tbsp
---
---
Red Chili Pepper Sauce
1/2 tbsp
---
Ginger 1tsp
---
---
Directions
Grill, bake, or boil chicken breasts for your weekly meal prep. The seasoning is not as important since you will be making the dipping sauce.
Measure 5 oz of chicken and chop into long pieces.
Chop your choice of fresh raw veggies such as cabbage, lettuce, sprouts, and bell peppers. Cut the avocado into 4 equal slices.
Fill a flat, round plate with water.
Dip the brown rice spring roll wrapper into the water for about 5 seconds.
Remove it from the water and set it on another plate. Immediately add 1/4 of chopped chicken, very small handfuls of your chopped veggies, and 1 slice of your avocado to the middle of the wrapper.
Fold sides inward. Roll to secure.
For the sauce, add peanut protein, rice vinegar, red chili sauce, ginger, and water to a small bowl and mix. Adjust water levels for desired sauce thickness.
Nutrition Facts: Roll
Serving Size: 1 roll
Recipe yields: 4
Amount per serving
Calories 123
Total Carbs
11g (2.5g fiber)
Nutrition Facts:
Dipping Sauce
Amount per serving
Calories 75
Total Carbs
8g (2g fiber)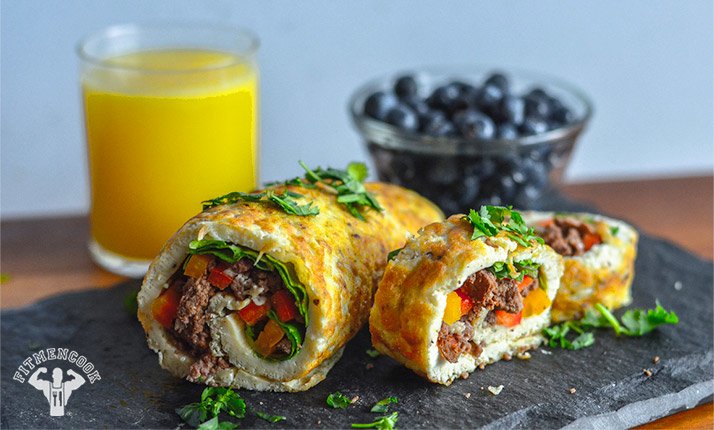 Breakfast wraps are all the rage and, while they're no bagel, a standard 8-inch whole wheat tortilla still has 26 grams of carbs. If you're cutting, every bit counts. Why not cut the wrap all together? This roll-up is proof that quality protein—and a side of veggies—is all you need for a monster, muscle-building meal.
Bison isn't just rich in flavor, it's also lower in saturated fat than beef, and provides a lean protein punch: a 3-ounce serving has a whopping 22 grams. Prep this the night before and microwave in the morning for a savory, on-the-go meal.
Ingredients
---
---
---
---
---
Low-Fat Mozzarella (shredded)
1/2 oz
---
Seasonings
garlic powder, cumin, seas salt, pepper
---
Directions
Season and cook lean bison ground in nonstick skillet.
In a bowl, whip eggs together with a punch of sea salt and pepper.
Set a separate nonstick skillet over medium-high heat. Pour in egg mixture and cook like a pancake. Cover the skillet to allow the egg to be cooked in its entirety.
Remove the egg "pancake" from the skillet and place it on a plate. Add spinach leaves, mozzarella, bell peppers, and ground bison meat.
Roll it and wrap it using plastic wrap until you are ready to eat.
Nutrition Facts
Serving Size: 1 roll
Recipe yields: 1
Amount per serving
Calories 399
Total Carbs
5g (2g fiber)