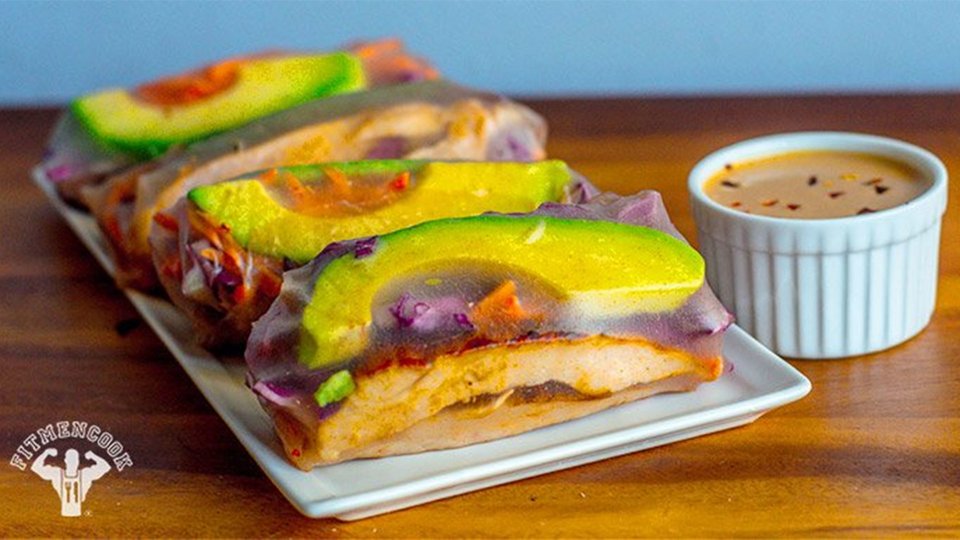 You don't need carb-filled pastry dough to make a wicked spring roll. Opt for this lower-carb version that uses transparent wrappers to really make your food the star of the dish. Play up the fun of eating with your eyes by using colorful veggies—with green avocados, purple cabbage, and orange carrots, you'll really taste the rainbow. Dip that bad boy into a heaping serving of protein peanut sauce for that added tang.
Spring Roll Ingredients
5 oz chicken breast
4 serving brown rice spring roll wrappers
½ fruit, without skin and seed avocado
1½ cup, chopped purple cabbage
1½ cup carrot, shredded
Protein Peanut Dipping Sauce Ingredients
3 tbsp powdered peanut butter
1½ tbsp rice vinegar
½ tbsp red chili sauce
1 tsp ground ginger
1 tbsp water
Directions
Grill, bake, or boil chicken breasts for your weekly meal prep. The seasoning is not as important since you will be making the dipping sauce.
Measure 5 oz of chicken and chop into long pieces.
Chop your choice of fresh raw veggies such as cabbage, lettuce, sprouts, and bell peppers. Cut the avocado into 4 equal slices.
Fill a flat, round plate with water.
Dip the brown rice spring roll wrapper into the water for about 5 seconds.
Remove it from the water and set it on another plate. Immediately add 1/4 of chopped chicken, very small handfuls of your chopped veggies, and 1 slice of your avocado to the middle of the wrapper.
Fold sides inward. Roll to secure.
For the sauce, add peanut protein, rice vinegar, red chili sauce, ginger, and water to a small bowl and mix. Adjust water levels for desired sauce thickness.