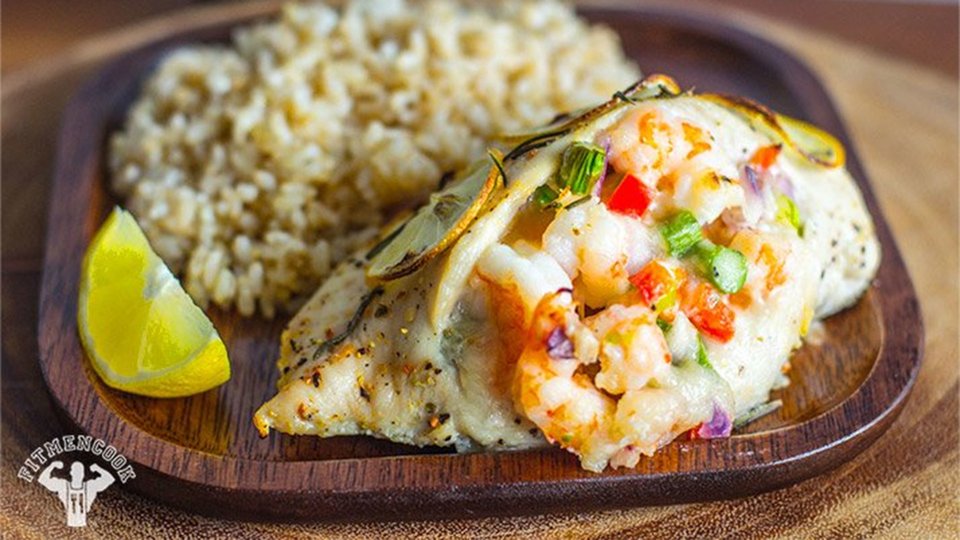 Sometimes, the filling speaks for itself. I mean, who needs a chicken club when you can indulge in a seafood-filled piece of poultry? That bread's just holding you back. Wrap your taste buds around this protein-inside-protein combo and take your meal plan to the max.
Ingredients
18 oz chicken breast
6 oz shrimp, precooked and diced
⅓ cup nonfat plain Greek yogurt
4 oz fat-free mozzarella cheese
4 asparagus spears
½ red bell pepper
⅓ cup red onion, diced
1 green onion, chopped
1 clove garlic, minced
Directions
Set oven to 375 F.
Chop up veggies—asparagus, bell pepper, red onion, green onion, garlic—into small pieces. Remember to remove and discard the bottom of the asparagus stems.
Peel the cooked shrimp and chop into small pieces.
In a bowl, mix shrimp, veggies, yogurt, cheese, and a little sea salt and pepper.
Season the chicken breast with garlic, sea salt, pepper, rosemary, and fresh lemon juice.
Slice the chicken along the side, but be careful not to completely split it down the middle. The chicken breast should resemble a piece of pita bread.
Evenly divide the shrimp mixture among the chicken breasts. Stuff 'em.
Place the chicken on a baking sheet. Top with thin slices of lemon.
Bake in the oven for 20 minutes or until the juice from the chicken has run clear.