Let's face it: Sometimes, another liquid protein meal in a shaker cup just won't cut it. You know you can make protein pancakes or nutrient-packed green smoothies, but even those get boring after awhile. When that happens, transform your protein powder with these fitness-pro-approved snack recipes!
With a few simple tweaks, your plain old vanilla protein powder becomes mouth-watering goodies like banana cake donuts and peanut bars, and your chocolate protein morphs into double-chocolate protein balls and chocolate-covered fruity bites. If these names alone don't make you salivate, I don't know what will!
1. Peanut Butter Protein Beast Bars
Nicknamed "Bazooka Joe" for his powerful punches and lethal low kicks, Joseph Valtellini is a professional kickboxer for Glory who takes training very seriously and needs to recharge his body after hard workouts.
On top of his training, Valtellini is also a high school physical education teacher for kids with special needs. How does he do it all? He makes sure his favorite protein-loaded snack is readily on hand so he can get his protein fix after his workouts.
Valtellini's no-bake peanut butter Beast bars are flourless and sugar-free, allowing him to hit his target calories and macronutrients on the go. Use chocolate protein powder for a classic peanut butter combo, or switch things up and try vanilla and almond butter instead. Either way, these homemade protein bars are nutrient-dense and the perfect protein-packed snack when you're on the go.
2. Ultimate Beast Muscle Shake
Sometimes your protein shake isn't the problem—that shake after a tough workout is the problem! When shake happens, try this recipe on for size. Joe gulps this post-workout shake within 30 minutes of his workout to jump-start the recovery process and shuttle nutrients into his body.
This shake has it all—protein, fast-digesting carbs, a bit of healthy fats, and a hit of antioxidants. Frozen mangos and strawberries give it a rich, smoothie-like texture, while the spinach and coconut oil add healthy vitamins and fat. You can also try adding chia seeds or flax meal for extra fiber, or throw in oats for extra energy to help you hit those PRs again and again!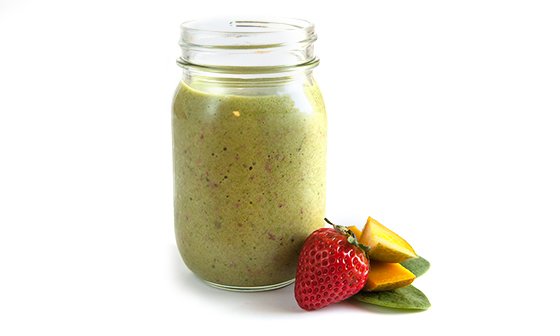 3. No-Bake Peanut Butter Beast Cookies
Love peanut butter? You and NPC competitor Brandan Fokken have something in common! Fokken knows the key to dialing in his elite competitive look is nutrition, but sometimes he just can't help craving the not-so-good stuff.
Fokken isn't afraid to admit that cookies are one of his weaknesses. Luckily for him, these no-bake peanut butter treats are filled with ingredients like oats and whey protein, making them the perfect healthy snack to satisfy those not-so-healthy cookie cravings!
4. Beast Double Chocolate Peanut Butter Balls
We all know the saying "double the chocolate means double the gains." Well, if you haven't heard it before, now you have. These incredibly simple chocolate peanut butter balls will have you chanting this new muscle-building mantra in no time!
The tasty ingredients for Fokken's secret to double chocolate gains are bananas, white chocolate peanut butter, and a double scoop of chocolate protein powder. Ground flax seeds add healthy omega-3 fats, rounding out the macros for these quick and easy protein-packed treats!
5. Beast Whey Banana Cake Donuts
Adam Bisek is a strength and fitness coach with a slew of certifications, in addition to being an accomplished physique competitor himself. When it comes to nutrition, he doesn't believe in merely changing his clients' diet—he pushes them to change their habits!
Bisek still knows how to embrace his inner foodie, however, and enjoys plenty of delicious treats, especially during the off-season.
If you're tired of your bowl of plain oatmeal or protein pancakes every morning, this recipe is for you! Banana cake donuts might sound like a major sugar bomb, but they're actually gluten-free, dairy-free, paleo-friendly, and grain-free. With so many healthy ingredients, you can enjoy these protein-rich donuts—guilt-free—anytime!
6. Beast "Bulking" Protein Bars
These protein-rich bulking bars are hands-down Bisek's favorite protein goodie.
"I can eat a whole pan in a sitting," he claims. "I can't tell you how many people I have hooked on these things!"
Using nutrient-packed, gluten-free ingredients, these bars offer a healthier alternative to most store-bought protein bars. While Bisek calls them "bulking" bars, he says that they can be incorporated into any diet, regardless of your goal. He admits, "I only call them 'bulking bars' because I can't stop eating them!"
7. Chocolate-Covered Fruity Protein Bites
At 7-feet tall, NPC physique competitor Greg Clausen is a muscle-packed spectacle. His go-to snacks to fuel his powerful build are frozen fruit dipped in chocolate made with protein powder and calorie-free sweetener—simple, but genius!
"I typically make these while I'm undergoing contest prep, " says Clausen. "My sweet tooth is unbelievable, but I don't want to derail my progress, so I turn to these sweet, but healthy, protein snacks."
Clausen eats these "bites" as a snack throughout the day. They're packed with phytonutrients from the real fruit and protein from the whey, making them an energizing combination that's easy to make and pointless to resist.
"These protein bites completely satisfy my sweet cravings, but don't hurt my work in the gym," Clausen says. "It only takes a few minutes to make them, and they'll save you weeks of setbacks from binging on actual junk food!"
8. Protein Mousse
It's tough not to love a delicious one-step recipe, and Clausen's protein mousse is just that. All you need is a bowl or glass, and you're set—just scoop, mix, and chow down!
Greek yogurt is a great low-fat ingredient to pack as much protein into this dessert as possible, and with options like powdered peanut butter, fresh berries, and even cocoa powder and sliced almonds, the flavor combinations are endless! For a frozen twist, try popping this concoction in the freezer for about 30 minutes for an ice-cold frozen yogurt treat brimming with protein goodness.