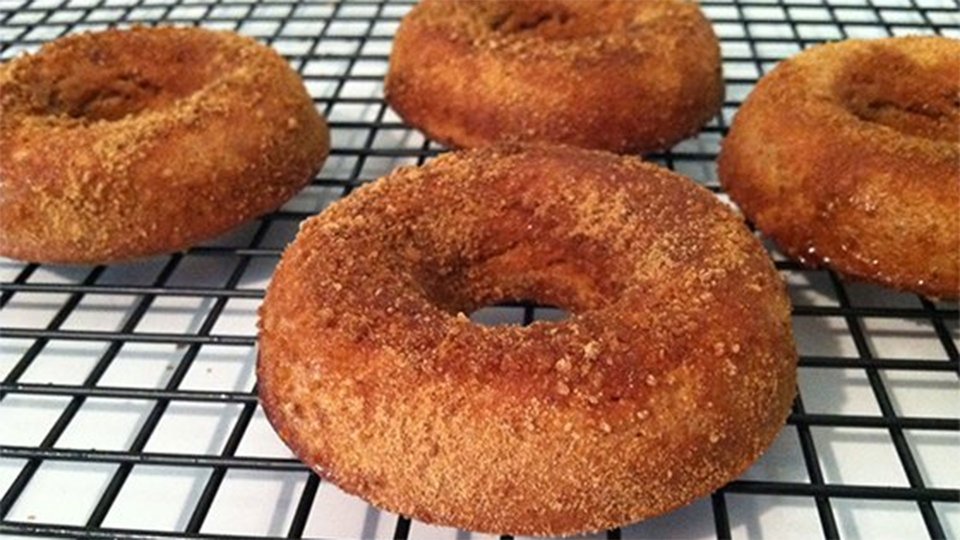 If you're tired of your bowl of plain oatmeal or protein pancakes every morning, this recipe is for you! Banana cake donuts might sound like a major sugar bomb, but they're actually gluten-free, dairy-free, paleo-friendly, and grain-free. With so many healthy ingredients, you can enjoy these protein-rich donuts, guilt-free, anytime!
Donut Ingredients
3 banana
4 large egg whites
¼ cup coconut flour
⅓ cup Beast Sports Protein, Vanilla
⅛ cup honey
2 tbsp extra virgin coconut oil
1 tsp vanilla extract
1 tsp cinnamon
¼ tsp baking soda
¼ tsp baking powder
½ tsp powdered Stevia
1 pinch table salt
Optional Cinnamon-Sugar Topping Ingredients
½ tsp cinnamon
3 tbsp coconut sugar
1 tbsp extra virgin coconut oil
1 tbsp honey
Directions
Preheat oven to 350 degrees.
Blend bananas and honey in a food processor until smooth.
Add eggs, coconut flour, whey, oil, vanilla, cinnamon, baking powder, baking soda, salt, and stevia to the mixture in food processor.
Puree until completely combined.
Grease doughnut pans and pour ingredients into pan.
Bake for 15-20 minutes, or until toothpick comes out clean.
Let donuts cool before you put on the optional topping.
For topping: Mix together honey and melted coconut oil in a bowl.
Mix cinnamon and coconut sugar together in a separate bowl.
Once doughnuts have cooled, use a basting brush to spread on a thin layer of the coconut oil honey mixture, then sprinkle doughnuts with the cinnamon sugar on all sides.