You've been a fixture on the strongman scene for nearly 20 years, but your strength journey didn't start there. What was your first experience with lifting?  
I started training weights in 1993 while working for Carnival Cruise Lines as a bartender. I lifted in a makeshift gym: a storage room at the front of the ship in the crew quarters, with discarded pieces of equipment left by crew members and unwanted items from the passenger gym. I also trained at gyms in various ports on my days off. I trained around the world, however and whenever I could.
Starting in 1996, I competed in natural bodybuilding competitions representing Grenada, West Indies. In 1997, I moved to the United Kingdom with my wife and continued to compete in natural bodybuilding. Work commitments and the birth of our first son set competition momentarily aside.
I continued to train and work out until 2002, when I filled in at a strongman competition for a friend. In a line-up of Britain's strongest men, I came in 3rd and won 3 of the events. I had never touched strongman equipment before, but I was instantly hooked.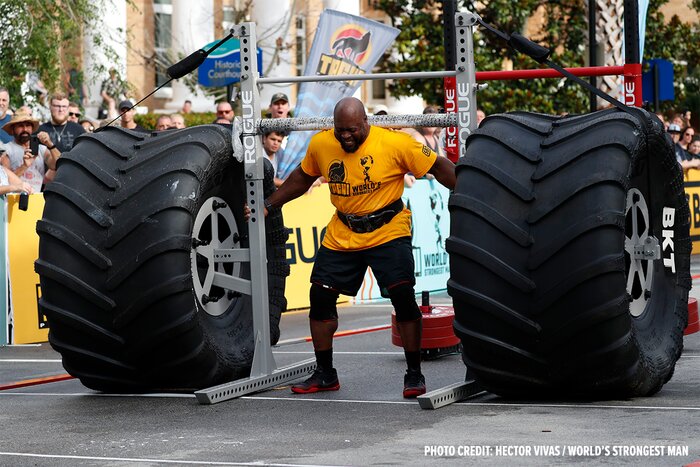 What was your first World's Strongest Man competition like?  
I made my first appearance at World's Strongest Man in 2004, in the Bahamas, and placed 7th. In 2005, I bought equipment from the training camp I was commuting to on Sundays and moved it 5 minutes from my house. Anything to train more often.
In 2006, I returned to World's Strongest Man and placed 4th, my highest placing to date. I continued to train like a strongman and competed at regular international competitions. I placed 2nd at Europe's Strongest Man and Britain's Strongest Man.
As the numbers on your driver's license go up, do you train more broadly or more narrowly?  
Oh yeah, it's broader. I incorporate a lot more mobility and targeted warm-ups than I used to.  
What about bodybuilding-style training? Is that still part of your training all these years later?  
Those early bodybuilding shows gave me a great foundation to start working with. And I still do a lot of that training, but I try and do it a bit faster, without concentrating just on the muscle itself. To really build my fast-twitch muscle fibers, I like to pull or lift fast, then release slowly.  
How was your sixteenth World's Strongest Man prep different than your others?  
This [2021] really was a great prep. I was in a training program that was very exhausting, but I stuck with it. I feel great, and I think this year's competition is going to be great for me. My only goal is really to make the finals, and then just focus on one event at a time—each one like it's my last.  
The 2020 winner, Oleksii Novikov, was just 24. What do you tell these young athletes about how to last in the sport?  
I just tell them to listen to their body. For example, since I've been sticking with my program, there were days when I'd go home and I was just exhausted. If I need a day off, I'll take one. If that's what I need to recover, I do it.  
How has your nutrition changed, if at all, over the years?  
I haven't changed my eating habits too much, because I basically maintain. I've been with this body for quite a while.  
I don't eat like you might expect a strongman to eat. My daily diet doesn't change much, except when I'm travelling. Then, it's all about what's available.
Water: I always drink at least 5 liters of water per day.
Food: I also eat a lot of fruit and vegetables—and maybe not as much meat as people may think. I eat every 2-3 hours throughout the day. I burn a lot of calories while working, so I need to eat regular, smaller amounts rather than a big, occasional meal. Evening meals contain carbohydrates to power me through the night.
Caffeine: I limit my caffeine intake and use it when I need it pre-training. On competition days, a black coffee does wonders.
Competition days: When we're lifting all day, I'll eat anything that's nutrient-dense and easy to consume. RTD protein, protein bars, even jelly.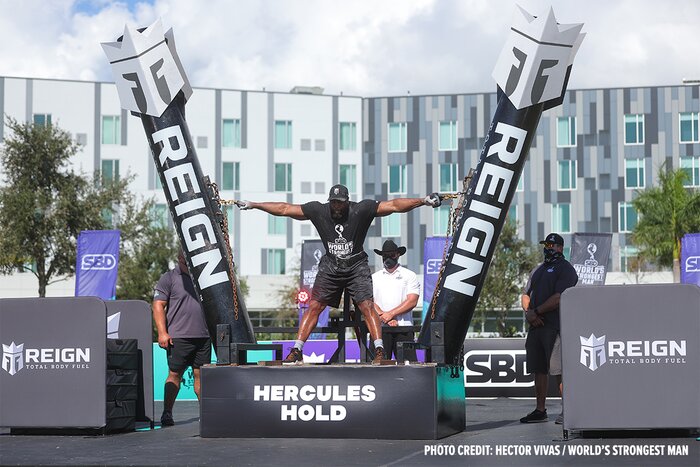 Back in 2011, we published a typical training week of yours. It was lots of strong sets of five. Is that still your bread and butter?  
I mix it up a lot. Sometimes I'll do threes, sometimes fives, and I only train them to the point of fatigue. I don't want to build up a lot of lactic acid. This allows me to really bounce back and keep working.  
Day 3: Cardio
Day 6: Events/Cardio
This day consists of around 4 hours of event training. I'll practice anything I'm training for at the given moment. Each competition is different, so I work only toward my next competition or on my weaker events.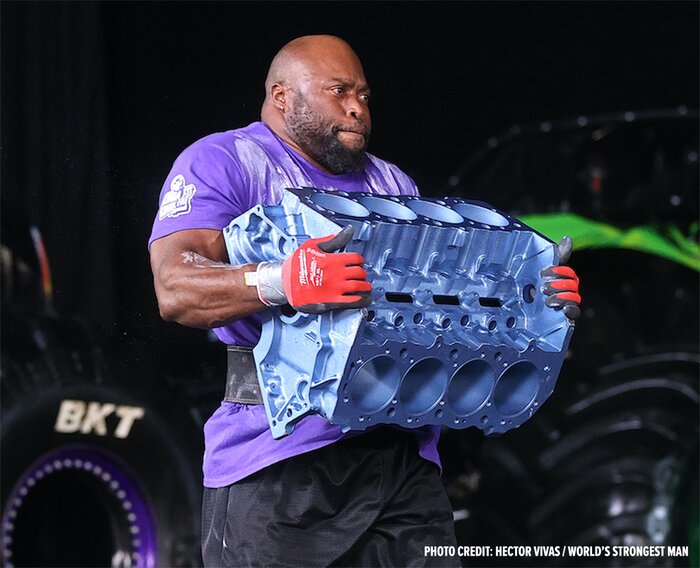 How many more of these do you have left—and what keeps you going in this sport?  
As long as I'm training well and I keep improving, I'll keep going.  
I love strength sports. The camaraderie and community is unlike any other sport. Your opponents are also your support. The only downside is the stereotype of "strong." People think that anyone as big and strong as we are has to be taking something. If people wouldn't limit themselves by such ideas, I'm sure they would achieve more of their goals.
I respect my body and train wisely. It's important for me to set a good example for my children and hopefully show that you can start training at any age and achieve your goals. Age is only a number. I'm proud to be the oldest competitor at the World's Strongest Man, giving the youngsters a run for their money.