Before the spring of 2020, Alison Seltzner was a busy professional whose on-again, off-again relationship with fitness had kept her relatively fit. When the pandemic brought work and travel to a screeching halt, this 57-year-old mother of two found herself adrift in the extended uncertainty of lockdown.
As the pounds piled on, Alison realized that she was allowing the circumstances around her to disrupt her once healthy life. This is her story of how she took back control of her fitness by not allowing quarantine, age, or fear to stand in her way.—H.E.
Back in March, when COVID-19 hit, I had a very busy travel schedule and a very busy life with two teenagers. Then, it all just stopped.
After a few months, I'd gained the "quarantine 15" and was completely out of shape. I couldn't wear any of my clothes. I had stopped doing everything that was good for me. As if that weren't bad enough, my 17-year-old son said, "Well, mom, at your age, it's OK to be a little squishy." I was so upset by that!
That was the moment I decided I wasn't going to be squishy. It was time to make changes, stop lying around the house, stop eating bad food, stop ignoring my weight gain. I decided to get back in shape.
"I Stayed 90 Percent on Target"
Years before, back in 2011, I had tried Jamie Eason's LiveFit transformation program and I thought I'd give it another try. I did, and I stayed, I'd say, 90 percent on target. My results this time around were remarkable. I lost 16 pounds, I lost over 10 percent body fat—I was way up in the 20s and I got down to 11 percent body fat. I absolutely love where I'm at. I'm no longer squishy.
When I started the program, it was truly about getting rid of flab. I did the program for the first month at home because I didn't like how I felt about myself. It wasn't until I saw some change that I felt I was ready to face the world again and work out at a gym.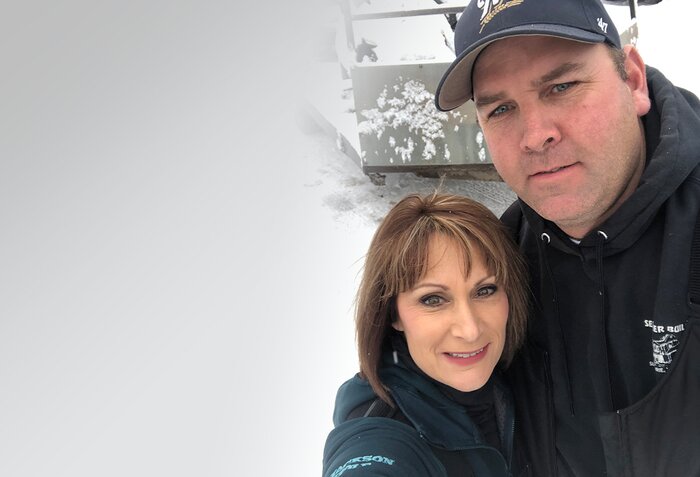 As I progressed, I felt my goals shift. I loved the change, and I was trying things I had never done before. I wasn't just going to a gym and lifting weights and running on a treadmill, I was working with the battle ropes and moving a tire and doing some of the crazy things that they had set up, which was really fun.
I couldn't have done it without that kind of motivation and the BodyFit app telling me to get at it. I love that it tells me, "Your workout is complete." I love checking that box and being able to track my workout and have the app say, "OK, you have another set." It walks you through everything, so there's no excuse.
"I'm Stronger Now Than I've Ever Been"
One of my goals was to do pull-ups and it took me a month to do one. Now, I'm up to seven. I'm so proud of myself! I don't think I would have done that if I hadn't built up a base from doing the program. I wouldn't have wanted to embarrass myself by going to the gym and trying something and failing.
Even back in my 20s and 30s, I don't think I could ever do seven pull-ups. The fact that I can do it now at 57 years old is amazing. I'm stronger now than I've ever been! My physique has also changed a lot: It's much more muscular; I have abs that I can actually see. I feel energetic again.
These days at work we're doing more Zoom meetings, so I'll probably never go back to traveling as much as I did. But I really like where this experience has put me, no matter what comes next.
For example, I also coach the high school boys lacrosse team and one of my goals going into this spring is to be able to do almost as much as they can do, or at least demonstrate it. I don't want to be that coach who is just sitting on the sidelines saying, "OK, go do it." I want to get in there with them, and I feel that I can.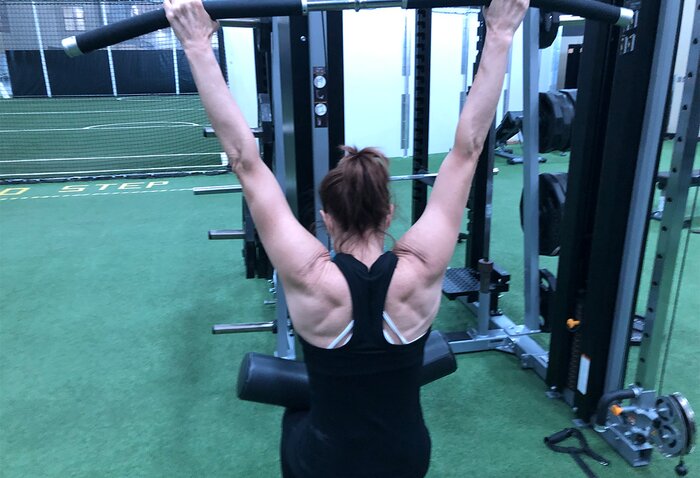 Alison's Top-5 Fitness Tips
1. Use what you have. Bodybuilding.com helped a lot with my transformation. You can say, "I only have dumbbells," and it will find you a dumbbell workout. Or exercise bands. The website is invaluable as far as hitting all aspects of what you're trying to do.
2. Start slowly to build confidence. At the beginning, you'll be saying, "I'm really terrible at this." Then by the end, you see how much you've gained and how much you've accomplished. I guess that's what motivates me—feeling accomplished when I'm done.
3. Clean up your meal plan. Transformation is as much about the diet as it is the exercise. I followed the diet plan that was on the program. I went to grilled chicken and salmon and brown rice and cut out all the sugar and junk that I was eating. It was tough, but just making those changes was transformational. I found that cleaning up your diet makes a world of difference in how you feel every day.
4. Don't let size or age deter you. I'm not a big person to begin with, so losing 16 pounds is a lot for me, but I did not like the way I felt about myself. Taking control of my health and fitness this year helped me regain my confidence and I'm in the best shape I've ever been—at age 57.
5. Set new goals. You don't work this hard and get results just to say, "OK, I'm done." It's an ongoing challenge. I like the idea of setting a goal to get to that achievement. It's an ongoing commitment and it's very rewarding to feel that kind of accomplishment when you finish one program and start a new one.
Alison followed Jamie Eason's LiveFit 12-Week Trainer. For more complete workout plans and meal guides, visit our Workout Plans section or download the BodyFit App. If you want to share your success story with us to be considered for publication, send an email to​​​​ transformations@bodybuilding.com.