Aaron Keel's wife saw him stop breathing. In fact, she got it on tape.
While poor diet and a sedentary lifestyle made weight an issue for most of his life, it wasn't until Aaron hit the mid-300s that the extra pounds led to medical issues. High blood pressure, climbing cholesterol, and sleep apnea all followed. Then, one night, he stopped breathing. 
"My wife would have to move or push me in order for me to begin breathing again," he says. "I knew I had sleep apnea, but I didn't believe her when she said I stopped breathing, so she recorded me and played back the tape. I heard myself snoring, then there was nothing. Absolutely nothing. When she shook me, you could hear me gasp for breath before finally breathing again.
"After hearing that, I didn't even want to go to sleep some nights," Aaron adds. "I was worried I wouldn't wake up the next day."
Combined with the reality of having to size up to a 5XL and a 46 pants, Aaron seriously considered lap-band surgery, but his fear of hospitals led to a change of heart. He'd tried every diet and pill; now, he would try prayer.
This is Aaron's story.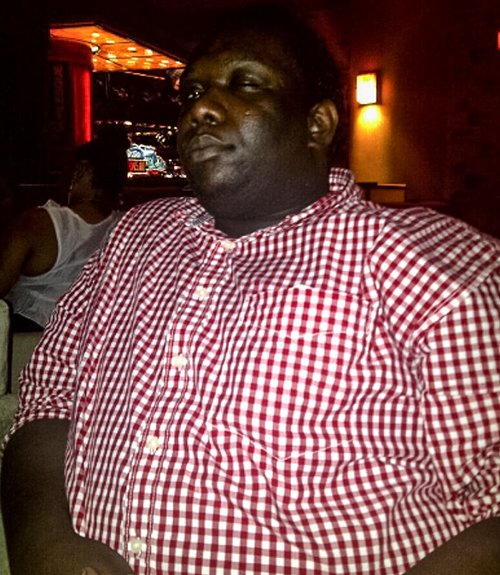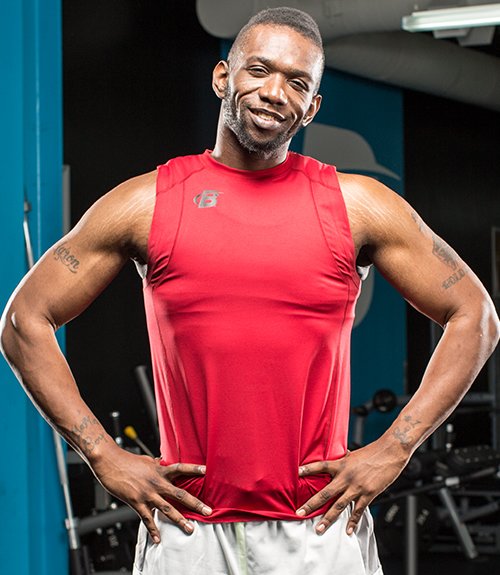 What was your wake-up call to lose weight?
I was getting ready for a church event and went shopping for a nice pair of dress pants and a shirt. I tried on my usual size 44 pants, but they were too small. I ended up not buying anything and leaving the store angry and in tears.
Why did you decide against lap-band surgery?
I almost got the surgery. I set up an appointment with a surgeon and had a date in February 2014. I'll never forget the moment everything clicked. I was sitting at my computer desk, completing the intake information and answering health-risk questions, and I realized I was in my early 30s and didn't want to have major surgery. I'd only been to the hospital once before, and that was for high blood pressure. I checked out lap-band before-and-after videos—the good, the bad, and the ugly. Then I paused and realized there was one thing I hadn't done yet at that point—pray.
Did turning to a higher power help?
It occurred to me that I'd never asked God for his support on this—not once. It's the one thing I hadn't asked for help with. I'd done all types of diets and taken different weight-loss pills, but I'd never turned to God. I decided this was it, last try. I prayed, and I've been going strong ever since.

How did you start losing weight?
I stopped driving my car and began taking public transportation everywhere I went. That meant walking to bus and train stops daily, which was something my body was not used to doing. I often wanted to quit. I wanted to give up and say, "The hell with this. It's way too hard." But by faith I believe and by faith I shall receive.
I reminded myself that I hadn't put this weight on overnight, and I wasn't going to lose it that quickly, either; it was going to take time. I prayed, I didn't listen to what others said, and I stayed focused and motivated on my goal. I challenged myself to walk greater and greater distances.
How did your diet change?
I started in March of 2013. I said, "OK, that's it. I'm going to stop eating pizza." At that time, I wasn't educated on the do's and don'ts of nutrition, but I knew fast food wasn't good. I cut the cheesesteaks out, too. As time progressed, I taught myself to try new things and began substituting.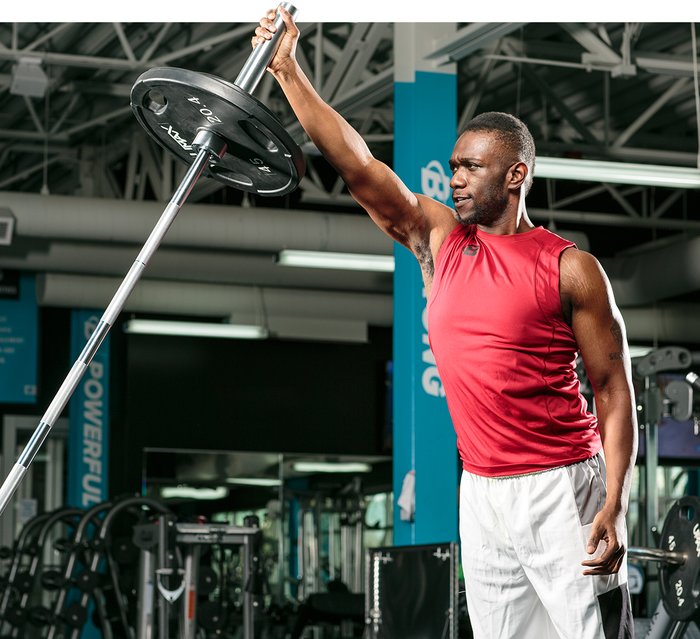 What types of substitutions did you make?
I started with small swaps. I traded bread for spinach wraps. I was eating grilled cheese on a spinach wrap, and it tasted awesome. I never imagined how good healthy could taste. After a while, I cut carbs and started eating baby spinach with grilled chicken and onions. Everything was trial and error. I'm eating salads now, which is something I would have said "No, no, no" to before.
Which foods were the most challenging to go without?
I love sodas, juices, and all the "bad" drinks, so it was hard to switch over to drinking just water. It wasn't ideal, but I'd allow myself to get really thirsty before I'd drink anything. At that point, I had no choice but to drink water.
Which supplements have helped your transformation?
When did you start training?
Going to the gym came a lot later. I started with Hip Hop Abs. I had to do it twice. The first time, I was out of breath and not catching everything, but I was still working up a sweat. The second time around was still a struggle, but better. I quit that DVD so many times, but I was determined to complete it, so it actually took me longer than 60 days. I took up jogging for a few months, until I reached my goal of 5 miles. After that, I followed Shaun T's T25 plan for 10 weeks. After completing it twice, I started weight training, not really knowing where to start or what plan to follow.
How did you continue your fitness journey?
Luckily, I found the RSP Chiseled trainer on Bodybuilding.com. The program introduced me to exercises like box jumps and ab rolling that I wouldn't have done on my own. I liked being part of a program and following it daily. I plan to repeat the trainer again, since the last few weeks of my first run were a bit rocky. Still, I saw amazing results.  
How did Bodybuilding.com help you reach your goals?
Bodybuilding.com helped by giving me a place to read user reviews on different supplements. The reviews came from real, everyday people who were transforming their bodies and lifestyles, too. The BodySpace family has been a huge, healthy part of my transformation. You're introduced to people from all over the world who have gone through the same thing as you. BodySpace is a wealth of knowledge, support, friendship, and pure positivity. I describe it as being the Facebook for fitness people or folks looking to make a healthy lifestyle change. And the fitness plans are remarkable.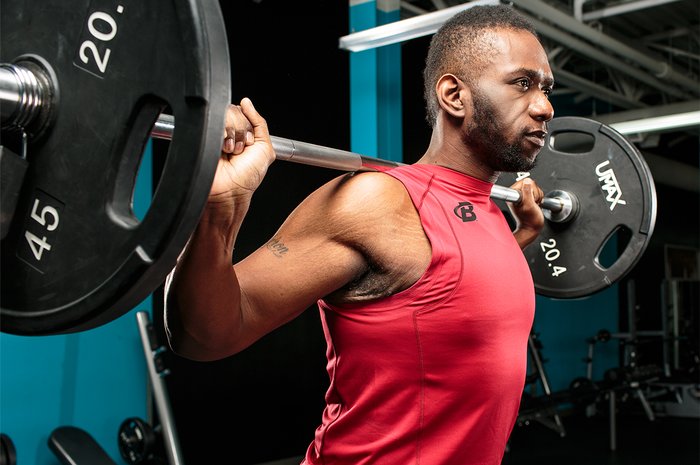 How did you become involved in boxing?
I stumbled upon boxing on one of my rest days from Chiseled. I've never participated in a sport a day in my life. I walked into this boxing class, took it once, and felt a natural high—similar to a runner's high. When those endorphins released, I felt relaxed on a whole new level. I haven't stopped taking that class since.
How has your life changed since becoming more fit?
I'm happier, healthier, and have no major health issues. I thank God for the change. My daily activity level has increased, and for the first time in my life, I'm taking up a sport that I like—boxing. My wife and family are happy about by transformation. They say I've added years to my life.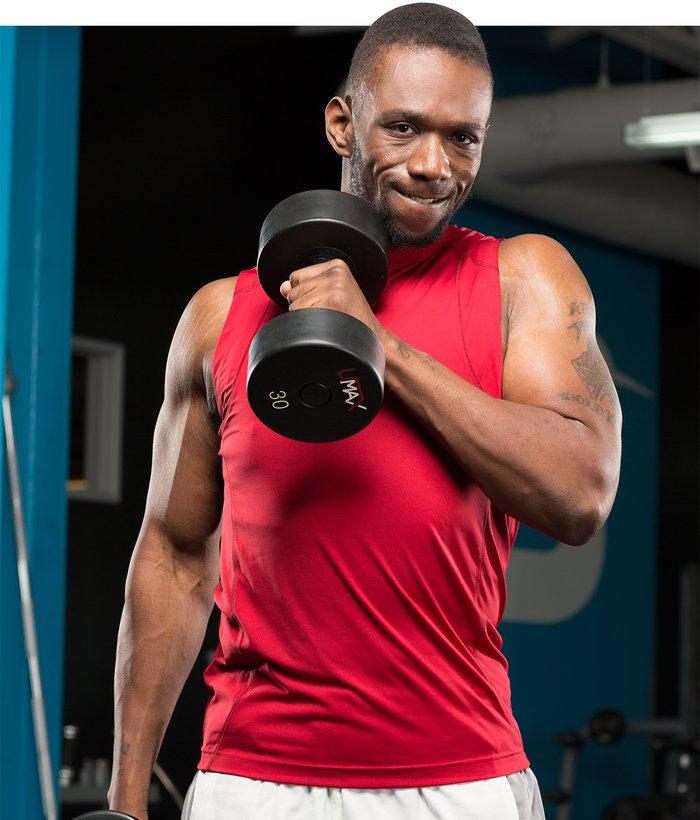 What are your tips for aspiring transformers?
Don't give up or give in. Remember, you didn't gain this weight in a month, and you're not going to lose it in a month. Be patient, stay motivated, and remain positive—especially when things get hard. It's OK to make a few mistakes along the way as long as you learn from them and keep moving forward. Lastly, do what works for you.