Eating clean doesn't have to be boring. Indulge in the foods you crave while working toward your ideal physique with these recipes that are sure to help you stay on track.
1. Protein Blueberry Muffins
I love this easy, no-bake recipe because it requires minimal prep work and cook time. It's an easy way to get in a healthy serving of antioxidants, muscle-building protein, and yummy, baked goodness.
Ingredients
Liquid egg whites, 4-1/2 tbsp (69 g)
Vanilla extract, 1 tbsp
Fat-free blueberry Greek yogurt, 2.65 oz. (75 g)
Baking powder, 1/4 tsp
Salt, 1/8 tsp
Coconut flour, 3 tbsp (21 g)
Honey, 1/2 tbsp (10.5 g)
Blueberries, 1/4 cup
Blueberry Muffin protein powder, 1 scoop (30 g)
Coconut oil spray
Directions
In a large mixing bowl, add your liquid egg whites, vanilla (or almond) extract, and your fat-free blueberry Greek yogurt.
Add baking powder, salt, and coconut flour.
Add honey and protein powder, and mix to an even batter consistency.
Mix in fresh blueberries.
Coat the inside of a silicone cupcake mold with coconut oil spray. Fill with the batter.
Use a microwave to cook muffins in 30-second intervals until the batter is no longer gooey.
Nutrition Facts
Serving size: 1 muffin
Recipe yields 2 servings
Calories: 168
Fat: 4 g
Carbs: 19 g
Protein: 17 g
2. Peanut Butter Cups
Move over, Reese's. These peanut butter cups are a great, guilt-free way to satisfy your sweet tooth. They're a healthy version of one of my favorite chocolate treats.
Ingredients
Directions
Add a frozen banana, peanut butter, peanut butter powder, cashew milk, and protein powder into your food processor.
Blend to an even consistency.
Set filling aside and melt chocolate chips in the microwave in 15-second intervals. Continue to microwave until chocolate chips are completely melted.
Once chocolate is melted, place a thin layer at the bottom of each silicone cupcake mold.
Fill cupcake mold nearly to the top with peanut butter filling.
Top with more chocolate.
Allow peanut butter cups to set in the freezer for an hour.
Nutrition Facts
Serving size: 1 peanut butter cup
Recipe yields 4 servings
Calories: 292
Fat: 18 g
Carbs: 30 g
Protein: 15 g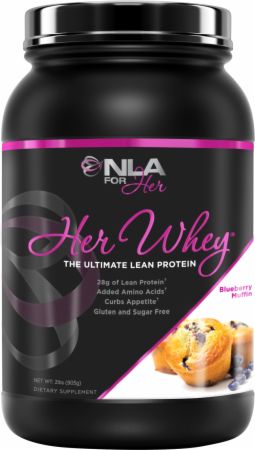 Her Whey, 2 Lbs.
28g Of Lean Protein With Added Amino Acids For Recovery!
3. Chocolate Avocado Protein Pudding
Indulge in chocolate pudding while fitting in your healthy fats with this avocado-based pudding.
Ingredients
Directions
Mash up your avocado.
Add cocoa powder and chocolate protein powder.
Add to a blender with dates and a splash of nondairy milk. Serve and enjoy.
Nutrition Facts
Serving size: 1 bowl
Recipe yields 1 serving
Calories: 495
Fat: 24 g
Carbs: 58 g
Protein: 20 g
4. Vanilla Protein Latte
I confess: I'm a bit of a coffee addict. Who needs a venti latte that's full of yucky sugar and additives when you can make a latte at home? This recipe is one of my favorites because it's a great way for me to get my coffee and protein all in one.
Ingredients
Directions
Add coffee, nondairy milk, and NLA for Her Vanilla Cupcake protein powder into a blender.
Blend. Top with cinnamon to taste.
Sip and enjoy!
Nutrition Facts
Serving size: 6 oz.
Recipe yields: 1 serving
Calories: 95
Fat: 2 g
Carbs: 4 g
Protein: 14 g
5. Mango Passion Amino Burner "Daquiri"
I love this recipe as a sweet, guilt-free treat—especially as the weather warms up. Limited ingredients make it easy to whip up for a weekend treat or late-night favorite.
Ingredients
Ice cubes
Salt to taste
Naked brand "Mighty Mango" juice smoothie, 8 oz.
Fresh ripe mango, 1
Directions
Add your BCAA mix and mango juice into small resealable bag.
Seal the bag closed, trying to squeeze out as much air as possible. Place it into a larger resealable bag.
Add ice and salt to the larger bag.
Shake the plastic bags for 5-10 minutes, or until you reach your desired "daquiri" consistency.
Nutrition Facts
Serving size: 1 drink
Recipe yields 1 serving
Calories: 300
Fat: 1 g
Carbs: 73 g
Protein: 2 g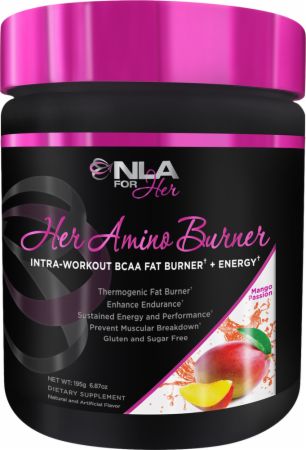 Her Amino Burner, 30 Servings
Designed To Enhance Endurance, Sustain Energy And Focus!