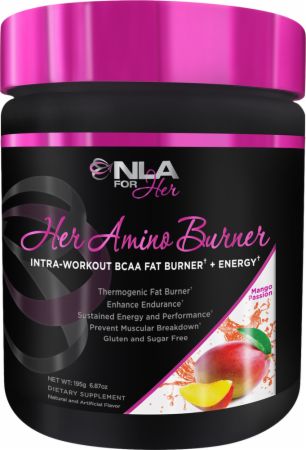 Currently Unavailable
NLA for Her
Her Amino Burner
Intra-Workout Bcaa Fat Burner + Energy*
Designed To Enhance Endurance, Sustain Energy And Focus*
Product Overview
NLA for Her
Her Amino Burner
Intra-Workout BCAA Fat Burner* + Energy*
Thermogenic Fat Burner*
Enhance Endurance*
Sustained Energy and Focus*
Prevent Muscular Breakdown*
Her Amino Burner is our delicious flavored BCAA anytime energy plus fat burning supplement loaded with 2.5g of BCAA, 100 mg of Caffeine, and a metabolism boosting complex! Our innovative formula will give you anytime energy while fueling your muscles and burning fat!*
Developed to give you a metabolism boosting experience while fueling your muscles and giving you clean energy, Her Amino Burner contains a potent Fat Burning matrix comprised of ingredients such as l-Carnitine/ALCAR, Raspberry Ketones, Green Tea Extract, Green Coffee Bean Extract, and Theobromine! Our comprehensive Performance Matrix contains a 2:1:1 Branched Chain Amino Acid(BCAAs) blend along with Citrulline Malate to help build, sustain and repair lean muscle while boosting muscular performance during training! Our Energy Matrix contains two sources of caffeine (100mg total per serving) to give you a clean anytime energy and focus boost!*
Her Amino Burner is a versatile supplement. From morning cardio to intra workout fuel to an afternoon pick-me-up, Her Amino Burner is the perfect supplement to fuel your active lifestyle! Recommended Her Amino Burner uses:
Intra-Workout: Mix 1-3 scoops of Her Amino Burner with water and enjoy throughout your workout. Her Amino Burner contains Branched Chain Amino Acids and Citrulline Malate to fuel your muscles, enhancing muscular endurance and improving peak athletic performance! The Energy Matrix will keep you focused and energized throughout your workout so you are always training to the max!*
Post-Workout: Mix 1-3 scoops of Her Amino Burner and drink post workout to to dumpster lean muscle gains. The Branched Chain Amino Acids in Her Amino Burner boost protein synthesis, allowing your muscles to recover and recuperate faster!*
Morning Energy Boost and Fasted Cardio: Take 1-3 scoops of Her Amino Burner with water to give you a morning energy boost while revving up your metabolism for morning cardio and/or training!*
Anytime Energy Boost/Midday Pick Me Up: Enjoy 1-3 scoops of Her Amino Burner with water anytime during the day to increase focus and energy. The BCAAs in Her Amino Burner will also improve muscular recovery when at rest.* If you have difficulty sleeping we recommend to NOT consume Her Amino Burner after 5 pm.
100mg
Caffeine
per serving
L-Carnitine/ALCAR, Raspberry Ketones, BCAAs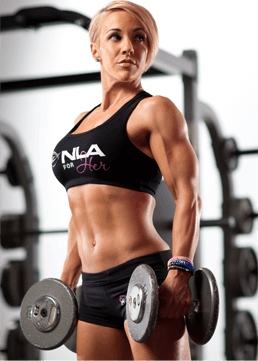 FAQ
with IFBB Figure Pro & NLA for Her athlete Jessie Hilgenberg
What type of supplement is Her Amino Burner and what are its benefits?
Her Amino Burner is unique because it combines a thermogenic + branch chain amino acids into one supplement – awesome! It doesn't fall short on either supplement, either. You still get your important 2.5 grams of BCAAs plus enough energy to equal 1 cup of coffee and other fat burning, muscle building (sparing) ingredients like L-Carnitine, Citrulline Malate, Green Tea Extract and more. Anytime I can combine branch chain amino acids, a low dose of caffeine and an energy booster – I'm in! I really enjoy Her Amino Burner and the Mango Passion flavor is delicious.
How can Her Amino Burner help you achieve your fitness goals?
Her Amino Burner is great for so many reasons. Many women come to me asking for an alternative to pre-workout supplements because they are too intense. Her Amino Burner is a great alternative to a pre-workout because it includes your important BCAAs plus a thermogenic energy booster – without any jitters or crash. With just 100mg of caffeine (equal to a regular cup of coffee) and non-stimulant fat burners like raspberry ketones and L-Carnitine – this is a good option for those sensitive to stimulants.
And for those non sensitive – Her Amino Burner is a perfect addition to your Uplift pre-workout and/or regular caffeine intake. You can add Her Amino Burner to your Uplift for an extra boost, and you can take it in addition to your daily coffee (be sure not to exceed 500-600mg caffeine daily). Also, for those of you trying to kick the coffee habit, Her Amino Burner is a great way to still get 100mg of caffeine and an energy boost without breaking the bank at Starbucks. Her Amino Burner includes ingredients that help and support you to build and maintain your hard-earned muscle, along with ingredients made to help you burn fat. If you're looking for an all-in-one supplement to help you build muscle and burn fat together, this is it!*
Ratings & Reviews
What's in NLA for Her Her Amino Burner
30 Servings

Mango Passion

Serving Size: 1 scoop (6.5g)

Servings Per Container 30

0

Amount Per Serving

%DV

Calories

5

Total Carbohydrate

2 g

1%*

NLA for Her Her Amino Burner BCAA Matrix 2:1:1

2,500

mg

**

L-Leucine, L-Isoleucine, L-Valine

L-Citrulline Malate 1:1

1,000

mg

**

Infinergy™ Di-Caffeine Malate

50 mg

**

Caffeine Citrate

50 mg

**

Acetyl L-Carnitine

200 mg

**

L-Carnitine Tartrate

200 mg

**

Raspberry Ketones

100 mg

**

Green Tea Extract (50% Polyphenols)

50 mg

**

Green Coffee Bean Extract

50 mg

**

Theobromine

15 mg

**

* Percentage Daily Value are based on 2,000 calorie diet.

** Daily Value not established

OTHER INGREDIENTS:

Natural and Artificial Flavor

, Maltodextrin

, Citric Acid

, Silicon Dioxide

, Calcium Silicate

, Sucralose

Allergen Statement: Manufactured in a facility and equipment that handles: Eggs, Wheat, Soy, Milk, Tree Nuts, Peanuts, Soybeans, Shellfish and Fish.
Directions For Her Amino Burner: Consume 1 scoop you first time mixed with 8-10 oz of water. Add a ½ scoop each time based on your caffeine tolerance (100 mg per 1 scoop). Do not exceed more than 2 scoops over a 1 hour time period. Her Amino Burner is meant to be ingested throughout the course of your training session.
Warnings: Do not use if you have a medical condition or are taking any prescription medication. Do not use this product if you are using monoamine oxidase inhibitor (MAOI) or any other dietary supplement, prescription drug or any over-the-counter drug containing ephedrine, pseudoephedrine, phenylpropanolamine or other stimulant. If you experience any other adverse reaction discontinue use immediately and consult a physician. Individuals who consume caffeine with this product or who are sensitive to caffeine may experience serious adverse health effects. DO NOT EXCEED RECOMMENDED SERVING. DO NOT CONSUME ALCOHOL OR OTHER STIUMULANTS. KEEP OUT OF REACH OF CHILDREN.
* These statements have not been evaluated by the Food and Drug Administration. This product is not intended to diagnose, treat, cure, or prevent any disease.
---