NLA for Her
Her Whey
The Ultimate Lean Protein!
28g Of Lean Protein With Added Amino Acids For Recovery!*
Product Overview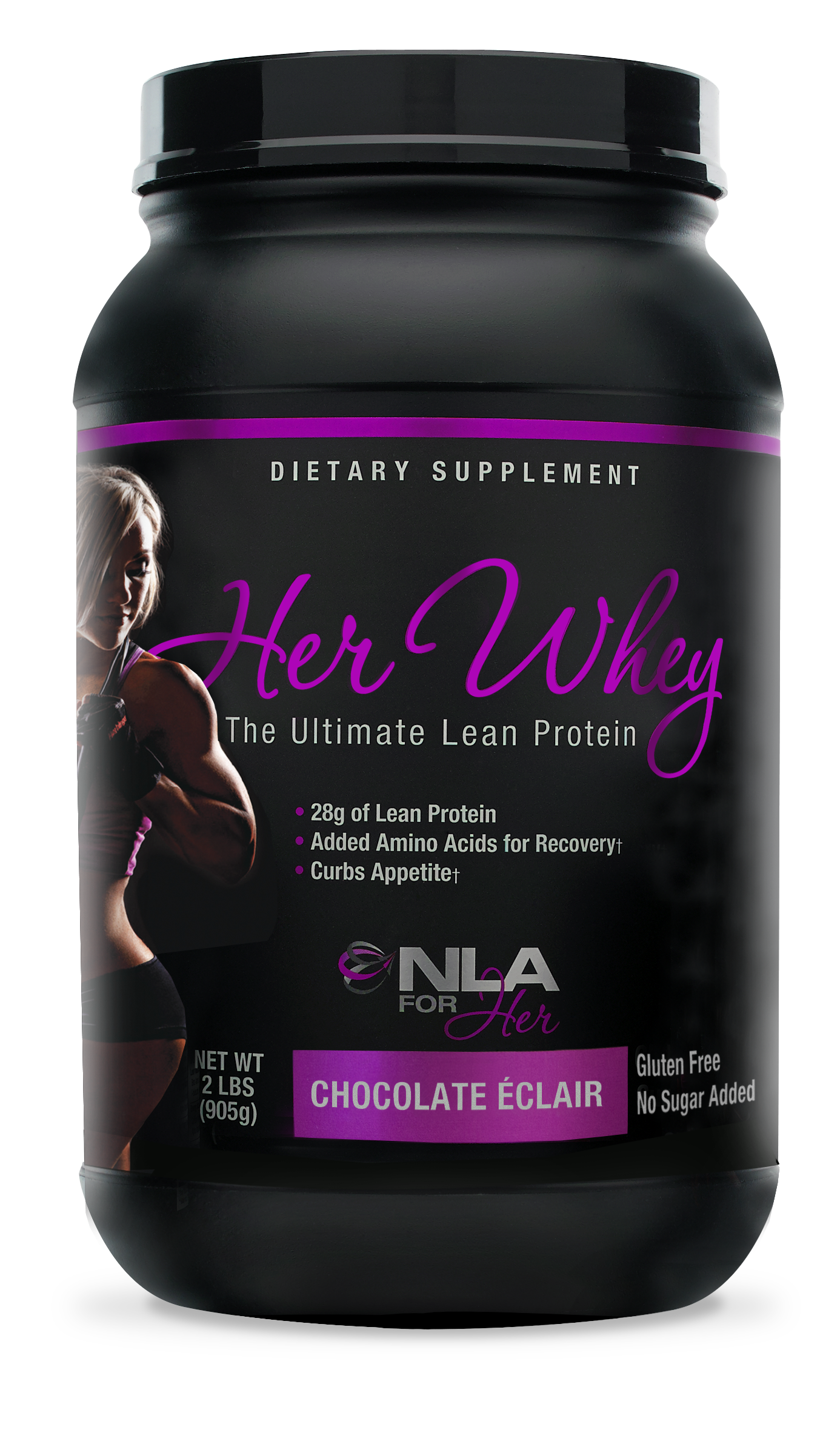 NLA for Her
Her Whey
The Ultimate Lean Protein
28g of Lean Protein
Added Amino Acids for Recovery*
Curbs Appetite*
It's about time that women have a nutritional protein drink designed for them! Her Whey is a gluten free, lean protein drink that is scientifically formulated to promote lean muscle growth, support muscular recovery and fuel your muscles for high intensity training.* Her Whey contains whey isolate protein which digests and absorbs rapidly, creating the perfect post workout recovery drink.*

Supplementing with Her Whey on a daily basis supplies you with important macronutrients that promote a lean body composition, curbs appetite and promotes muscular recovery.* Her Whey ingredients also give you a healthy dose of vitamins, minerals and amino acids to put back into your body the nutrients you need for optimal performance and well-being.*
Her Whey FOR WEIGHT LOSS Support:*

When you are having a sweet tooth or carb craving, take Her Whey as a lean protein that will help keep you satisfied.*

Our low carbohydrate blend with added fiber will leave you satiated for longer and help reduce junk food cravings.
Each serving of Her Whey is loaded with:
Low calorie, gluten-free, whey isolate protein for rapid absorption into your muscles*
A mega dose of vitamins and minerals
With Glutamine and over 5 grams of Branched Chain Amino Acids to enhance muscular recovery.*
28 grams of the highest quality whey isolate protein
FAQ
What type of supplement is Her Whey and what are its health benefits?
Her Whey is a great-tasting, high-quality whey protein powder supplement that can be used any time of the day. It has a balanced mix of fast and slow digesting proteins so you get a slow release of nutrients when you don't need them immediately absorbed, and a quick release of nutrients when you're body needs them fast—after workouts, for example.* I supplement with Her Whey three times per day—right when I wake up, immediately post workout and right before bed. Right when I wake up my body utilizes most the quick digesting proteins after a long night of fasting. Immediately after a workout my body also utilizes the quick digesting proteins and also the large dose of glutamine for recovery included in every serving. Before bed my body utilizes the slow digesting protein to release protein for several hours after I've gone to sleep. I haven't been able to find a protein that is sugar and gluten free, has the proteins I need, tastes amazing AND has glutamine! I love this stuff.

How can Her Whey help you achieve your fitness goals?
Her Whey can help you achieve your fitness goals by helping you get in enough protein every day, the right proteins at the right times, a small dose of very healthy, medium-chain triglycerides and glutamine for recovery.* Her Whey also bakes and mixes very well so you can make any treats to satisfy a sweet tooth while staying on track with your clean eating lifestyle.
Ratings & Reviews
What's in NLA for Her Her Whey
Serving Size: 2 scoops (50g/1.7oz)

Servings Per Container: 18

Amount per Serving

%DV

Calories

190

Total Fat

5 g

7.6%

Cholesterol

3 mg

1%

Net Carbohydrate

6 g

2.3%

Dietary Fiber

5 g

20%

Sugars

0 g

*

Protein

28 g

58%

Vitamin A (from Retinol Palmitate)

2,500 IU

50%

Vitamin C (as Ascorbic Acid)

30 mg

50%

Vitamin D (as Cholecalciferol)

200 IU

50%

Vitamin E (from dl-Alpha Tocopheryl Acetate)

15 IU

50%

Vitamin K-1 (as Phytonadione)

40 mcg

50%

Thiamin (from Thiamine Mononitrate)(Vitamin B1)

.75 mg

50%

Riboflavin (Vitamin B2)

.85 mg

50%

Niacin (as Niacinamide)

10 mg

50%

Vitamin B-6 (as Pyridoxine HCl)

1 mg

50%

Folic Acid

200 mcg

50%

Vitamin B-12 (as Cyanocobalamin)

3 mcg

50%

Biotin

150 mcg

50%

Pantothenic Acid (as Calcium d-Pantothenate)

5 mg

50%

Calcium

290 mg

29%

Phosphorus (from Dicalcium Phosphate)

77.3 mg

7%

Iodine (from Potassium Iodide)

75 mcg

50%

Magnesium (from Magnesium Oxide)

200 mg

50%

Zinc (from Zinc Sulfate)

7.5 mg

50%

Selenium (from Selenomethionine)

35 mg

50%

Copper (from Copper Gluconate)

1 mg

50%

Manganese (from Manganese Sulfate)

1 mg

50%

Chromium (from Chromium Chloride)

60 mcg

50%

Molybdenum (from Sodium Molybdate)

37.5 mcg

50%

Sodium

214 mg

9%

Potassium

316 mg

9%

Lean Mass Promoting Fatty Acid Complex:

*

Sunflower Oil, Corn Syrup Solids, Sodium Caseinate (a milk derivative), Mono & Diglycerides, Dipotassium Phosphate, Tri-Calcium Phosphate, Soy Lecithin, Tocopherols, MCT (Medium Chain Triglycerides)

* %Daily Value (DV) not established.

Other Ingredients:

Whey Protein Isolate

, Cocoa Powder

, Polydextrose

, Flavors (Maltodextrin

, Silicon Dioxide

, Ethyl Alcohol

, Citric Acid

, Dimethyl Polysiloxane

, Corn Starch)

, Natural & Artificial

, Cinnamon (bark)

, Vitamin and Mineral Mix, Xanthan Gum

, Guar Gum

, Sodium Chloride

, Acesulfame Potassium

, Sucralose

, Calcium Carbonate

Contains: Dairy, Soy. This product contains naturally occurring caffeine. Allergen Statement - Manufactured in a facility and equipment that handles: Eggs, Wheat, Soy, Milk, Tree Nuts, Peanuts, Soybeans, Shellfish and Fish.
Directions For Her Whey: Take 1-2 scoops 2 times daily for optimal results. Supplementing with HER WHEY immediately before workouts will give you the nutrients you need to make it through the most grueling workouts. Supplementing with HER WHEY 10- 45 minutes post workout will speed up the recovery process, allowing you to get back to the gym sooner and less sore.†
Warnings: KEEP OUT OF THE REACH OF CHILDREN. DO NOT USE IF SAFETY SEAL IS DAMAGED OR MISSING. STORE IN A COOL, DRY PLACE.
* These statements have not been evaluated by the Food and Drug Administration. This product is not intended to diagnose, treat, cure, or prevent any disease.
---