Best Protein Powders of 2020
Here at Bodybuilding.com, we drink protein shakes like it's our job—because it is! Our team of fitness editors, athletes, and nutrition advisors chose the best protein powders for every goal based on nutritional quality, taste, value, and customer feedback.

Protein FAQs
Why Should You Take Protein Powder?
Getting enough protein is essential for good health. It can be hard to get enough protein from food, so adding protein powder to your diet is a convenient way to raise your intake. A high protein intake is especially important for athletes (even amateur athletes and gym-goers) and people on weight-loss diets.
What Are the Benefits of Protein Powder?
Muscle Growth
Protein powder is high in amino acids, the building blocks of muscle. After you stress your muscles during a workout, amino acids help repair your muscle tissue and build it back stronger and bigger. They are the fuel you need to build muscle.
These essential amino acids can also help protect your muscles from breaking down, especially when you're on a low-calorie diet or have a light-speed metabolism. This is one reason a lot of people who lift weights like to have a protein shake before bed, when the body will be without food for a long time.
Weight Loss
When you're working on losing fat, extra protein can give you a leg up in a few ways. For one thing, it's very filling while containing relatively few calories, so it can keep you from feeling hungry when you're dieting.
Also, since protein powder supports your muscles, it can help your metabolism stay high. Muscle burns more calories than fat, so the more muscle you have (even if you don't look big), the more calories you burn.
Plus, it takes more energy to digest protein than calories and fat, so the more protein you eat, the more calories you burn through digestion.
What Are the Types of Protein Powder?
Whey Protein
Whey is a protein made from milk and is by far the most popular option. Whey protein is high in the branched-chain amino acids needed for muscle building: leucine, isoleucine, and valine. There are three main types of whey protein powder.
Whey protein concentrate:

This is the least processed form of whey protein. Whey protein concentrate contains less protein than other forms of whey protein—around 75 percent—but it has more of the other helpful compounds in milk, along with more lactose and fat.

Whey protein isolate:

This form of whey protein has almost all fat and lactose removed. It contains 90-95 percent protein.

Whey protein hydrolysate:

Whey protein hydrolysate is a form of whey protein powder that has been hydrolyzed, or partially broken down to ease digestion. It can be made from either whey protein concentrate or whey protein isolate.
Plant-Based Protein
People who are sensitive to dairy or prefer not to eat animal products have plenty of protein powder options. Pea, rice, soy, and hemp protein are all common. Pea and rice protein in particular are easy to digest and high in amino acids needed for muscle growth, and are often combined in vegan protein blends.
Casein
Casein, like whey protein, is a protein found in milk. Casein protein takes longer to digest than whey protein powder, making it better for staying full for a long time but not as good when you want protein to be absorbed quickly into your body, such as post-workout.
Egg
Egg protein is very easy for the body to utilize, and is great for people who can't eat dairy but can eat eggs.
Beef, Chicken, and Bone Broth
These are good protein options for people who want to avoid dairy but benefit from the amino acids and other nutrients found in animal protein.
What Should You Look for in a Protein Powder?
Quality can vary—read the label to see if it has fillers or ingredients you may be sensitive to. Also look at the amounts of protein, carbohydrates, fats, and total calories, as well as vitamins and minerals. There's no one best nutrient profile; it depends on your goals and preferences.
Also look at how many servings you get and determine the cost per serving. If you're drinking a protein shake or two every day, differences of a few cents can add up over time.
Finally, you'll want to find a protein that tastes good! This is highly subjective—some people like a sweeter shake, while others prefer a protein that tastes more natural. Reading reviews can help, but it's best to try a product yourself to see if you like it.
Best Overall Protein Powder
Pro JYM is a user-friendly protein blend that works in just about any situation. It's a fan favorite with a wide range of highly-rated flavors, including some exclusive to Bodybuilding.com.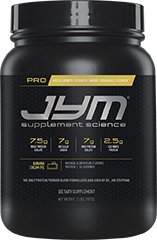 Reasons to buy:
Fast and slow-digesting proteins
Premium ingredients
Developed by Jim Stoppani, Ph.D.
Exclusive and legacy flavors
We chose Pro JYM as the best protein powder because it's made from high-quality ingredients and it's versatile. If you only want to buy one protein, this is it. The formula contains science-backed levels of solid ingredients with full transparency, meaning the amount of each ingredient is listed on the label.
Pro JYM is a blend of whey, casein, and egg protein. A blend is good for two reasons: It provides fast- and slow-digesting proteins, so it boosts muscle protein synthesis for a long period of time while still providing quick protein after a workout. Second, it means you can just use one protein supplement for all your needs instead of having to buy a whey isolate for post-workout, casein for before bed, and so on.
This protein supplement gets a ton of 10/10 reviews for the quality, versatility (you can use it any time of day), and great flavors, including limited edition and legacy flavors so your taste buds won't get bored. The Rocky Road is especially popular and provides a change of pace from the usual chocolate, vanilla, and strawberry. Pro JYM has a rich, satisfying texture, although some customers find this makes it harder to mix in a shaker bottle. If that's an issue, whipping it up in a blender will make a smooth, creamy shake.
Best Protein Powder for Weight Loss
Whether between meals or after the gym, ISO100 keeps you full with 110 calories that are almost entirely protein. The super-clean formulation tastes great and is easy to digest.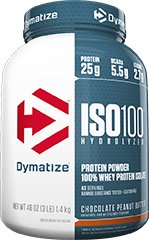 Reasons to buy:
Clean, simple ingredient list
Lower in calories
Fast-digesting hydrolyzed protein
Light and clean feel
Stevia-sweetened flavors available
Protein is essential for weight loss since it keeps you full and steels you against cravings. Our team agreed that ISO100 is the best protein powder for weight loss because it's low in calories, carbs, and fat, and is as close as you can get to pure protein.
This Dymatize product is made with hydrolyzed whey isolate. This is already partially broken down, so it's easy to digest and feels light in your stomach. Hydrolyzed whey is also perfect for post-workout protein shakes, since it gives you a fast hit of essential amino acids.
Customers also rave about the great taste of this protein supplement, the chocolate peanut butter flavor in particular. When you're watching your calories, eating super clean, and avoiding junk food, it's nice to have something that feels like a treat but that takes you closer to your goals. And with such a short, clean ingredient list, you know you're not getting any added sugars or fillers—just super-clean protein to help you manage your weight.
Best Protein Powder for Women
Revel is a high-quality but affordable protein that's perfect added to smoothies or just shaken with water. As a bonus, it contains enzymes, CLA, and choline, so you get multiple benefits in one supplement.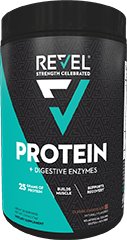 Reasons to buy:
Contains digestive enzymes, choline, and CLA
Women and men can use it
Blend of whey and casein proteins
No added sugars
Simple, clean-tasting flavors
It's common for products marketed to women to just "shrink it and pink it." But this is a hard-hitting product that provides good quality at a good price, which makes it our choice for the best protein powder for women.
Revel is a popular choice for adding to smoothies. The simple flavors blend well with fresh ingredients, and with no chalky flavor, they make for a natural-tasting smoothie. But Revel blends just as well and tastes just as great combined with water in a shaker bottle.
The other reason Revel is our top women's protein is it contains extra active ingredients for women's health that you might not receive otherwise. CLA provides stimulant-free weight support; digestive enzymes help with gut health; and choline promotes cognitive function, helping you stay focused in and out of the gym. Together, they provide extra benefits and streamline your supplement regimen, adding value while keeping life simple.
Best Vegan Protein Powder
More than just protein, this plant-based powder includes an array of micronutrients from organic fruits and greens. The super-clean formula is dairy free, soy free, and naturally flavored and sweetened.
Reasons to buy:
Raw, sprouted ingredients
Greens, fruit, and vegetable blend
Probiotics and enzymes
Vitamins and minerals
Not too sweet
Soy free
What makes this plant-based option our favorite is everything that's in it other than protein. Garden of Life RAW Organic Meal also contains organic fruits and vegetables, probiotics, enzymes, and a full array of essential vitamins and minerals, making it more of a full meal replacement than just a protein supplement. Blend it with fresh fruit, greens, and almond butter, as many of our customers do, and you're hitting a lot of your nutritional bases with just one shake.
Equally important is what this plant-based protein doesn't have: soy, dairy, added sugars, or artificial flavors, colors, or sweeteners.
One thing to note: Garden of Life doesn't taste like your typical whey shake. That's due to the natural ingredients and absence of artificial flavors and sweeteners. But on the whole, users appreciate the more natural flavor.
Best Whey Protein Powder
This combination of whey isolate, hydrolysate, and concentrate rises above competing value products, many of which use fillers and lower-quality ingredients. It scores fantastic flavor ratings, too.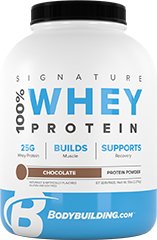 Reasons to buy:
Whey isolate, hydrolysate, and concentrate
Seasonal flavors available
Exceptional value
Developed by Bodybuilding.com
Even if it wasn't our "house" brand, this would still be our go-to for whey, primarily because it's a fantastic combination of value and quality. While many value brands' products are primarily whey protein concentrate, Signature 100% Whey has an impressive profile of 13 grams of isolate and 6 grams each of hydrolysate and concentrate. That means you have a lot of clean, quick-digesting, low-carb protein, with just enough whey concentrate for a creamy flavor and texture.
Simply put, it tastes really good. In reviews, customers rave about the delicious flavors and lack of a synthetic aftertaste. Mocha cappuccino and seasonal favorite oatmeal cookie are the most-praised flavors.
Many reviewers also find this product easier to stomach than some of its competitors, likely due to the high-quality formulation.
Best-Tasting Protein Powder
Kaged Muscle MicroPure uses a mix of traditional and natural sweeteners to create a shake that tastes amazing with no aftertaste. It comes in chocolate and vanilla as well as fun flavors such as coffee latte and cinnamon roll.
Reasons to buy:
Whey isolate with enzyme technology
Sweetened with sucralose and stevia
Free of artificial flavors and colors
Low in sugar and fat
Developed by Kris Gethin
The yummiest things in life are not always the healthiest. So it's a pleasant surprise that the best-tasting protein powder is also one of the best for you.
Kaged MicroPure Whey Protein Isolate earns plenty of 10/10 scores on our site for having great flavors without the chemical taste. That's because it's free of artificial flavors and partially stevia-sweetened—but only partially, so you don't get a weird stevia aftertaste as with some natural options. It also mixes well, which is a plus when you drink your protein shaken rather than blended. The coffee latte and cinnamon roll flavors rack up the most positive reviews.
On top of all that, MicroPure happens to be a really high-quality product. It's a whey protein isolate, not a blend, which means you're getting pure, quick-to-absorb protein with minimal fat, carbs, and lactose. It's been processed to be extra easy to digest with Prohydrolase enzyme technology.
Since it's fast-digesting, this great-tasting choice is perfect for times like after the gym. If you're looking for something that will keep you full longer, go with one of the other choices on this list, such as Pro JYM or Signature Whey.
Best Protein Powder for Building Muscle
NitroTech 100% Whey Gold is a highly bioavailable protein that's formulated specifically for gaining lean mass and is easy for your body to absorb.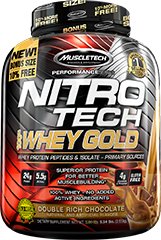 Reasons to buy:
Whey peptides and isolate
Free of artificial flavors and colors
Low in sugar and fat
Large value size available
This whey protein powder is the best for building quality mass because it was specifically designed to do just that, unlike others made to be used for multiple purposes.
We chose this protein for its smart formulation. The 24 grams of protein in each scoop includes 5.5 grams of BCAAs, the amino acids specifically responsible for muscle protein synthesis. But what sets it apart is the addition of whey peptides, which are highly bioavailable and enable better recovery from tough workouts. Translation: Build more muscle from your workouts and be ready to go back and crush another one sooner.
Customers also love NitroTech's creamy flavors and the value you get for the price. Plus, it comes in a massive 8-pound value size, so you can order once and be set up for a while.
Best Protein Powder for Men
Optimum Nutrition's longtime bestseller Gold Standard Whey is a versatile choice for building muscle, performing at your peak, and recovering from hard workouts, in a dizzying array of flavors.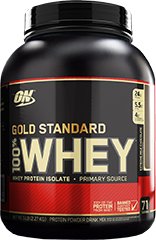 Reasons to buy:
Whey protein blend
18 flavors
Supplement and protein of the year for a decade
Mixable with a spoon
Your protein needs vary by your weight, so some guys need a lot. You might need to down a couple shakes a day to hit your protein needs, especially if you train heavy. And if you're drinking that many shakes, it helps to have some variety. With 18 available flavors, Gold Standard Whey from Optimum Nutrition is your ally in the fight against protein burnout. Reviewers love the authenticity of the flavors—they don't all just taste the same.
Aptly named, Gold Standard won Bodybuilding.com's protein and supplement of the year from 2005-2014, and it's by far the most popular protein shake among fit guys. For a long time, this 100% whey blend set the standard for a versatile, go-to protein shake. It can be used for muscle building, performance, and recovery, as well as for staying lean. Other contenders have since entered the market, but Gold Standard Whey remains a solid nutritional choice with a lot of options.
One more awesome thing about Optimum Nutrition is it mixes so easily you can just stir it with a spoon. You don't even need a shaker bottle (although it helps make a super smooth shake). So you have zero excuse to skip your protein, even if all your shaker bottles are in the dishwasher.
Best Organic Protein Powder
This high-powered plant protein is organic, vegan, and delivers a serious dose of protein and BCAAs for athletes who care about their health as much as their performance.
Reasons to buy:
Plant based (vegan)
5.5 grams of BCAAs
Non-GMO verified
Probiotics
Some people think you can't get enough protein or BCAAs from plants. Well, if 30 grams of protein and 5.5 grams of BCAAs aren't enough for you, we don't know what is.
While Garden of Life Sport is a plant protein, you don't have to be vegan to benefit from it. It's a great choice for anyone who values eating clean and is looking for a straightforward protein to use for recovery, performance, and building muscle. Unlike Garden of Life RAW Organic Meal, it is not a meal replacement. Garden of Life Sport works best as a recovery shake or as a supplement to add more protein to your diet, similar to whey protein.
We rank this performance-oriented protein powder above its competitors because in addition to the organic vegan protein blend, it contains an organic muscle recovery blend with antioxidants from turmeric, goji berry, tart cherry, and other organic ingredients.
This blend is also better than some other natural proteins because it packs a high 30 grams of plant protein, and 5.5 grams of BCAAs for building muscle—exceptional in a vegan protein. And since it's fully organic, non-GMO verified, and free from banned substances, it's one of the cleanest performance proteins you can get.
Shop All Protein Powders