Best Proteins | Best Mass Gainers | Best Pre-Workouts | Best Creatine | Best Fat Burners | Best Multivitamins | Best Test Boosters | Best Weight-Loss | Best BCAAs
Multivitamins are one of the most basic and familiar supplements. Plenty of us have been taking them since childhood, after all. And choosing one as an adult seems simple enough—until you actually start shopping and comparing products. With the countless different kinds available online and at the supermarket, it's hard to know which one is going to be worth your money.
That's why we've done the hard work for you, harvesting info from our in-house experts and thousands of online reviewers. Meet the best multivitamins of 2022!
How We Chose the Best Multivitamins
We've been in the business of selling supplements—and taking them—for over 20 years. This means we know the best multis because our team members and athletes have tried them and put them to the test. Here's how we chose the top products for 2022:
Customer Ratings and Reviews: Our customers are our most valuable resource, and we learn a lot about our products through them. We trust their opinion, and they trust us to deliver the best.
Formula: Our community knows plenty about the essential multivitamin ingredients and dosages and how they impact the body.
Value: Multivitamins only work if you take them on a regular basis—like every day! So, you'd better believe we selected ones that are a great value.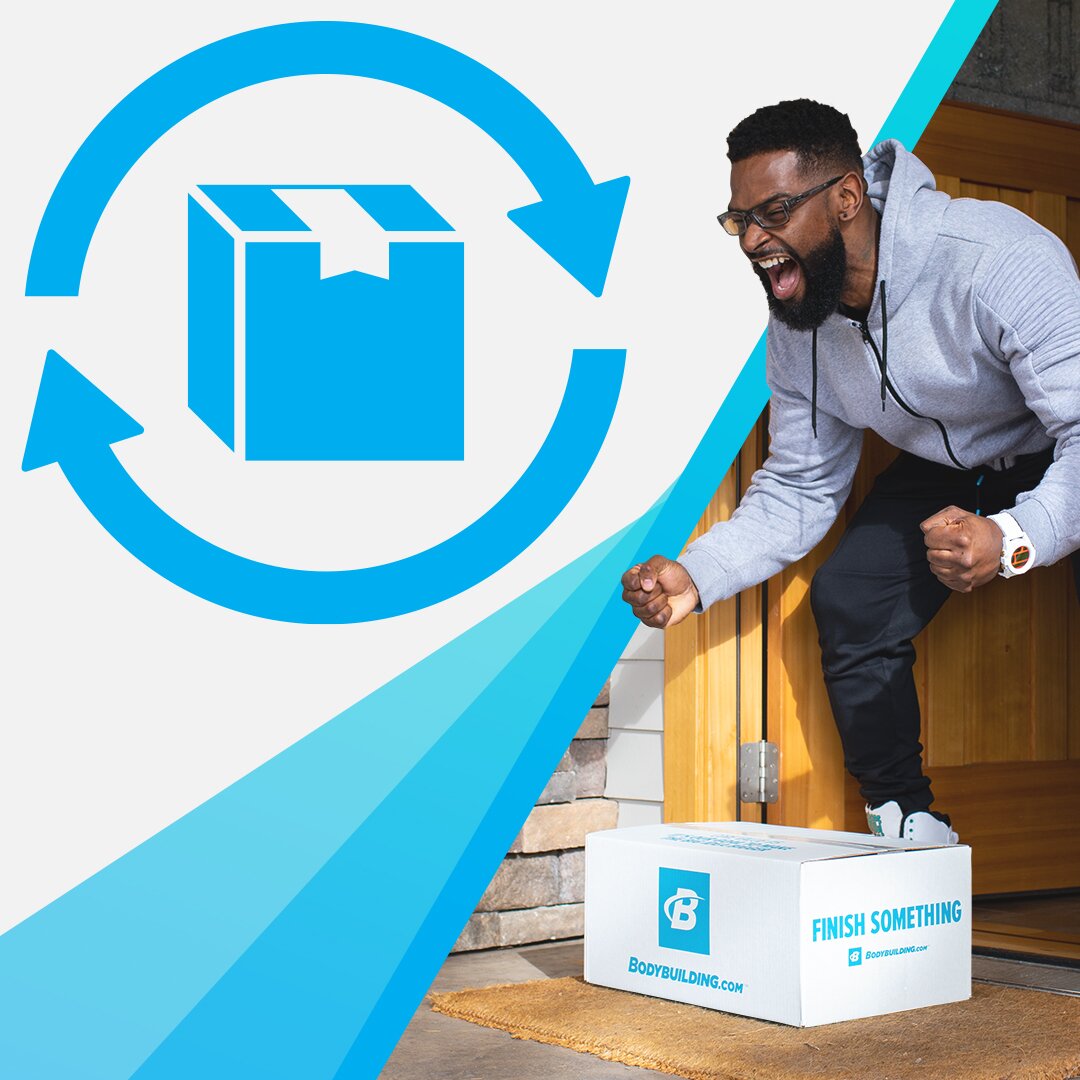 Taking multivitamins daily? You'll want this.
With Subscribe and Gain's convenient subscription service, you'll never run out of your favorite immune-boosting supps again. And delivery is on us!
The Best Multivitamins
Best Men's Multivitamin: Optimum Nutrition Opti-Men Multivitamin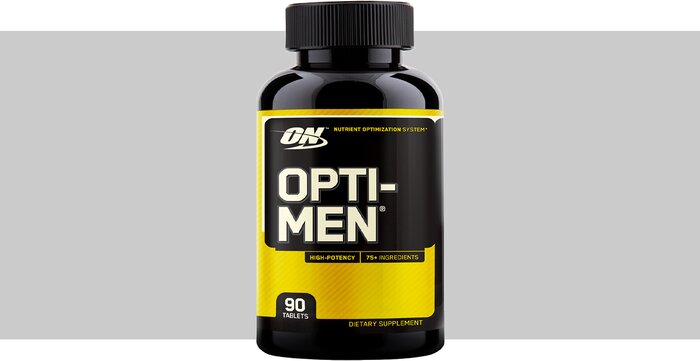 Rating: 4.5 out of 5
Dose: 3 tablets daily
One of our favorite workhorse multis, Optimum Nutrition delivers the goods when it comes to affordable, high-quality multivitamins. Their men's formula stands apart from the crowd with the addition of four different digestive enzymes. Enzymes aren't normally included in multi formulas, but they can help you to actually absorb and use all the other nutrients more quickly and efficiently.
Opti-Men also contains an impressive 1,500 IU of vitamin D, so if you're one of the many guys taking a vitamin D supplement daily, now you can skip it and just take this multi instead. All this makes Opti-Men a huge step up from your average supermarket multi.
Foundational Nutrition for Lifters
With over 1,600 reviews and a 9.2 rating, this is a must-have supp for the hard-training lifters and bodybuilders in our fitness community.
Best Women's Multivitamin: EVL Women's Multivitamin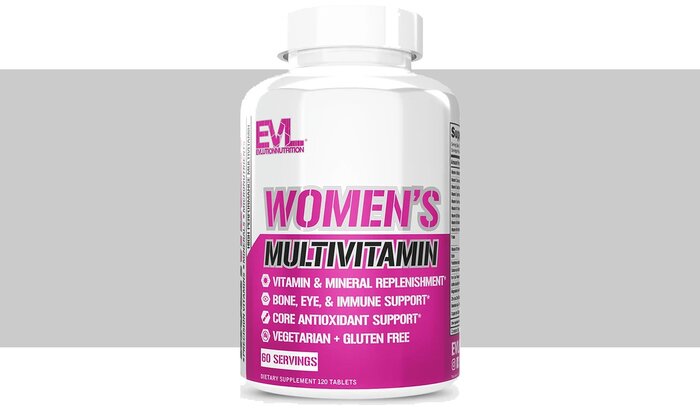 Rating: 4.7 out of 5 
Dose: 2 pills daily with a meal
EVL Women's Multivitamin offers an excellent source of the essential vitamins, minerals, and trace minerals to start your day right, including 100 percent of the RDA for iron. It also contains other beneficial ingredients, such as lycopene and lutein, to support a healthy, active lifestyle and diet. While it contains soy, it is vegetarian-friendly and gluten-free.
EVL Women's Multivitamin
Evlution Nutrition's Women's Multivitamin supplies a broad-spectrum, vitamin, mineral, and immune support complex.
Best Daily Multivitamin Pack: Animal Pak Multivitamin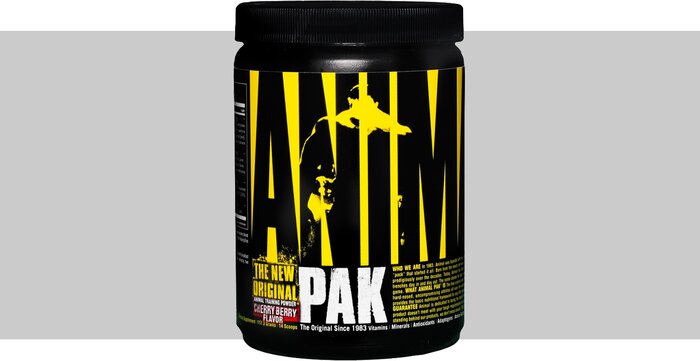 Rating: 4.4 out of 5
Dose: 1-2 packs or scoops daily
Animal Pak has been a revered bodybuilder's multivitamin since 1983, but it's equally suited for anyone active. Think about it: Like a car, when your body runs harder, longer, or is bigger, it takes more of everything to fuel it. Not just protein, carbs, and fat, but the micronutrients that make it run efficiently, too.
These packs go beyond your standard multi with a combination of pills to cover all your bases. The vitamins in the pack add up to a total of 60 ingredients, with nutrients important to performance and recovery like zinc and magnesium. If you're not stoked to take a handful of pills every day, Animal Pak also comes in a juicy cherry berry powder mix. Enjoy it as a drink with breakfast or split it between two meals.
The Bodybuilder's Multi
Our reviewers loved the option of being able to take a multi as a flavored shake, and felt like this multi helped them stay energetic even when training hard.
Best Multivitamin for Performance: JYM Supplement Science Vita JYM Multivitamin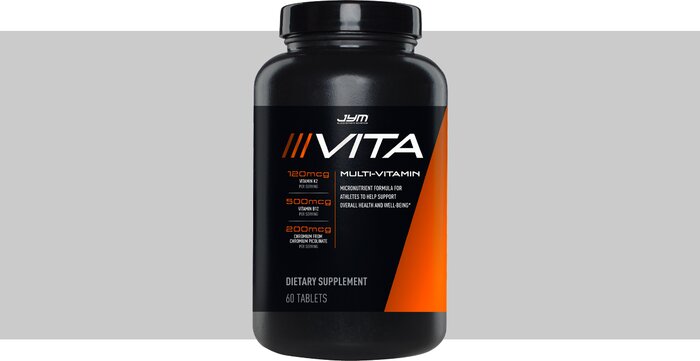 Rating: 9.5 out of 10
Dose: 2 tablets daily  
In addition to being the creator of bad-ass workouts, Jim Stoppani, Ph.D., is a bad-ass scientist who takes a critical scientific approach to his supplement blends. Vita JYM is designed to optimize micronutrient absorption, with the right combination of ingredients to work synergistically together. After all, what good is taking a multivitamin if your body can't absorb it?
Vita JYM is formulated for the needs of athletes, with extra high amounts of the compounds you sweat out or burn up when you train hard, in addition to the vitamins and minerals ordinary mortals require every day. It's also designed to support immunity and mental function, so you can stay at the top of your game in the gym and in life.*
Rock-Solid Nutrition for JYM Army
Best Immune Support: EVL Vitamode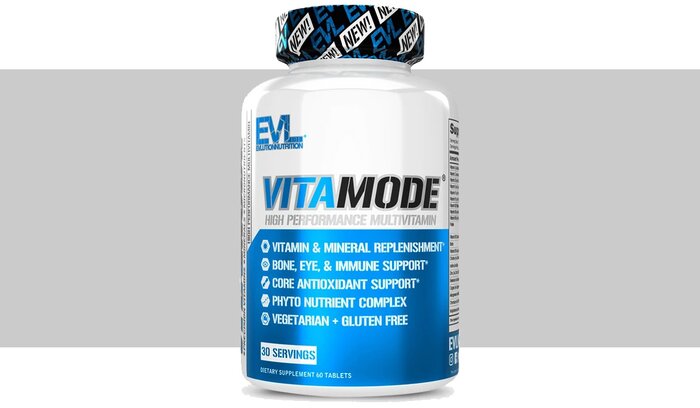 Rating: 4.7 out of 5 
Dose: 2 tablets daily with a meal
EVL Vitamode stands at the head of the class with over 50 active ingredients in its proprietary formulation. It contains the essential vitamins and minerals you need for optimal health. The blend also has a Phyto Nutrient Complex with additional supplements, such as green tea, grape seed, bilberry, and elderberry powders.
EVL Vitamode Multivitamin
VITAMODE is more than just a multivitamin, it's your complete daily high-performance nutrient and immune system support supplement.
Best Natural Multivitamin: Irwin Naturals Men's Living Green Liquid-Gel Multi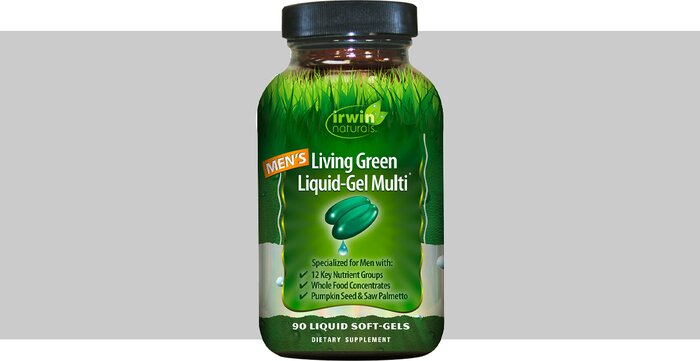 Rating: 8.9 out of 10
Dose: 3 liquid softgels daily
These softgels are a multivitamin and greens supplement in one. They're packed with all kinds of good stuff, most notably a hefty dose of methylcobalamin, a high-quality form of vitamin B12. Also included are omega-3 fatty acids, ashwagandha, ginseng, a heaping helping of greens and other fruit and vegetable compounds, and targeted men's ingredients such as milk thistle, saw palmetto, and stinging nettle.
If you're someone who normally uses both herbs and superfoods to turbocharge your well-being, this multi can simplify your routine since it already contains such a high tally of powerful plant ingredients.
All the Essentials
Our reviewers love that this multivitamin contains minimal "overlapping" ingredients, such as magnesium and calcium, that can block each other's absorption in the body.
Best All-in-One Multivitamin: Bodybuilding.com Signature Multivitamin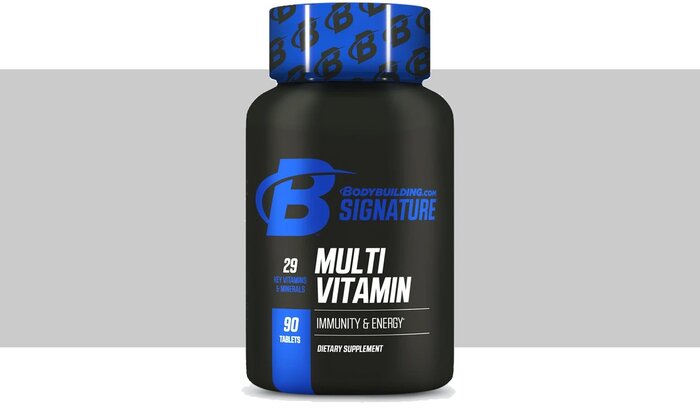 Rating: 4.4 out of 5
Dose: 1 tablet daily
Signature Multi differs from many products on the market because you only need one vitamin to fulfill your nutritional needs. The product focuses on the nutrients instead of the fluff that many comparable ones have. The percentages of the daily values are in line with what we'd expect from these supplements. The dosage also makes it a value-priced purchase.
Simple, Uncomplicated Nutrition
Our reviewers liked how Signature multi put them at or above the RDA for dozens of essential nutrients without breaking the bank or making them swallow handfuls of horse pills.
Best Sleep Support: PharmaFreak Vita Freak Sleep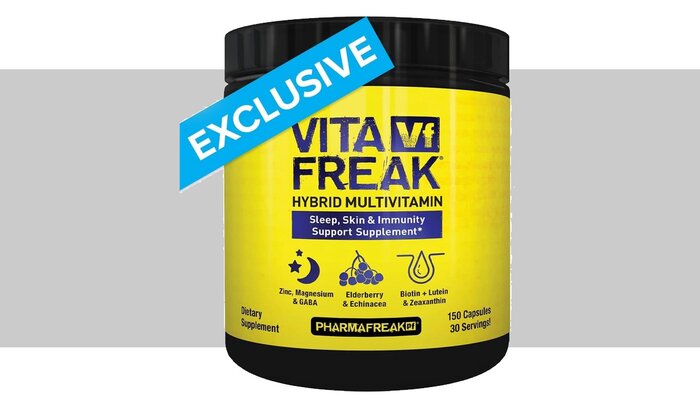 Rating: 5 out of 5 
Dose: 5 tablets daily before bedtime
PharmaFreak Vita Freak Sleep isn't like other multivitamins on the market. Instead of taking them in the morning or with a meal, you take this one just before you go to bed. The curated selection of ingredients supports relaxation and sleep. After all, the latter is the pillar of good health. It includes several complexes to support immunity, sleep, and skin glow.
Pharmafreak Vita Freak Sleep
VITA FREAK™ is a multivitamin that you can feel support relaxation, mood and sleep!*
How to Choose the Best Multivitamin for You
Multivitamins can vary greatly in terms of quality of ingredients. Often, the multis you see online or at big box stores seem like a good value but are made with cheap ingredients and inadequate formulations. For example, it might contain ingredients that block each other's absorption, or be underdosed on a key ingredient. Supplement expert Jim Stoppani, Ph.D., breaks down the most common problems in the video, "4 Reasons Many Multivitamins Don't Work."  
Another thing to think about when shopping for a multivitamin is your individual physiology. Every body is different. Your physical activity level, sex, and dietary preferences are just some of the factors that affect what nutrients you need. Our list includes several targeted multivitamins for men, women, and athletes, as well as some options that are great picks for everyone. Find the product that best fits your needs, and give your body what it needs to feel great every damn day.
*These statements have not been evaluated by the Food and Drug Administration. This product is not intended to diagnose, treat, cure, or prevent any disease.