Athlete For Life: Meet Steve Weatherford
If you only know Steve Weatherford as an NFL punter, you don't know the half of this fitness fanatic! Here's his inspiring story, and everything you need to train like him!
Steve Weatherford made a name and a career for himself in pro football, but he doesn't chalk up his success to genetics, luck, or even talent. Looking back, he attributes his success to a passion for training that has deep roots.
"I remember asking my parents for a weight set when I was 8 years old," he recalls. "I had watched 'The Karate Kid' and 'Rocky,' and the different training montages just lit my fire. I fell in love with it at a young age, and the only reason that a lot of the doors in my life were open was because I dedicated myself to the pursuit of physical fitness."
For 10 years, he thrived as a punter in the NFL, but for every hour he stood along the sidelines, there were many more spent in the gym. "I wasn't a football guy that was into fitness," he says. "I was a fitness guy who happened to play football."
His playing days now behind him, Weatherford is focused squarely on spreading the gospel of fitness.
Steve Weatherford
True Grit Athlete Profile
Watch the video - 3:13
"This is my hobby," he says. "I don't hunt. I don't fish. I don't shop. I lift weights, and I love it. It's my life. The greatest investment you'll ever make in this lifetime is in yourself. I've got four kids. I love my kids, but if I can't make myself the best person I can be, how can I be the best dad or the best husband or the best brother or the best son that I can be?"
Far too many people get hung up on the perceived "selfishness" of physical training, Weatherford says, but this viewpoint ends up serving no one—including their loved ones. "Sometimes you just have to be selfish, and you have to take the time to eat well, sleep well, and train consistently," he says. "If you do all those things, you're going to feel better about yourself. You're going to have more self-confidence. You're going to have more focus. You're going to live longer. You're going to have a higher quality of life. You're going to have more energy. That makes you a better person for other people."
But Steve isn't just interested in being a better person for his close friends and loved ones. He's also deeply involved in working—and sometimes training—for charities, including the Boot Campaign's Push-Ups for Charity Initiative.
"I'm honored to have the opportunity to help the Boot Campaign with their Pushups For Charity initiative," he says. "This combines two of the things I am most passionate about: Fitness and our Veterans. I'm honored and thankful to leverage my position of influence to aid the Boot Campaign in supporting our Vets and providing them with the services and support they need."
This year's Pushups for Charity campaign challenge runs until Veterans Day, November 11. Visit the Push-ups for Charity home page to learn how you can help.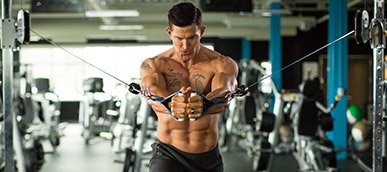 There's not a wasted second in this shoulder, chest, arms, and abs routine. You want time under tension? You've got it. Keep rest periods short, grab the weight, and go!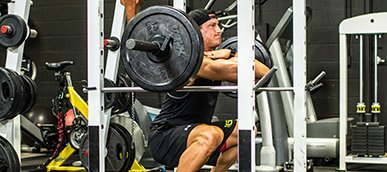 Training to be stronger and leaner doesn't have to mean compromising explosiveness and agility. Here's how 10-year NFL vet Steve Weatherford perfectly juggles show and go.
True Muscle is a 9-week hybrid training program that will improve your athletic performance, boost your conditioning, and pack on slabs of quality muscle. Trainer Nick Tumminello and NFL player Steve Weatherford will show you the way to elite fitness.
Shop Recommended Products