5 Transformed Thanksgiving Recipes For A Low-Calorie Meal!
Take a look at these recipes and shave off the fat - your waistline will thank you. Here are 5 low calorie recipes for a healthy Thanksgiving meal. Try them out!
As you go about the planning process for your Thanksgiving meal, it's a wise move to take a look at some of the various recipes that area available and consider making some light adjustments to your meal that will shave off both fat and calories.
Usually the process of doing so is pretty painless and you won't notice that big of a taste difference, but will notice a big difference on your waistline. Here are some recipes that will help you lighten up your Thanksgiving meal this year.
1
Getting Lighter With Your Gravy
One of the biggest calorie culprits of your Thanksgiving plan is gravy. When you dish this up by the spoonful over your turkey, potatoes, stuffing, and whatever other foods you enjoy it on you can easily add an additional three hundred or more calories to the meal.
To lighten the calorie load, the key changes you'll want to make is using the stock from the roasting pan that has been skimmed of the fat as well as avoiding adding additional butter to the gravy, which significantly boosts the total calorie content.
Ingredients
Onion
1/2 cup (finely chopped)
---
Mushrooms
1/2 cup (finely chopped)
---
Celery
1/4 cup (finely chopped)
---
---
Turkey stock
2 cups (with fat skimmed off top)
---
---
---
Directions
In a saucepan, begin heating the onion, mushrooms, and parsley with about 1/2 cup of the turkey stalk until tender. In a separate bowl, combine cornstarch, pepper, and 1/2 cup of the broth, being sure to stir until completely dissolved.
Add this mixture to the broth in the saucepan and blend until well mixed. Finally add the remaining turkey broth and then bring to a boil for 2 minutes, stirring throughout until it's thickened.
2
Choose Sweet Potatoes Over Mashed
The next way to lighten your Thanksgiving meal this year is to opt away from making traditional potatoes which do tend to be quite high in calories and fat when made traditionally and instead choose sweet potatoes.
Sweet potatoes are going to be a lower calorie choice when made properly and will still offer up a healthy dose of beta-carotene, potassium, and vitamin A.
Ingredients
---
---
Sugar-free maple syrup
2 tbsp
---
---
---
Directions
First preheat your oven to about 375 degrees Fahrenheit. Next you are to lightly coat a baking pan with cooking spray and then set aside.
Slice potatoes into very thin slices or shoestrings, and then combine the water, Splenda, syrup, and olive oil in a small bowl. Using a brush, lightly brush the surface of the potatoes, flip, and then brush the other side.
Cover and bake in the oven for 45 minutes or until they are tender, flipping twice throughout baking time and re-brushing with glaze. Once they are finished baking, transfer them to a serving tray and sprinkle with salt and pepper.
3
Turn To Green Beans For A Side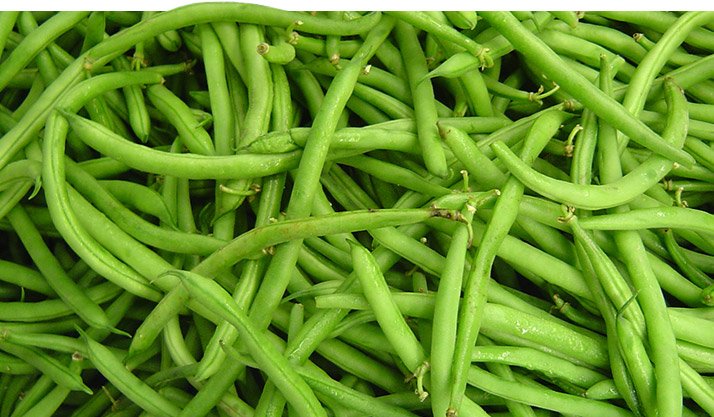 Most people always will include stuffing in their Thanksgiving meal as a side, but this year to really cut back on the calories you may want to consider an alternative side of green beans.
These are a very light side dish that contain hardly any calories and will allow you more calories to put towards other areas of the meal such as the turkey itself or a dessert you have your eye on.
There are many ways you can dress up green beans to make them taste better - the following is a suggestion to get you started and combines the sweet taste of red pepper with garlic.
Ingredients
---
---
Red pepper
1 (cut into strips)
---
Yellow pepper
1 (cut into strips)
---
Red pepper flakes
1/2 tsp
---
Garlic
1 clove (finely chopped)
---
---
---
Black pepper
1/4 tsp (freshly ground)
---
---
Directions
Begin by slicing the beans in easy to manage pieces and then bring a large saucepan with a small amount of water inside to a boil. Drop the green beans into the pan and proceed to cook until desired tenderness is reached; up to three minutes.
Drain the water from the beans and then drop into cold water to prevent them from cooking further while you continue on with the recipe.
Next, in another saucepan lightly fry the peppers over medium heat in the olive oil. Once they are slightly softened, add the green beans to the mix along with the red pepper flakes, garlic, sesame oil, salt, pepper, and onion powder. Serve immediately once the spices have been distributed evenly.
4
Swap Stuffing For 'Rice Stuffing'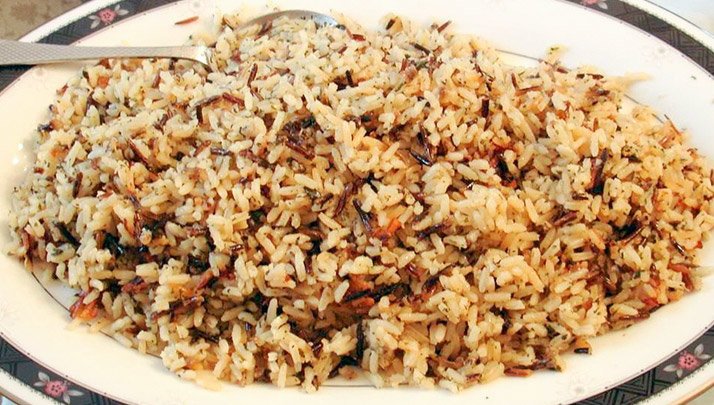 Stuffing is one of the higher fat culprits sitting on your Thanksgiving dinner table because of all the oil that drips into it from inside the turkey. In addition to this you must remember that stuffing is essentially a very heavy hit of white bread, which as you likely already know can do a number on your fat loss diet plan.
To help keep this under control, consider swapping out your traditional stuffing and preparing a rice stuffing instead outside of the turkey. The following recipe is much lower in fat and offers a nice blend of flavors.
Ingredients
dried fruit mix
1 cup (cranberries, raisins, mango, and papaya)
---
---
---
---
---
---
---
---
quick-cooking long grain and wild rice
18 oz
---
---
Directions
First combine the fruit and juice together and then place either in the microwave or in a small pot on high heat until hot.
Heat olive oil in a pan until hot and then toss in the nuts, stirring slightly until they have taken on a crisp texture. Remove and set aside.
In another saucepan, heat chicken broth. Once hot, add in onion, celery, and garlic gloves until tender. Stir in wild rice along with five cups of water and bring to a boil. Once boiling, cover and cook over very low heat for about 25 minutes or until rice is finished and water is absorbed.
5
Pumpkin-Nut Cream Cheese Icing Cake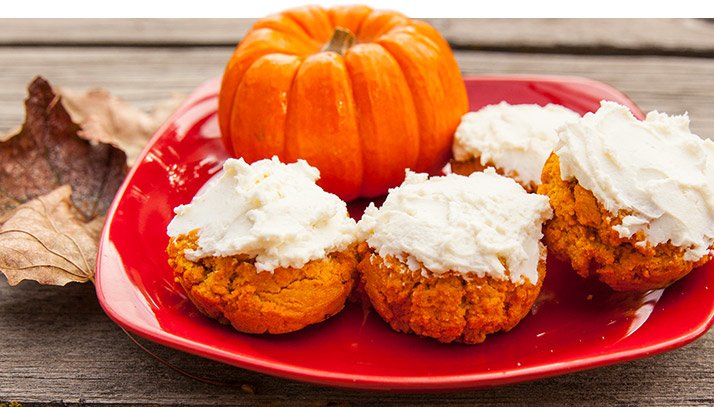 Pumpkin pie is the traditional dessert served at Thanksgiving but unfortunately, unless you are willing to complete forgo the crust, it's a difficult one to make lighter. Fortunately this is a quick fix if you opt for a more nutritionally sound pumpkin-nut loaf.
This serves as an excellent wind down to a Thanksgiving meal served along with a cup of flavored coffee or tea.
Ingredients
---
Unsweetened applesauce
2 tbsp
---
---
---
---

---

---
whole-wheat flour
1/4 cup
---
vanilla protein powder
1/4 cup
---

---
all-purpose flour
1/2 cup
---
---
---
---
---
---
---
---
slivered almonds
2 tablespoons
---
slivered pecans
2 tablespoons
---
fat-free cream cheese
1/4 cup
---
---
---
Directions
Begin by preheating the oven to 350 degrees F and coat an 8 by 4 inch loaf pan with cooking spray. Set aside.
In a large bowl combine the canola oil, applesauce, pumpkin puree, honey, brown sugar Splenda, and egg and egg whites.
In another bowl, mix together the flour, oatmeal, protein powder, flaxseed, baking powder, and spices. Add this mixture to the pumpkin mixture and using an electric mixer on medium speed, beat until well blended.
Finally, pour the batter into a prepared pan and then sprinkle with slivered nuts over the top of the batter. Place in the oven and bake for between 50 and 55 minutes or until a toothpick comes out lean. Carefully remove the loaf from the pan and allow to cool on the counter completely.
Once cool, in another bowl microwave the cream cheese until slightly soft (for easier spreading) and then stir in the Splenda and vanilla extract. Smear this over the top of the loaf and then cut into slices and serve.
Conclusion
So this Thanksgiving, give some thought to detouring from the traditional. There are a number of recipes out there that will dramatically cut down on the total calories you take in and help make this holiday meal a healthy addition to your week rather than a diet disaster.