Main | The 3 Best Supplements For Fat Burning | Your 4 Must-Know Nutritional Principles For Losing Fat | Your 4-Week Plan To Guaranteed Fat Loss 
Sometimes, achieving your dream body means keeping a promise you made to yourself.
Just ask NutraBio-sponsored athlete Sarah Hunsberger. Back in high school, she was excited to sign up for her very first gym membership.
"I had been athletically active for years," says Hunsberger. "I competed in swimming, soccer, track, and volleyball, but this was my first experience doing conditioning workouts by myself and not with a team."
Unsure where to begin, Hunsberger started with exercises that fit her comfort zone.
"I'd spend my time there running on the treadmill and trying out different abdominal exercises, because at the time, that's all I really knew how to do," she says.
Then one day, she took a selfie doing a plank and posted it on Instagram with the caption, "This is just the beginning of my fitness." A promise that has since come true.
The Beginning of a Lifestyle
Now 22, Hunsberger has graduated from West Chester University in Pennsylvania with a degree in professional studies of athletic coaching and nutrition, and is working full-time as an assistant in the athlete and events department of NutraBio Labs, Inc.
She also trained for the 2017 Amateur Bikini Olympia in Las Vegas. Always looking ahead to tackle the next challenge, she's currently studying to add certified strength and conditioning specialist to her list of credentials.
The world of fitness has become Hunsberger's passion, and a huge part of her lifestyle.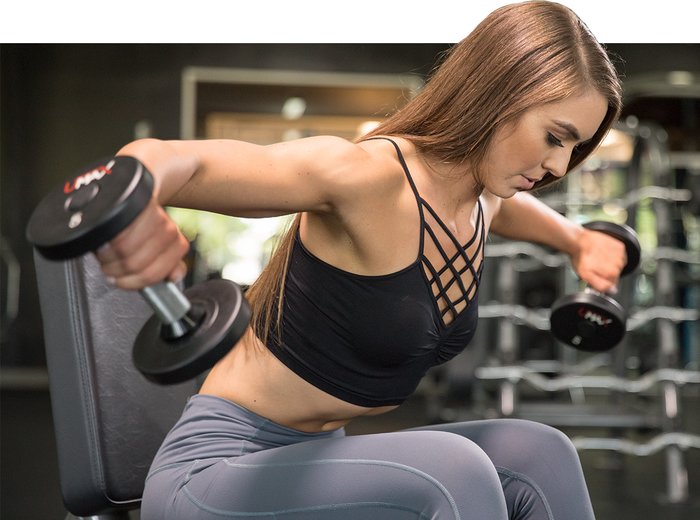 "Over the years, I've studied the ins and outs of training, nutrition and creating a lean, strong body," Hunsberger says. "My workouts are intense, focused, and structured with the intent of sculpting a lean physique, complete with muscle symmetry and definition."
As Hunsberger points out, you don't need to train like you're about to step onstage to achieve a lean, muscular, defined physique. If lean is the look you're after, Hunsberger has a training program to help anyone—newbies and longer-term lifters alike—to lose fat and achieve rock-solid conditioning.
This program combines some of Hunsberger's most effective bodybuilding approaches. These include her personal techniques for getting ready to step on the competitive stage, and her approach to living a lean lifestyle.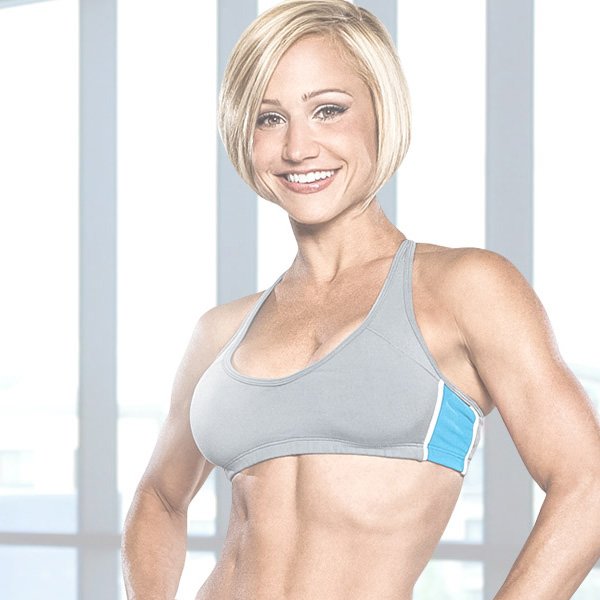 Get Fit With Jamie Eason!
Completely transform your body in 12 weeks with Jamie's LiveFit plan by joining Bodybuilding.com All Access and unlock over 60 premium fitness plans from the world's best trainers, athletes, and experts for only $12.99 a month. Sign up today!
A Balanced Attack for Better Fat Loss
This weeklong training plan for fat loss—which can be repeated for four weeks and cycled into your routine as needed—hits all the major muscle groups, paying special attention to typical trouble spots like abs and glutes.
This balanced attack to hit every muscle group evenly helps you develop a proportional, symmetrical physique. And you don't need to drive yourself to exhaustion and failure on each and every exercise. Instead, Hunsberger has you concentrate on feeling each muscle as it contracts and lengthens. Still push yourself to lift as much weight as is comfortable, but the goal is to forge a more powerful mind-muscle connection from workout to workout and week to week.
ThermoFuel V9 Women's Formula, 120 V-caps
Includes 9 Scientifically Validated Ingredients
Build Muscle to Burn Fat
Keep in mind, getting lean isn't simply about blasting body fat. It's also about keeping or adding muscle, which will help you burn fat even at rest. This training plan revolves around a hypertrophy-focused rep range of 8-15 reps per set, taking only 45-60 seconds of rest between.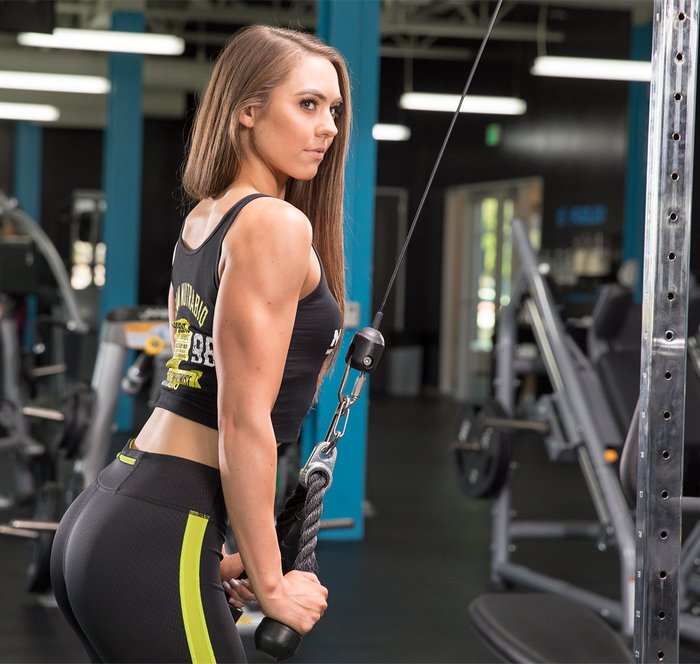 Hunsberger's choice to go heavy, but not to the extreme, was borne of her own trial and error.
"Once I was happy with the strength I gained from lifting heavy, I started looking at other ways to fine-tune my physique," she says. "Now, my focus has shifted from lifting to failure to lifting with emphasis on the mind-muscle connection. I do this by adding various training tools and techniques to make the exercises more challenging."
More Work in Less Time: Your Fat-Blasting Plan
To squeeze in more work in less time, this Pennsylvania native also uses supersets, controlled negatives, and mixes in a number of different exercises and a variety of training equipment to keep her workouts fresh and challenging.
As you'll see, some exercises involve as many reps as possible (AMRAP), but if you reach 20 reps, be sure to increase the weight in the next workout. Hunsberger's workouts take 45-75 minutes, with the emphasis on lifting to build muscle and burn fat. They also include cardio if needed.
Throughout the program, you'll weight train five days per week, with a sixth day of cardio. Here's how Hunsberger structures her 4-week fat burning program:
In Week 1, do 3-4 working sets, training in a 12-15 rep range. The aim here is to set your baseline, find a challenging working weight, which should be a weight you can handle for 10-12 reps before hitting failure. Your split throughout the program includes two upper-body focused days, and two lower-body focused days, with a final full-body active-recovery workout to round out the training week.
In Week 2, bump up your working weights so you reach failure at 8-10 reps, and drop your rep ranges on the working sets to the 6-12 rep range. Throughout the 4-week program, keep the same resistance load for all working sets of a given exercise, increasing the weight from workout to workout as needed. Don't forget to warm up before lifting heavy, and don't jump up to a heavier weight if you're not ready—that's a recipe for injury.
In Week 3, bump up the working set count to 4 sets per exercise, but keep the same weights as in Week 2. This way you're still progressively overloading your muscles by adding volume, which helps burn calories and increase the overall workout intensity.
In Week 4, keep the same working weights as before, but increase to 5 sets per exercise, once again increasing the progressive overload through a higher volume.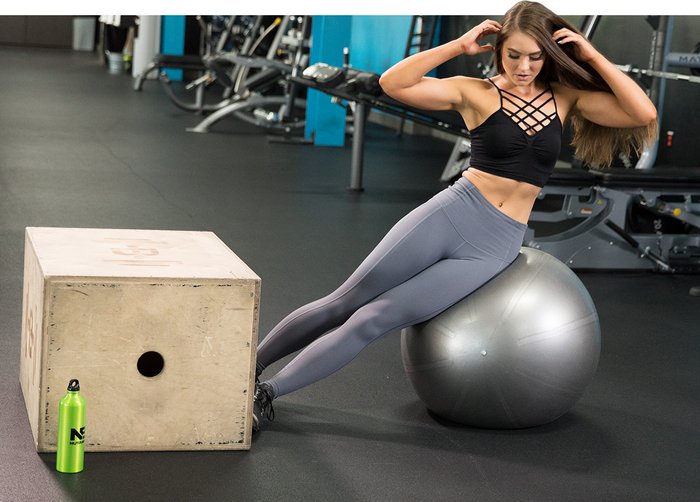 Think Lean, Be Lean
What you eat and how you structure your workouts are critical factors in your fat-loss transformation. But an overlooked weapon in your battle to look your best is your own mind, according to Hunsberger. For long-term, lean-lifestyle success, you must develop a strong mindset.
"During this program, I encourage you to make goals and assess them at the end of each week," Hunsberger explains. "Sit down and be honest with yourself—look at where you were successful during the week and where you can improve. Develop a mindset where you strive to better yourself every week. Small changes over time become long-term, sustainable habits."
Training, diet, recovery, and reflection can put you on the path to a strong, lean, and fit lifestyle.
"I've come a long way from doing nothing but cardio and ab circuits," says Hunsberger. "And I've included the principles that helped me become successful.  I'm proud to say this program surely would have inspired my 17-year-old self."
Sara Hunsberger's 4-Week Fat-Blasting Workout
Day 2: Chest, Abs, Shoulders, Triceps
Day 4: Cardio or Active Rest Day
Day 6: Full-Body Active Recovery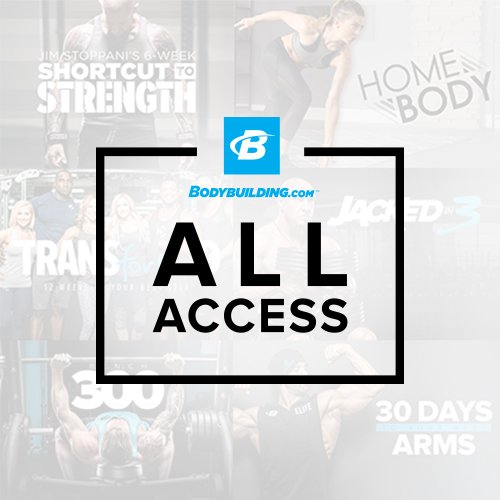 GET 60+ FITNESS PLANS
Access our entire library of more than 60 fitness programs. We'll help you gain muscle, lose fat, and change your life for only $12.99 a month!
Main | The 3 Best Supplements For Fat Burning | Your 4 Must-Know Nutritional Principles For Losing Fat | Your 4-Week Plan To Guaranteed Fat Loss