Best Proteins | Best Mass Gainers | Best Pre-Workouts | Best Creatine | Best Fat Burners | Best Multivitamins | Best Test Boosters | Best Weight-Loss | Best BCAAs
High-quality protein powders are more popular than ever, but they're also being used by a broader range of people than ever. A post-workout shake definitely isn't just for athletes training for a competition or bodybuilders trying to build muscle anymore! Everyone on a fitness journey—whether you're a beginner or you've been at it for years—can benefit from adequate protein.
The only problem? There are also more choices than ever! To help you narrow down your options and match you up with the best protein powder for your needs and goals, we've created this list of our most popular proteins. Each one has been reviewed hundreds or even thousands of times by Bodybuilding.com customers and purchased again and again. And we can stand behind them, too, because at Bodybuilding.com, we drink protein shakes like it's our job.
Meet the best protein powders of 2022, learn what makes them great, and see how much you should take to be ready to build muscle, burn fat, and feel great.
How We Choose the Best Protein Powders
Our team of fitness editors, athletes, and nutrition advisors helped select the candidates for the best protein powders for every goal based on nutritional quality, taste, value, and customer feedback.
To choose our top picks, we took it a step further and used the following criteria:
Customer Ratings and Reviews: Our customers take their protein very seriously, and they let us know through their purchases, ratings, and feedback. Every protein on this list has thousands of enthusiastic reviews and top ratings backing it up.
Formula: Sure, the amount of protein in a serving of a powder matters. But more important is how it's produced, the macronutrient profile, and the track record of the manufacturer. It's important to trust your protein!
Flavor: If a protein doesn't taste good, you probably aren't going to stick with it regardless of how "good for you" it might be. Life's too short to drink bad-tasting or chalky protein.
Value: The lowest priced protein isn't always the best value! All of our best proteins factor in the price per serving.
The Best Protein Powders
Best-Tasting Protein Powder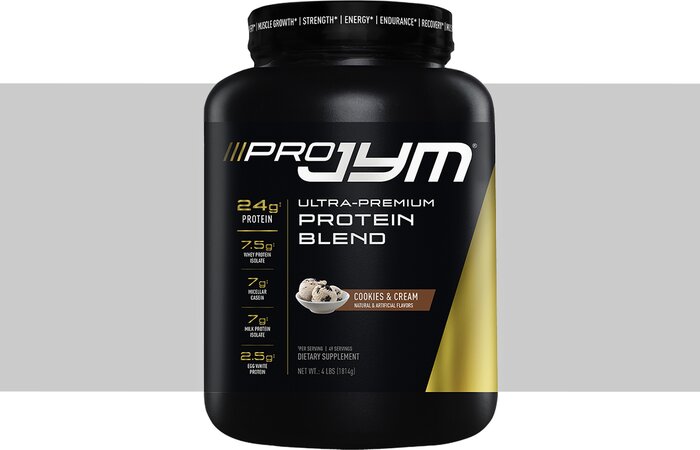 Type: Blend: Whey Isolate, Micellar Casein, Milk Protein Isolate & Egg
Rating: 4.5 out of 5
Reviews: 2,836
Calories: 150
Protein: 24g
Carbs: 6g
Sugar: 1g
Fat: 3g
There's a reason that Pro JYM has won multiple awards throughout the years, including Bodybuilding.com 2021 Protein of the Year. Jim Stoppani, Ph.D., created this top-rated protein with both great taste and science-based formulations. Since these proteins are released into the body at different rates, your muscles are being fed growth food long after you drink the shake. It's the perfect protein blend for muscle growth, strength, energy, and recovery.*
Bonus: The top customer-rated flavors are available exclusively at Bodybuilding.com!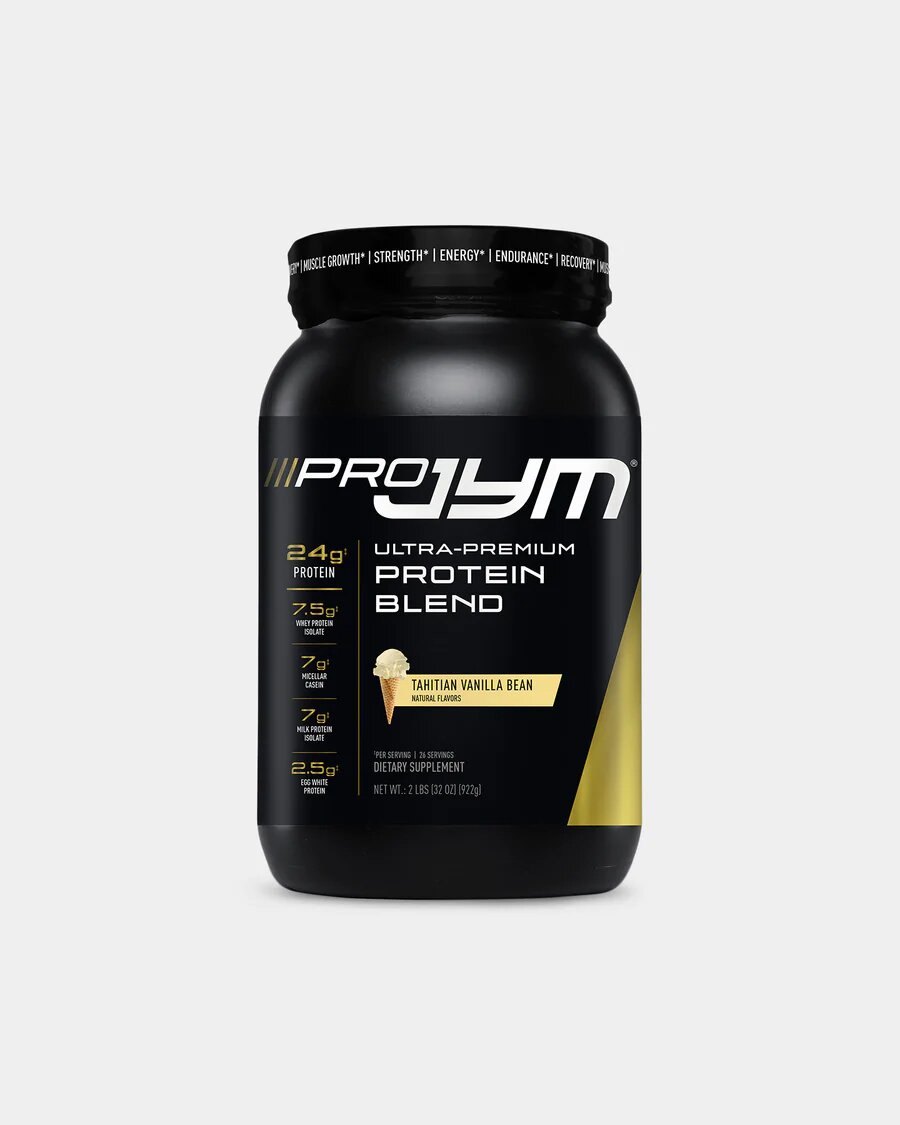 Pro Jym Protein Powder
24g of Pure, Quality Protein in Every Scoop with No Added Amino Acids or Filler Nutrients A Pure Blend of High-Quality Proteins in Exact Amounts to Maximize Growth, Recovery, and Repair*
Best Whey Protein Powder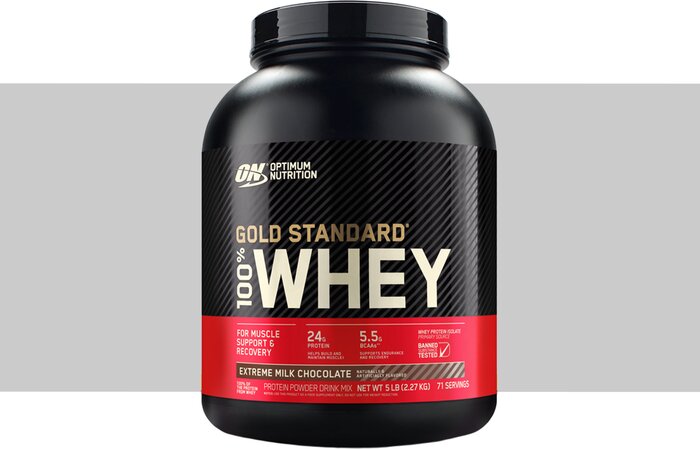 Protein Type: Blend: Whey Protein Isolate, Whey Protein Concentrate, Whey Peptides
Rating: 4.5 out of 5
Reviews: 19,701
Calories: 130
Protein: 24g
Carbs: 3g
Sugar: 1g
Fiber: 1g
Fat: 1.5g
With a variety of available flavors and a decades-long track record of quality, Gold Standard Whey from Optimum Nutrition is your ally in the fight against mediocre protein. Reviewers love the authenticity of the flavors—they don't all just taste the same.
Gold Standard won Bodybuilding.com's protein and supplement of the year 13 times, and has serious credibility among athletes worldwide. It can be used for muscle building, performance, and recovery, as well as for staying lean.* Other contenders have since entered the market, but Gold Standard Whey remains a solid nutritional choice with a lot of options.
One more awesome thing about Optimum Nutrition is it mixes so easily you can just stir it with a spoon. You don't even need a shaker bottle (although it helps make a super smooth shake). So you have zero excuse to skip your protein, even if all your shaker bottles are in the dishwasher.
Gold Standard 100% Whey, 5 Lbs.
24g of Whey Protein with Amino Acids for Muscle Recovery and Growth*
Best Whey Protein Isolate Powder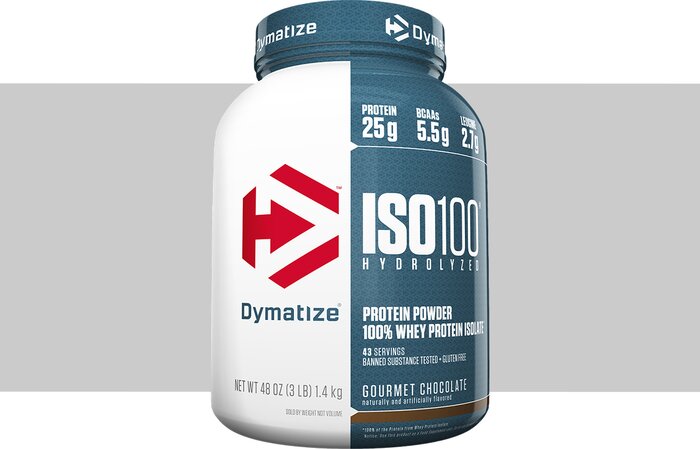 Protein Type: Hydrolyzed Whey Protein Isolate, Whey Protein Isolate
Rating: 4.5 out of 5
Reviews: 2267
Calories: 120
Protein: 25g
Carbs: 2g
Sugar: 1g
Fiber: 1g
Fat: 2g
Dymatize ISO100 is an ultra-pure whey protein isolate that has been both filtered and blended with whey hydrolysate, creating a super-fast digesting and absorbing protein with peerless macros. It has had nearly all sugars, carbs, fats, and lactose removed, leaving almost nothing but pure muscle-building protein.*
Customers also rave about the great taste of this protein supplement. When you're watching your calories, eating super clean, and avoiding junk food, it feels like a treat—but one that takes you closer to your goals.
This protein is also verified by Informed Choice to be banned substance free. ISO100 comes in over 10 delicious flavors including top-rated Cocoa Pebbles, Chocolate Peanut Butter, Orange Creamsicle, Dunkin Donuts coffee flavors and more.

ISO-100, 3 Lbs.
Ultra-Fast Absorption to Build and Repair Muscle*
Best Plant-Based Vegan Protein Powder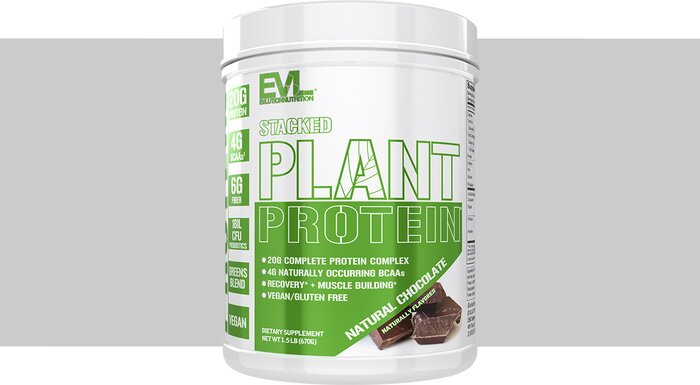 Protein Type: Pea Protein, Rice Protein
Rating: 4.5 out of 5
Reviews: 229
Calories: 130
Protein: 20g
Carbs: 11g
Sugar: 2g
Fiber: 6g
Fat: 2g
EVL Stacked Plant Protein lives up to its name by being more than just a great source of protein. Along with a robust pea and rice protein blend, it provides 4 grams of BCAAs, 1 billion CFU probiotic blend, and a kale and spinach greens blend. It's certified vegan, gluten-free, sucralose-free, and made with non-GMO ingredients. This formula combines best-in-class ingredients to create a fast-absorbing protein blend perfect to support muscle recovery and growth before and after workouts.*
Just a note: If you're accustomed to whey protein shakes, expect to use a bit more water than normal—and maybe more than the label recommends—unless you don't mind a slightly thicker shake.
Evlution Nutrition Stacked Plant Protein
20g of Complete Plant Protein per Serving to Support Muscle Growth and Recovery
Best Casein Protein Powder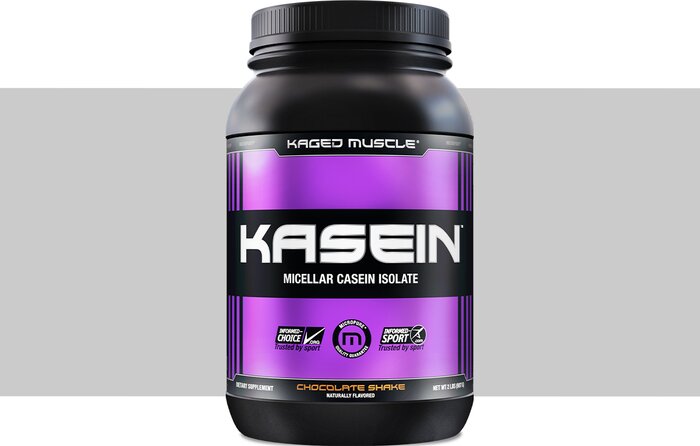 Protein Type: Micellar Casein Protein Isolate
Rating: 4.5 out of 5
Reviews: 167
Calories: 120
Protein: 25g
Carbs: 3g
Sugar: 1g
Fiber: 0g
Fat: 0.5g
Kaged Muscle Kasein is a popular protein for pre-bedtime snacking, since it slowly digests and continuously feeds muscles essential amino acids over a course of several hours, helping support a long-term anabolic state and avoid muscle protein breakdown.
Kaged took this classic protein to the next level by nailing amazing milkshake-like flavors for both the vanilla and chocolate flavors. But even if you're a diehard shake drinker, consider using this protein to make Kaged Muscle founder Kris Gethin's favorite bedtime snack: thick, rich casein pudding.

Best Value Protein Powder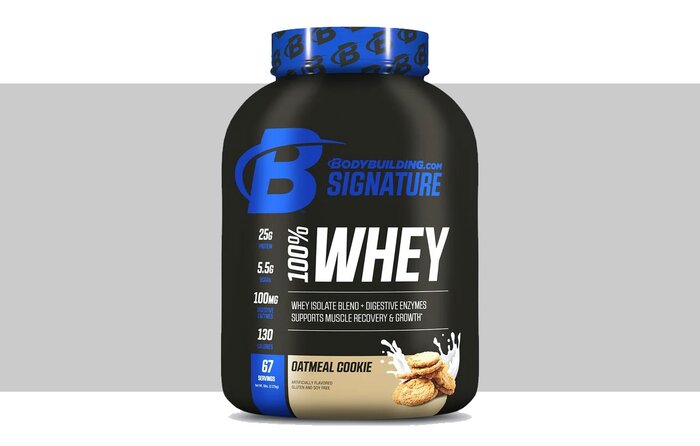 Protein Type: Whey Protein Concentrate, Whey Protein Isolate, and Whey Protein Hydrolysate
Rating: 4.2 out of 5
Reviews: 746
Calories: 130
Protein: 25g
Carbs: 3g
Sugar: 2g
Fiber: 0g
Fat: 2g
Even if it wasn't our "house" brand, this would still be our go-to for whey, primarily because it's a fantastic combination of value and quality. While many products are primarily whey protein concentrate, Signature 100% Whey has an impressive profile of 13 grams of isolate and 6 grams each of hydrolysate and concentrate. That means you have a lot of clean, quick-digesting, low-carb protein, with just enough whey concentrate for a creamy flavor and texture.
Simply put, it tastes really good. In reviews, customers rave about the delicious flavors and lack of a synthetic aftertaste. Mocha cappuccino and seasonal favorite oatmeal cookie are the most-praised flavors.
It's a versatile whey blend that can not only be easily mixed in a shaker bottle, but also added to a wide variety of recipes including waffles, cookies, and more. Many reviewers also find this product easier to stomach than some of its competitors, likely due to the balanced protein blend.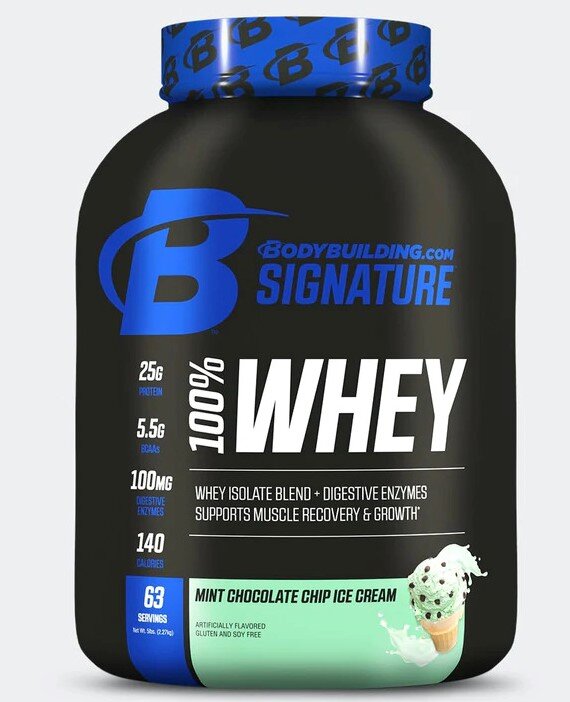 Bodybuilding.com Signature 100% Whey Protein Powder
Perfect first thing in the morning, between meals, and especially after your workout.
Best Egg Protein Powder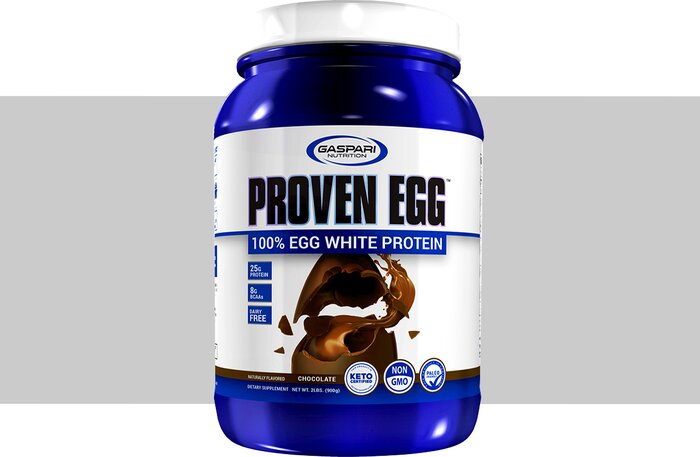 Protein Type: Instantized Egg White Protein
Rating: 5 out of 5
Reviews: 11
Calories: 110
Protein: 20g
Carbs: 2g
Sugar: 1g
Fiber: 0g
Fat: 0g
Gaspari Proven Egg provides the same protein as six large egg whites and 8 grams of BCAAs per serving. It's a clean formula with zero artificial flavors, colors, sucralose, or artificial sweeteners. It's also dairy and lactose free, certified KETO, paleo, and non-GMO.
Egg protein absorbs more slowly than whey and can help feed your muscles over a longer period. It is a high-quality complete protein sourcce, making it perfect for protein shakes. But since it's instantized, it's great for cooking, too. This is a good alternative for anyone who is looking to keep their protein intake high but has sensitivities to whey or lactose. You can take 2-4 hours pre-workout to kickstart muscle protein synthesis or immediately post-workout for muscle recovery and growth.*
Gaspari Nutrition Proven Egg Protein
Best Protein for Weight Loss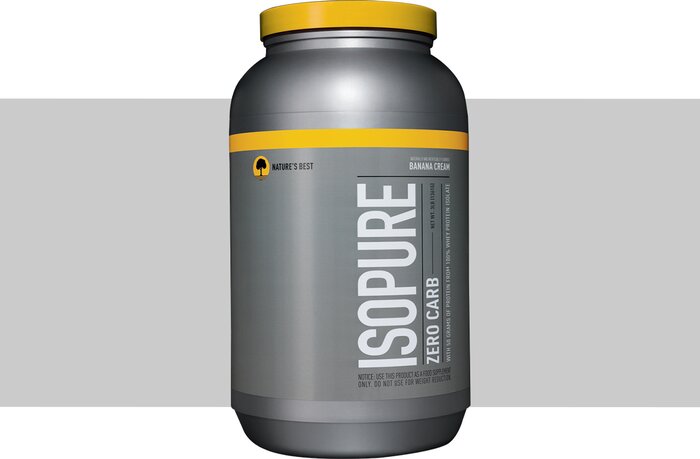 Protein Type: Whey Protein Isolate
Rating: 4.1 out of 5
Reviews: 579
Calories: 210
Protein: 50g (two scoops)
Carbs: 0g
Sugar: 0g
Fiber: 0g
Fat: 1g
Isopure is about as light and clean as protein can get and has a devoted following among athletes looking to lose weight and burn fat while holding onto their hard-earned muscle. It comes in a wide range of flavors and sizes, including the 7.5-pound bucket, and is keto-friendly, since it's had the carbs, sugars, and lactose removed. So if you struggle with macro math, this protein will definitely make it easier.
Yes, one serving is a whopping 50 grams, but before you cut it in half, remember: If you're in a caloric deficit, protein isn't where you should be cutting from. In fact, in Bodybuilding.com's Foundations of Fitness Nutrition course, Doug Kalman, Ph.D., RD, notes, "As long as calories—i.e., total portions—are under control and you're getting enough protein, popular diets all work with about the same level of predictability." So don't fear the big scoop!
Best Mass-Gainer Protein Powder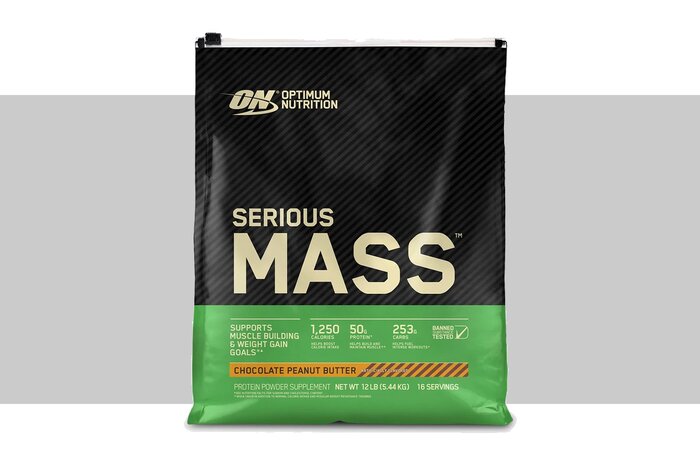 Protein Type: Blend: Whey protein concentrate, calcium caseinate, egg whites, sweet whey 
Rating: 4.1 out of 5 
Reviews: 2,467 
Calories: 1,250 
Protein: 50g 
Carbs: 252g
Sugar: 20g
Optimum Nutrition Serious Mass is appropriately named because that's what you're going to get with this product. The mix provides excellent nutritional support with a full complement of vitamins and minerals, including calcium and potassium. That makes it an effective pre-and post-workout supplement. Creatine monohydrate and a blend of four proteins will help you build muscles and mass.
Flavors: Chocolate, Chocolate Peanut Butter, Strawberry, Vanilla, Banana
Optimum Nutrition Serious Mass
Loaded with 1,250 Calories, 250g of Carbs, & 25 Vitamins and Minerals to Pack on Pounds*
Best Protein for Muscle Growth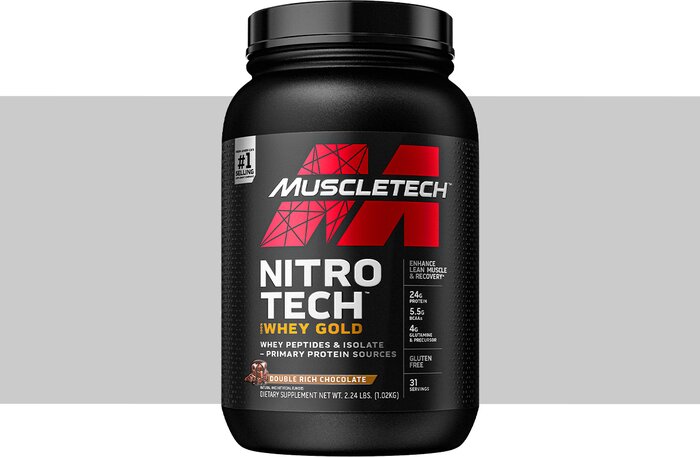 Protein Type: Whey Protein Isolate, Whey Protein Concentrate, Whey Protein Peptides
Rating: 4.6 out of 5
Reviews: 1953
Calories: 150
Protein: 30g
Carbs: 3g
Sugar: 2g
Fiber: 0g
Fat: 1.5g
Nitro-Tech is a classic protein from a well-established brand that's been at the forefront of supplement science for years. These guys know how to grow.
The 30 grams of protein in each scoop includes 6.5 grams of BCAAs, the amino acids specifically responsible for muscle protein synthesis. It also gives you 3 grams of creatine monohydrate per serving. So, if you're already slamming a couple of shakes per day during a hard training cycle, you can cross creatine off your list, too.
Customers also love Nitro-Tech's creamy flavors and the value you get for the price. Plus, it comes in a massive 10-pound value size, so you can order once and be set up for a while.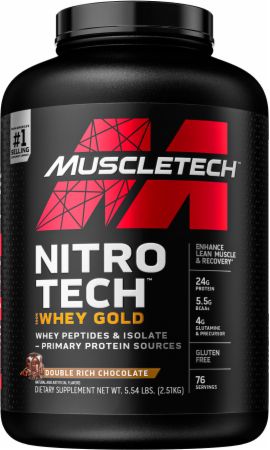 MuscleTech NITRO-TECH 100% Whey Gold
What are the different types of protein powders?
Protein powders can come from animal or plant sources, but both types contain at least one of the following three categories of protein—and often, all three.
Protein Concentrates: Concentrates contain 60-80 percent protein. The remainder of the concentrate is made of fats and carbohydrates. This is the most common and easy-to-produce type of protein.
Protein Isolates: Isolates are a highly filtered type of protein that contains 90-95 percent pure protein that's been stripped of fats, carbs, and, in the case of whey isolate, nearly all traces of lactose. For those searching for a lean and ultra-pure protein, isolates are often the way to go.
Protein Hydrolysates: To create a protein hydrolysate, manufacturers partially break down or "pre-digest" in order to make it easier to digest and absorb.
In addition to these categories, you'll see proteins from numerous sources, including:
Whey protein: The most popular protein on the market, whey is a complete protein, meaning that all nine amino acids necessary for protein synthesis are present. The three branched-chain amino acids—leucine, isoleucine, and valine—are found in high concentrations in whey protein. Whey protein is a fast-absorbing protein and can be digested in as little as 20 minutes for whey protein hydrolysates. This makes it ideal for post-workout recovery.
Casein: Casein, like whey protein, is a protein found in milk. Casein protein takes longer to digest than whey protein powder, making it a great choice for a meal replacement, between meals, or before bed.
Milk protein: Milk protein concentrates and isolates contain both whey and casein protein, so they have a mix of faster and slower absorption rates. These are common in ready-to-drink (RTD) products and protein powder blends.
Plant-based protein: People who are sensitive to dairy or who prefer plant-based sourcing have plenty of protein powder options. Pea, rice, soy, and hemp protein are all common. Many single-source plant-based proteins don't provide a full amino acid profile, so different sources are often blended together.
Egg: Egg protein is very easy for the body to utilize and has an absorption rate between whey and casein. Egg protein mixes smoothly and can be found both on its own and blended with other protein types. This can be a good choice for customers who are sensitive to lactose.
Do you need protein powder?
Some people can get all the protein they need from food alone. But many others try to do this and discover that it's expensive, inconvenient, and just plain uncomfortable to eat that much. That's when protein powders can be a big help.
The recommended daily allowance (RDA) of protein, as established by the National Academy of Medicine, starts at a low of around 0.8 grams per kilogram of body weight for sedentary adults 18 and over, or about 0.36 grams per pound of body weight. (The RDA for children is higher, at 1.5 grams of protein per kilogram of body weight.)
But several factors can make it preferable for you to consume significantly more, including:
Increased activity level and athletics
Preserving muscle mass while dieting
Training to add muscle or strength
Age-related muscle loss
In regard to age, Layne Norton, Ph.D., notes in the article, "How to Eat for Maximum Muscle Growth at Any Age" that bodies become less sensitive to protein as they age, and, "Consuming a diet rich in protein—specifically, the amino acid leucine—can help prevent the age-related decline in muscle protein synthesis."
If you're aiming to increase your protein intake, a shake or smoothie is an easy way to get 25 grams per serving, or more, as a simple snack, post-workout treat, or alongside your breakfast or another meal.
"Consider powders and drinks to be supplements of convenience—and use them that way," Douglas Kalman, Ph.D., recommends. "If a shake after training is the only way you're going to get protein at that time, have the shake. If you're trying to gain weight—or lose weight—and you're in a position where you'd either have a shake or miss a meal entirely, have the shake."
Is protein powder safe?
While protein supplements are largely documented to be safe, of course there are some brands that are higher quality than others—and nobody wants to make the wrong choice. So how do you know which protein to pick?
Registered Dietician Douglas Kalman, Ph.D., shares his shopping advice in the video 3 Top Tips for Picking Protein.
He warns in Bodybuilding.com's Foundations of Fitness Nutrition Course to "first, be wary of crazy claims with any product—especially if it comes from a brand that looks new or, shall we say, amateurish. Many brands now willingly submit their products to third-party tests or purity certifications. If a brand contains one of these seals, it's a good sign that it contains what it says. However, don't simply trust that a store brand from a drugstore chain has followed any sort of third-party testing. These types of supplements have been some of the biggest offenders when it comes to containing far less of an ingredient than they claim."
It's always a good idea to ask your doctor if it is safe for you to take supplements as part of your fitness regimen.
It may be that a particular ingredient or brand does not sit well with your metabolic health, or that you're better off looking for a premium product or isolate. With the great protein powder options we have broken down in this article, we are confident you'll find the supplement you need to help you in your fitness journey.
*These statements have not been evaluated by the Food and Drug Administration. This product is not intended to diagnose, treat, cure, or prevent any disease.