Best Proteins | Best Mass Gainers | Best Pre-Workouts | Best Creatine | Best Fat Burners | Best Multivitamins | Best Test Boosters | Best Weight-Loss | Best BCAAs
When you're on a mission to put on weight, you need a one-two punch of calories and protein. If you're someone who struggles to put on weight, or who needs to gain it for a sport or a weight-classed competition, then you need both even more!
That's when a mass gainer can be your best friend. Like the best protein shakes, mass gainers (also known as weight gainers or gainer shakes) are full of muscle-building amino acids and protein, but they also add carbs and other nutrients to maximize your calorie and macro intake.
Adding a high-quality mass-gainer powder can make a huge difference in your bulking regimen. Here are 10 of the best, according to our experts and community members.
How We Choose the Best Mass Gainers
Our picks are informed by our team of fitness pros—athletes, nutrition professionals, and editors—and backed up by reviews from the people who know gainer shakes the best: you!
There are a few things that matter when you're looking for a good gainer shake:                    
Formula: It's important to choose a formula that has the numbers you need to support your goal, not just a bunch of fillers and poor-quality ingredients. Yes, a gainer is far more decadent than a traditional protein shake, but the label shouldn't make it feel like a candy bar in a glass.
Flavor: Gainers are there for you when you need nutrition but aren't necessarily hungry, so the more appealing they are, the easier it will be to keep downing them every day. Plus, gainer serving sizes tend to be significantly larger than a normal shake, so one that doesn't go down easily won't cut it!
Customer Ratings and Reviews: Our Bodybuilding.com community members are some of the most discerning and honest anywhere, and that's why our ratings carry more weight—so to speak—than most online storefronts.
Value: The lowest priced gainer isn't always the best value! All of our best weight gainers factor in the price per serving.
The Best Mass Gainers
Highest-Calorie Mass Gainer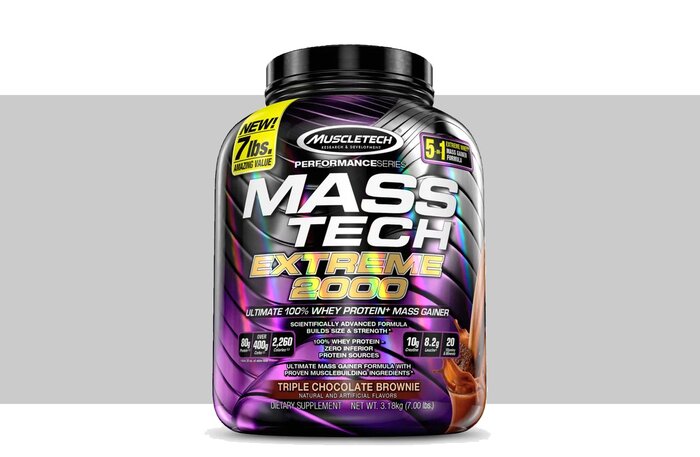 Main ingredients: MASS-TECH® Co-Factors, creatine, 20 vitamins and minerals 
Rating: 4.1 out of 5 
Reviews: 249 
Calories: 2,270 
Protein: 80 g 
Carbs: 440 g 
Sugar: 20 g 
Fat: 6 g 
MuscleTech Mass Tech Extreme 2000 makes it easy to build muscle mass with excellent nutritional support in the mix. It contains 80 g of protein and 10 g of creatine. It also has the manufacturer's MASS-TECH® Co-Factors, which supplies BCAAs for fast results. The blend is gentle on your digestive system to minimize any side effects.
Flavors: Vanilla Milkshake, Triple Chocolate Brownie
MuscleTech Mass Tech Extreme 2000
MASS-TECH supplies the macronutrients and musclebuilding ingredients you need to help you gain mass, muscle size and strength!
Highest-Protein Mass Gainer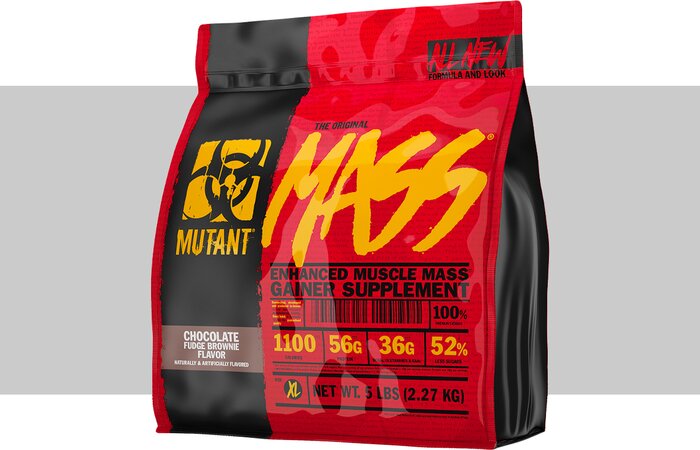 Main ingredients: Carbohydrate blend, whey protein concentrate, hydrolyzed whey protein, whey protein isolate, micellar casein, milk protein concentrate and isolate
Rating: 4 out of 5
Reviews: 139
Calories: 1,100
Protein: 56g
Carbs: 192g
Sugar: 18g
Fat: 12g
Get ready to mutate with 56 grams of high-quality protein. Mutant Mass combines six types of protein to feed your muscles in the short, medium, and long term: whey concentrate, hydrolyzed whey, whey isolate, two types of milk protein, and casein.
This weight gainer also includes a solid amount of fiber from real food sources, such as sweet potatoes and rolled oats, to keep you carbed up and feeling good throughout your hardest training and bulking phase.
Flavors: Chocolate Fudge Brownie (9.6), Triple Chocolate (8.4), Strawberry Banana (8.1), Cookies & Cream(7.3)
Mutant Mass
Leave Humanity Behind! Gains In Muscle Mass!
Best Overall Serious Mass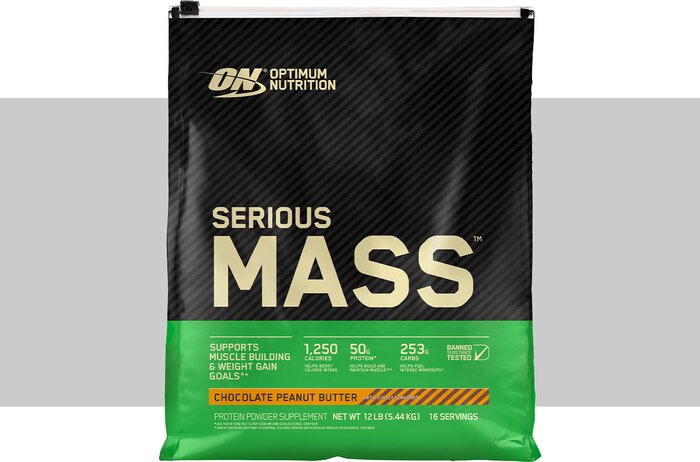 Main ingredients: Maltodextrin, whey protein concentrate, calcium caseinate, egg whites, sweet whey
Rating: 4.1 out of 5
Reviews: 2467
Calories: 1,250
Protein: 50g
Carbs: 252g
Sugar: 20g
Fat: 4.5g
Optimum Nutrition Serious Mass is appropriately named because it brings out the big guns to get the job done right. It delivers 50 g of protein from two types of whey, egg whites, and calcium caseinate. It also includes a full suite of vitamins and minerals, including calcium, potassium, and magnesium, to support good health. The calorie count is also reasonable for what you get per serving.
Flavors: Chocolate. Chocolate Peanut Butter, Strawberry, Vanilla, Banana
Optimum Nutrition Serious Mass
Loaded with 1,250 Calories, 250g of Carbs, & 25 Vitamins and Minerals to Pack on Pounds*
Best Mass Gainer for Hardgainers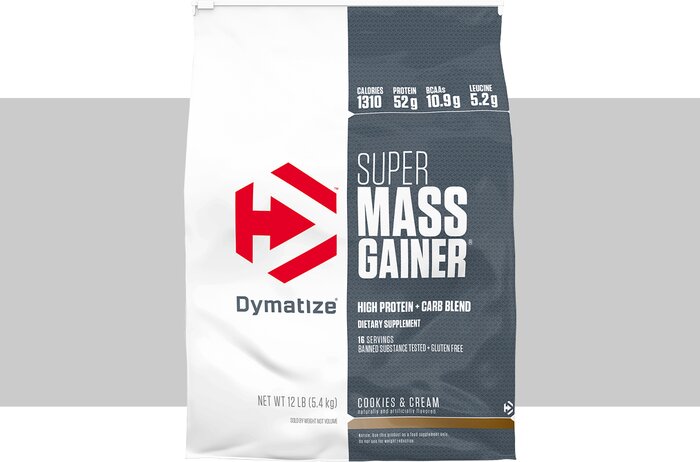 Main ingredients: Maltodextrin, whey protein concentrate, milk protein isolate, whey protein isolate, whey protein hydrolysate, micellar casein
Rating: 4.2 out of 5
Reviews: 443
Calories: 1,260
Protein: 52g
Carbs: 246g
Sugar: 24g
Fat: 9g
Sometimes the hardest thing about putting on weight is simply getting enough calories into your body, especially if you have a high metabolism or don't have a huge appetite. Super Mass Gainer is here to help.
The shake tastes smooth, mixes well, and our reviewers say it's very easy to drink. This is extremely helpful when you need to take in a lot of calories but just aren't hungry. Crucially, each serving of the formula's protein blend contains 5.2 grams of leucine, the branched-chain amino acid chiefly involved in turning on muscle protein synthesis.
Flavors: Gourmet Vanilla (8.4), Rich Chocolate (8.4), Cookies & Cream(7.8)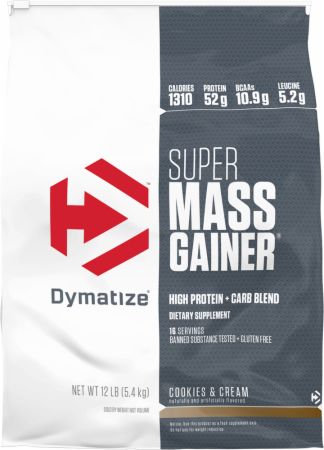 Dymatize Super Mass Gainer
Engineered with enough protein, BCAAs, calories, and other nutrients to push athletes beyond their muscle building, mass gaining macros based on Dymatize quality whey protein isolate so it mixes well and goes down easy, smooth, and clean.
Best Clean Mass Gainer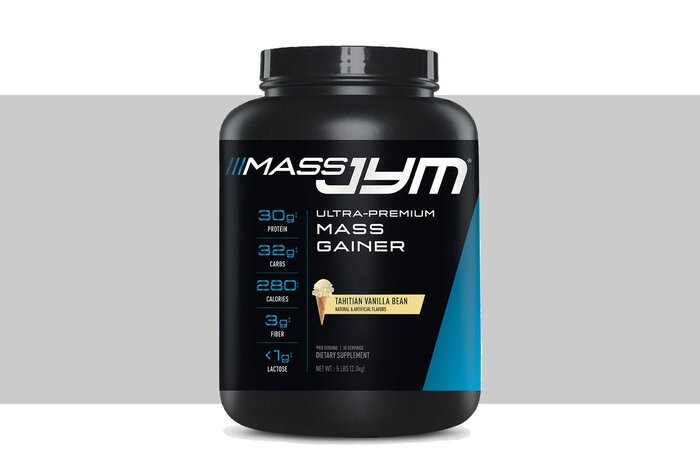 Main ingredients: Protein blend of egg protein, milk protein isolate, and whey
Rating: 3.8 out of 5 
Reviews: 40 
Calories: 270 
Protein: 30 g 
Carbs: 30 g 
Sugar: 10 g 
Fat: 3.5 g 
Mass JYM stands out from comparable products in that it uses non-proprietary blends for protein, low-glycemic carbohydrates, and healthy fat sources. The mix allows it to deliver a 1:1 ratio of anabolic proteins to low-GI carbs. A single scoop offers a nutritional powerhouse with egg protein, whey, and casein leading the way. The low-GI carbohydrates mean you won't crash afterward.
Flavors: Apple Fritter, Tahitian Vanilla Bean, Chocolate Mousse
Mass JYM Weight Gainer Protein
You'll be hard-pressed to find a more ideal supplement for building lean muscle mass and strength than Mass JYM.
Best Meal Replacement Mass Gainer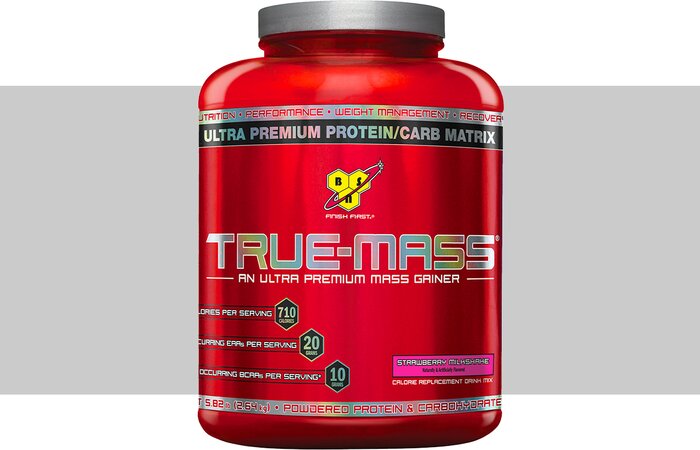 Main ingredients: Whey protein concentrate, calcium caseinate, milk protein isolate, whey protein isolate, micellar casein, hydrolyzed whey protein, egg whites, maltodextrin
Rating: 9.1 out of 10
Reviews: 591
Calories: 710
Protein: 50g
Carbs: 90g
Sugar: 15g
Fat: 17g
True-Mass is another revered gainer by a trusted brand backed with hundreds of reviews. The highly rated flavors let you know by their names how decadent they taste. This is a shake you'll look forward to.
To optimize gains, you should be eating healthy meals contain balanced amounts of all the macronutrients, not just protein. This formula has the right amounts of protein, carbs, and fat—plus plenty of fiber—to give your body what it needs to grow when you don't have time to cook and eat.
Flavors: Chocolate Milkshake (9.2), Strawberry Milkshake (9.1), Vanilla Ice Cream (9.0), Cookies & Cream(7.5)
BSN True-Mass Weight Gainer
Best Value Mass Gainer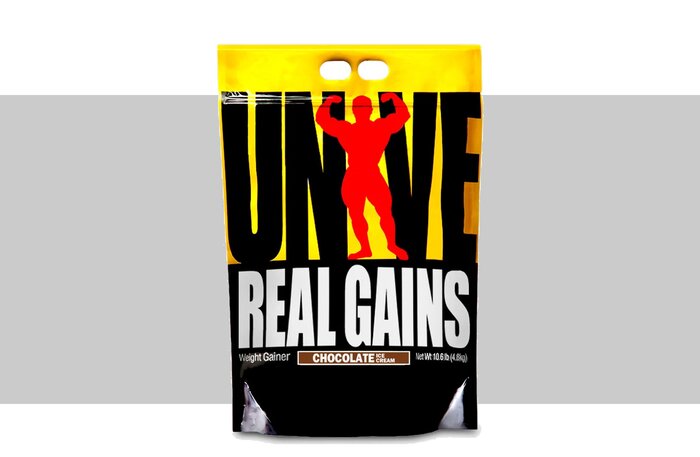 Main ingredients: Maltodextrin, Real Gains™ Protein Complex, essential and non-essential amino acids
Rating: 4.3 out of 5
Reviews: 737 
Calories: 600 
Protein: 50 g 
Carbs: 85 g 
Sugar: 8 g 
Fat: 5 g 
Universal Nutrition Real Gains has a lot going for it. It comes in some tasty flavors that sound like it'd be loaded with sugar. The pleasant surprise is that it's not. The carbs and calories are in line, too. The larger serving size includes nutrients, BCAAs, and essential amino acids. It also has flaxseed powder for a healthy source of omega-3 fatty acids.
Flavors: Vanilla Ice Cream, Chocolate Ice Cream, Banana Ice Cream, Strawberry Ice Cream, and Cookies & Cream Ice Cream
Universal Nutrition Real Gains
Whatever the sport, you can use Real Gains to help you add quality calories to your muscle and strength gaining goals.
Should I Take a Mass Gainer?
Anyone can go to the gym and improve their fitness, but adding significant muscle mass to your body can be surprisingly difficult. When it comes down to it, it's just hard to shovel in the ultra-high levels of nutrients and calories you need from food alone—and in the right ratio of protein, carbs, and fats to grow muscle and not just pack on body fat. If you're lifting weights but not feeding your muscles adequately, they probably aren't going to grow.
Weight-gainer shakes make it easy to gulp down a lot of calories very quickly. (So do milkshakes and soda, but they won't give you the clean gains you're after.) Supplementing a healthy, plentiful diet with a mass gainer is your best bet to make sure your body is working up to its muscle-building potential.
Just remember, a well-designed muscle-gain training program is essential to help put those calories to good use. These are the ones our community swears by:
*These statements have not been evaluated by the Food and Drug Administration. This product is not intended to diagnose, treat, cure, or prevent any disease.