Choosing Your Class: Female | Choosing Your Class: Male | Pro Tips for Guys | Pro Tips for Girls | Competition Day Go-Bag Essentials
If you've set your sights on a physique competition, having a plan of attack is essential. There is no one "right" way to prepare, and different things work for different people, but a systematic approach is essential to help you manage both your expectations and your outcome.
Whether you plan to compete only in local shows or plan to work your way up the ranks to compete at the national level, here are the most important things you need to have nailed down before you set foot onstage.
1. A Qualified Coach
Your coach should be able to assist you with all aspects of your training, including a meal plan, a training program, weekly check-ins, a supplement schedule, posing—even providing a friendly ear when you need to vent. They can also help guide you on which show to enter, what the "current look" and guidelines for your division are, and which division your physique is best suited for.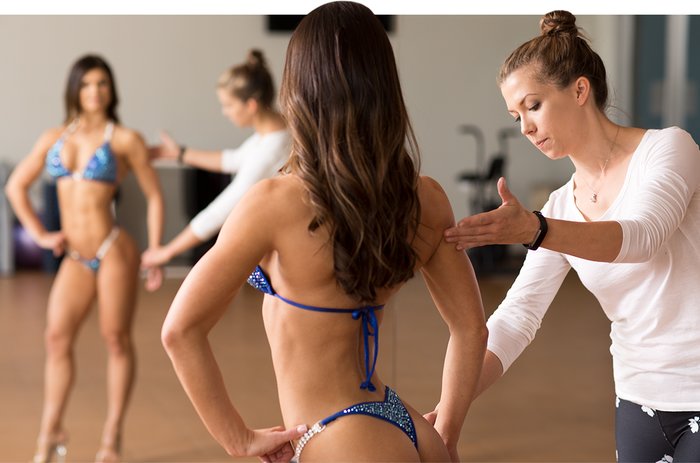 If you want to have a truly positive experience, find someone who specializes in competitions. Just because someone competed in one show and now offers "online training" does not make them a qualified competition coach. Lack of proper training and knowledge can do long-term damage to your metabolism and body. Experience and results are key, so don't be afraid to ask around.
2. A Sound Training and Nutrition Plan
There's no "right" way to prepare for the stage and there are numerous schools of thought on what works best. But to be clear, there is a wrong way—the way that feels like pure punishment, leaves your body scrambling for resources, and takes weeks or months to recover from.
If there's one thing that most "wrong way" approaches have in common, it's that they're rushed. A quality prep should be eight weeks at minimum, but more likely 12-16 weeks, depending on where you begin and how responsive your body is. Resist the urge to do a show if you have to rush to be ready in time. Your body and your mind will thank you.
Every physique athlete needs a good protein powder they can rely on to get the amino acids they need to recover and rebuild. Find yours today!
3. Lots of Practice with Stage Presence and Posing
Just because you've worked hard, don't think you can just put on a sparkly bikini and automatically blow everyone away. Posing helps you shine onstage. It's harder to score well if you don't know how to present what you've built.
You can perfect your presentation by practicing your walk and your transition from one pose to the next. Judges expect you to move with grace and elegance while contracting every muscle effortlessly, and they definitely notice when you haven't practiced.
Make posing part of your gym routine. If your division requires heels, buy them early and start practicing. Clomping out onstage like a derby horse will catch the eye of the judges—but not in a good way.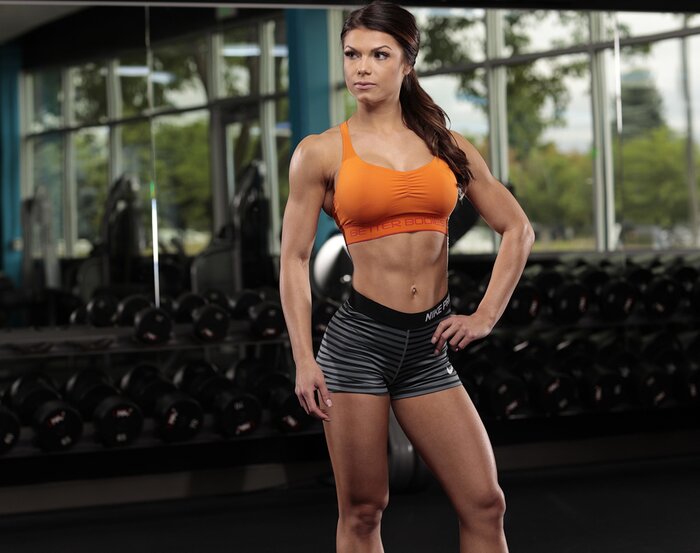 BCAAS are a must-have for any competition prep to prevent muscle loss while giving your body the amino acids it needs to build and retain mass, even in a calorie deficit.
4. The Right Suit
Your competition suit is just as important as every other component of your preparedness. If you think details like this don't matter, think again. Judges will score against you for ill-fitting, lackluster suits.
Suits can be hundreds, or even thousands, of dollars depending on the brand and extent of crystal application. This doesn't mean you have to purchase the priciest suit out there, but the most flattering cut and color for your hair and skin tone will serve you best. Your coach can help with suit selection.
Make sure your suit is glued in place on the day of the competition to avoid wardrobe malfunctions.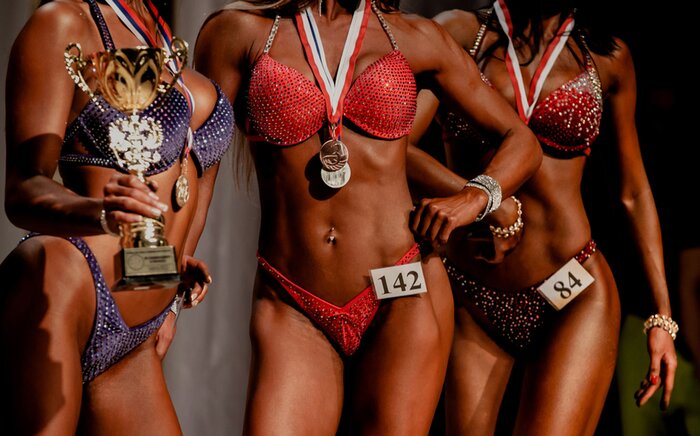 5. A Solid Stage Tan
A stage tan makes muscles pop under the bright lights of the stage, and no, sitting out in the sun will not cut it. You need to apply a special tan. Without this, you'll look completely washed out and all your efforts will be wasted.
Professional tanning services are a constant presence at shows and are worth the extra expense. It's a very messy process, so having someone who knows what they're doing can make all the difference, ensuring the best possible color and coverage.  
If you're experienced with self-tanning and want to save some money, you can use self-tanning products, but it is trickier, especially when traveling. Always bring a set of old sheets to put on the hotel bed to avoid being charged for staining theirs.  
Regardless of which route you go, you must shave your entire body and exfoliate well prior to tanning. If you don't, the tan will appear muddy—even over just peach fuzz. When you think you're tan enough, do another two coats! Judges can and will hold a poor tan against you, so err on the side of caution and assume that more is better.
Jan Tana Hi Def Makeup/Tattoo Cover Creme
Cover Your Tattoos! Water Based Makeup Cover!
6. Perfect Makeup and Hair
Like a stage tan, stage makeup best done by professionals. The lights will wash you out, so your makeup should be more of a theatrical look. Many shows offer the services of hair and make-up artists who are familiar with competition, so find out if one is available and book in advance.
If you're good at makeup—and many competitors are—then you can opt to do your own. Just find a YouTube tutorial to assist you with the very specific look of competition makeup.  
7. A Photoshoot
Whether it's just for you or you plan to share your images with the world, capturing your physique with a photoshoot is a fun way to celebrate your hard work without all the pressure of the show itself. After all you've gone through, you've earned it!  
Ask around to find a photographer with fitness experience. For your own safety, be leery of anyone offering anything for free. Establish details up front, including sitting fee, number of looks, and how many images you'll get after the shoot.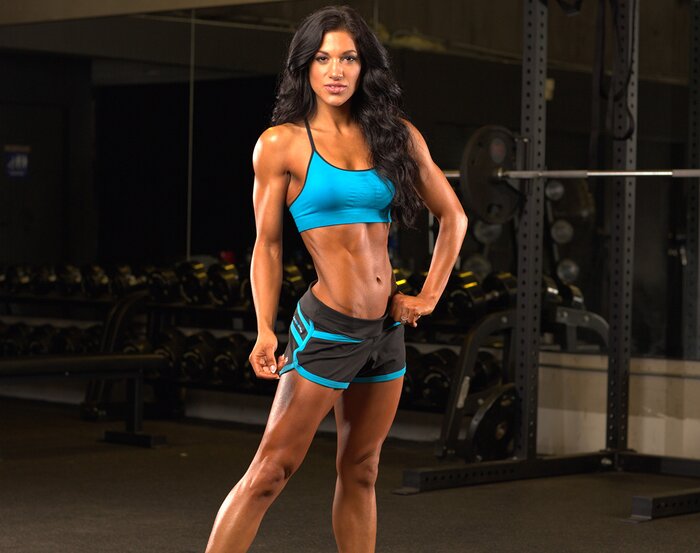 8. A Plan for After the Show
Just as it's important to set a goal prior to taking the stage, it's equally important to have a goal in mind once the show is over.  
After a show, it can be easy to experience a bit of a letdown. To help avoid the "post-show blues," establish your plan for what's next. It could be as simple as setting your sights on the next show, or could be the absolute opposite of a show, like an obstacle course race or a fun run. It doesn't matter what you choose, just have something new to look forward to.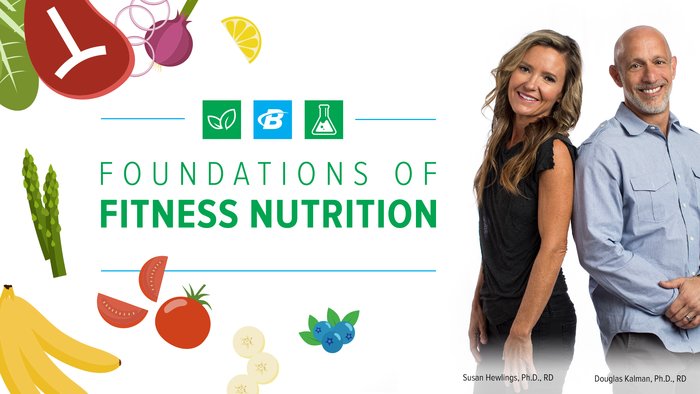 Eat Like a Champion
Whether you're new to competitions or you're pro, understanding what to eat and when is crucial for building your physique. Learn the secrets to building size and techniques for cutting down so you can step onstage looking your best!