Rice is an ancient staple for billions of the planet's modern denizens, but it has come under attack in recent decades. First came the low-carb craze, which considered eating rice an express ticket to Pudgeville. Now the upswing in Paleo eating has spurred a new generation of rice bashers into full gallop.
For many cultures, this humble grain symbolizes nourishment, prosperity, beauty, and even fertility—hence the custom of tossing rice at newly wedded couples). For people who train hard, rice can provide a winning mix of the nutrients an active body needs to perform its best.
Though other gluten-free grains like quinoa and amaranth are all the rage these days, rice remains a nutritious choice if you know what to look for.
Health-food stores, ethnic markets, and even larger supermarkets are increasingly full of the most healthful and flavorful varieties of rice from around the globe. Here's how to get the most out of the world's most abundant foodstuff.
Let's take a look at the pros and cons of several popular types.
1. Brown Rice
Varieties of brown rice such as Jasmine or Basmati still contain their germ and bran layers, meaning they provide fitness buffs with a range of important nutrients including B vitamins, bone-building phosphorus, and magnesium. Although data shows that about half of all Americans don't consume their daily quota of magnesium, this mineral is needed for proper muscle functioning. Low levels of magnesium may also contribute to or at least predict heart disease.
The dietary fiber that brown rice provides—about 5 grams in each cooked cup—can help quell the hunger pangs that lead to gut-busting junk-food binges by slowing down digestion. Brown rice has a great nutty flavor absent from the white variety.
Directions for a perfect pot of rice every time:
Place 1 cup brown rice, 1 1/2 cups water, and a couple pinches of salt in a medium-sized saucepan.
Bring to a boil, reduce heat to low, and simmer covered until rice is tender; it takes about 30 minutes.
Remove from heat and let stand covered for 10 minutes.
Fluff rice with a fork.
For better flavor, cook your rice in coconut water. One taste of the finished extra-sweet rice and you'll never go back to using regular water again.
2. Wild Rice
It looks like rice and grows like rice but, botanically speaking, wild rice is not rice at all. Native to North America, wild rice is a seed of an aquatic grass traditionally harvested via canoe by indigenous populations. Much of the modern wild rice on store shelves has been tamed, cultivated in man-made paddies.

You can still find some organic, hand-harvested, lake-grown wild rice in certain speciality stores. Wild rice delivers an impressive range of nutrients: phosphorus, immune- and testosterone-boosting zinc, magnesium, and B vitamins, including the cancer-protective folate.
Wild rice has a chewy texture and smoky, nutty flavor which stands up well to rich-tasting items like game meats or when used in soups and salads. The only downside is that wild rice can take up to 60 minutes to cook, so consider preparing a big batch. Or soak the grains overnight, which will slash the cooking time by about 30 percent.
3. Sprouted Rice
If you want the most nutritional bang for your buck, pick up a bag of sprouted rice. To make sprouted rice, companies kickstart the process of germinating the grain. The process encourages the rice to start growing into a plant—which increases its nutritional value.
A "Journal of Functional Foods" study found that germinating brown rice caused an uptick in levels of gamma-aminobutyric acid (GABA), a compound which may support your mood and heart health. Sprouted foods such as rice are easier to digest and are quicker to cook since the hard outer shell is softened during the sprouting process.
Made with California-grown sprouted brown rice, Planet Rice is a top-notch brand.
4. Wehani Rice
A creation of the forward-thinking Lundberg Family Farms in northern California, Wehani is a russet-colored, slightly chewy, long-grain heirloom rice which fills the house with the appetite-inducing aroma of buttery popcorn as it cooks. Its flavor is somewhat reminiscent of brown basmati rice. Keep an eye out for the stellar black Japonica rice.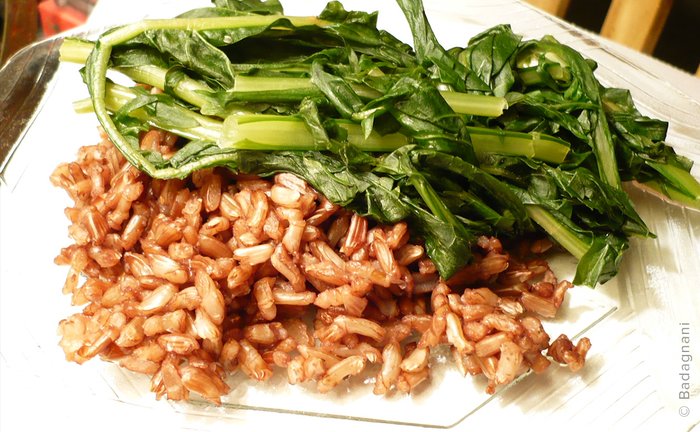 As with other whole-grain rice, Wehani is rich in complex, slow-digesting carbohydrates needed to fuel hard-charging muscles. While we love all protein does for a sculpted physique, it's important to remember that carbohydrates deliver most of the energy needed to sustain those high-intensity gym sessions. Think of a side dish of whole-grain rice with your meal as fuel for your engines during workouts.
But beware: Go easy on Wehani and other less-processed rice types shortly before its time to hoist that iron; the extra fiber may leave your tummy crying foul mid-workout.
5. Black Rice
This striking variety is cultivated in China and possesses a praise-worthy sweet, nutty taste, and chewy texture. Recent research discovered that the bran layer of black rice contains a surfeit of anthocyanins. These are the same type of antioxidants, found in dark berries such as blueberries, which sweep through a body looking for cell-damaging free radicals to knock out.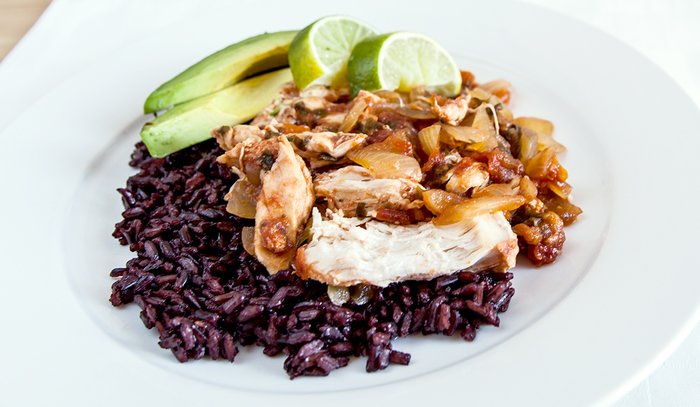 Look for Chinese black rice at some health-food stores and Asian markets. A reliable brand is Lotus Foods, which sells the grain under the name Forbidden Rice ... folklore says that the prized grains were once only served to emperors in ancient China.
Not to be confused with wild rice or Thai black sticky rice, this non-sticky medium-grain rice becomes a vibrant purple when cooked and can add a real "wow" factor to mealtime. It's especially good in a stir-fry or salad.
Breakfast Tropical Black Rice
Ingredients
1 cup black rice
1 tsp cinnamon
1 tsp ground ginger
3 tbsp raw honey
1 tsp vanilla extract
2 cups coconut milk beverage
1 mango, cubed
1/2 cup unsalted shelled pistachios, roughly chopped
1/4 cup unsweetened coconut flakes
Directions
Place 2 cups water, black rice, cinnamon, and ginger into a medium-sized saucepan.
Bring to a boil, reduce heat, and simmer covered until all of the water has been absorbed—about 30 minutes.
Stir in honey and vanilla.
Let cool for five minutes.
Divide among 4 serving bowls and top with coconut milk, mango, pistachios, and coconut flakes.
 Tropical Black Rice PDF (224 KB)
The Post-Workout Option Only: White Rice
Rice consists of three components: the endosperm, the bran, and the germ. The bran is where much of the dietary fiber is found. The germ harbors a bundle of vitamins and minerals. When brown rice is processed to make its ghostly counterpart, the bran and germ are removed, leaving behind what's mainly just endosperm.
In the endosperm, you find little more than quick-digesting carbohydrates, making white rice a nutritional dud compared to more nutrient-dense brown. By encouraging a sudden rise in blood sugar, forkfuls of white rice can also spiral into fat gain. For this reason, it's best to prioritize the whole-grain guises of rice discussed below.
If you need a sushi fix, however, the best time to do so is after a vigorous workout when your body can better benefit from the fast-digesting carbohydrates white rice provides. For the most part, the carbs will be quickly taken up by your muscles at such times to replace spent energy stores.