If you've heard the name, James Newbury, you probably associate him with the Crossfit Games. Not only is he a 4-time Crossfit Games athlete and 4-time Australia's Fittest Man, he also was a semi-professional rugby player and regularly competes in triathlons, Ironmans, powerlifting meets, and many other modalities of training. He is the definition of a hybrid athlete. On top of that, he follows a plant-based diet which is even more impressive and an entrepreneur.  
We had a chance to discuss how James' fitness journey started.

Q: Tell us who you are and what you do in one sentence? GO!
A: My name is James Newbury and I am 4 x Australia's fittest man, 5th at the CrossFit Games 2019, hybrid athlete, entrepreneur and I'm all about chasing the vibe!
Q: When and where did your fitness journey begin?
A: My fitness journey began when I was 8 years old at a little athletics "junior track" where I fell in love with competing. I started training shortly after setting up high jump targets, throwing shot puts in the backyard and running 100s, 200s and 400s in my street. 
Q: What got you hooked? What was your pivotal moment that made you think "I can do this?"
A: I got hooked on my second week of little A's. The first week didn't go so well. I lost pretty much every event and didn't want to go back. Then, a friend's Dad came up to me on the second week and told me to not lose focus on a point at the end of the track and stay upright when I run.
I went from coming last to winning immediately. That changed everything and I was hooked. I then found this immense hunger to win not only the sprints but the field events too. 
2012 was my first regionals (nationals) debut for CrossFit and I didn't even expect to qualify. I came into the regionals ranked 47th and finished the weekend in 9th. I was mind blown. I immediately thought, yep I can make the CrossFit Games. 
Q: What's your movement of choice?
A: Monostructural movement - running
Weight lifting movement - deadlift 
Gymnastics movement - toes to bar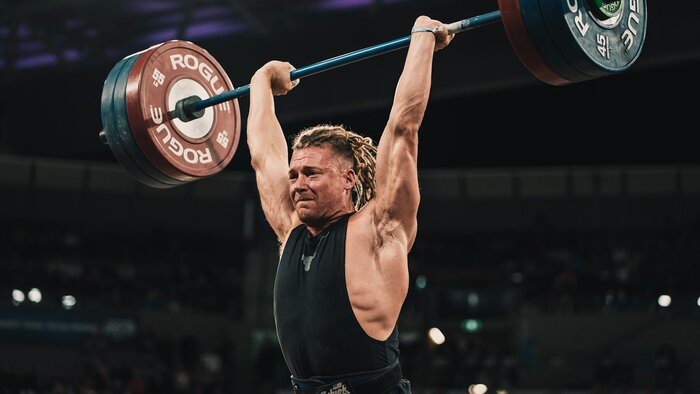 Q: What's the difference between working out and training?
A: Working out in my mind is going through the motions to maintain a level of fitness to a particular degree. 
Training is a structured, progressive overload program with the aim to increase capacity in whatever domain/ sport you participate in. 
Q: How does training benefit you physically, mentally, emotionally?
A: Training allows me to express my physical ability, maintain a healthy body weight, and allows me to look the way I wish to look. It also gives me an opportunity to socialize, meet new people and share cool experiences that bring me joy. 
Q: Tell us about your routine. Training regime, nutrition and fueling, recovery, etc.
A: At the moment I typically start the day with something monostructural like running, biking or swimming. Then, if I get time in the afternoon, I'll either body-build, go climbing, power-lift, CrossFit or shift some heavy sh*t strongman style. 
I am 100% plant based. I typically eat around 3200-3500 cals and a rough idea on macro breakdown would be 50% carbs, 30% fat and 20% protein. I aim to eat as much whole food as possible with the odd treat from time to time and I only drink all natural spring water, no tap! 
My recovery protocols include breath work, sauna, cold showers, ocean dips, float tank exposure, massage, cupping, stretching, sleep, and the odd hyperbaric chamber session when I can. 
Q: Tell us about your supplement routine. No need for brand names, more so wondering what you use outside of whole foods to fuel your hectic training schedule.
A: As a Vegan athlete I believe it's important to supplement with creatine each day; 3-5g depending on what the current goals are. I use a vitamin and mineral complex, energy tonic (pre), protein powder, plant based oil (omega) complex and some really cool medicinal mushrooms tonic.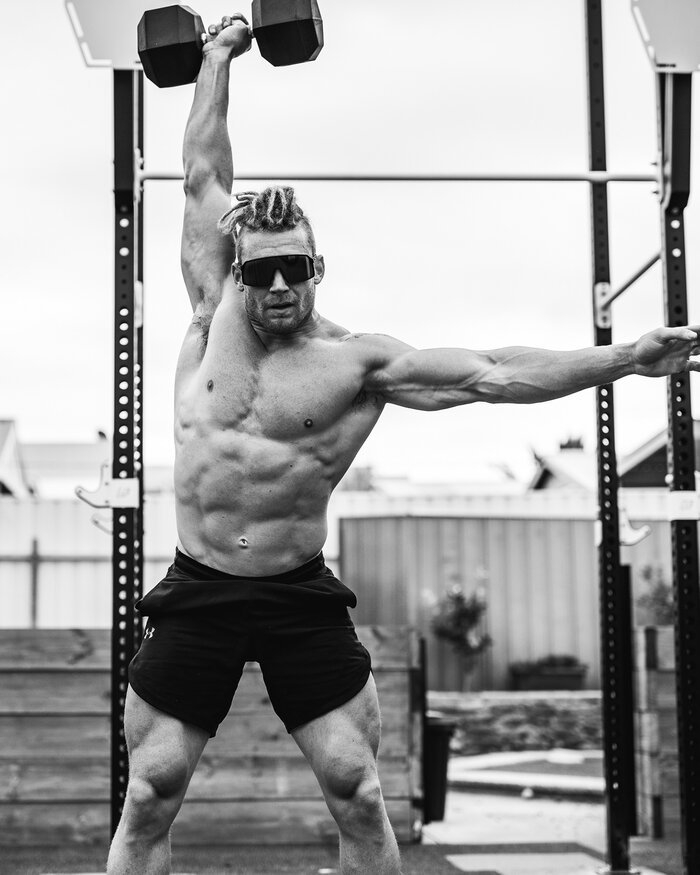 Q: What piece of advice would you give someone who's just starting their fitness journey?
A: Consistency is key! Be consistent with the basics and you'll be elite in whatever you do. People try to hop straight to the 1%ers and miss the bulk of the work which is solid sleep, wholesome nutrition, quality water and being surrounded by good people and a motivating atmosphere. 
Q: What does being strong mean to you?
A: Being strong is something I've always wanted to be. I'd be a lot less happy if I had to compromise all the fun things I do day to day because I am not strong and physically cannot do them. Being strong has opened up a lifestyle I've always dreamed of. It will also allow me to do the things that bring me joy well into my 90s and 100s.
Q: How did Bodybuilding.com help you in your early days of training?
A: In the early days of starting my 3 x 10 gym routine as a 13 year old rugby player bodybuilding.com was the best place for me to learn new training splits, how to supplement and was a resource of all thing training and nutrition which has now catapulted my career in sport to where it is today. I owe a lot of my early success on the field to BB.com. 
Stay tuned for more athlete profiles throughout the year. Do you have a story worth sharing? Email social@bodybuilding.com for profile submissions.