If you're working on gaining muscle or losing fat, doing some form of meal prep is non-negotiable—after all, abs are made in the kitchen. But it doesn't have to mean spending your whole Sunday slicing and dicing.
Get started with these five shortcut ideas that will get you in the habit of meal prepping with as little effort as humanly possible. Then, when you're ready to move on from basic chicken and sweet potatoes, these five great recipes from Kevin Alexander of FitMenCook will shake things up and keep you motivated to eat clean.
5 Meal-Prep Hacks You Can Do Every Week
1. Simplify Chicken
Even if you're grossed out by raw meat or just can't be bothered to cook, you should still be able to cook chicken. It's really not that mysterious—baby step into meal prep with this super-easy chicken technique.
Preheat your oven to 425 degrees Fahrenheit. Spray a skillet or baking dish with olive oil. Empty a package of boneless, skinless chicken thighs into the pan. If you want, spray the tops lightly with olive oil. Bake for 20 minutes. Congratulations, you just meal prepped.
As it is, this is basically the definition of "struggle chicken," or the flavorless protein that makes you give up your meal plan and go out for cheeseburgers. But you can use this as a base and add seasonings, sauces, and condiments to make it edible. (Minced garlic, even from a jar, goes a long way.) Having a basic, non-intimidating, go-to technique will mean you actually do it every week, and that's an important first step.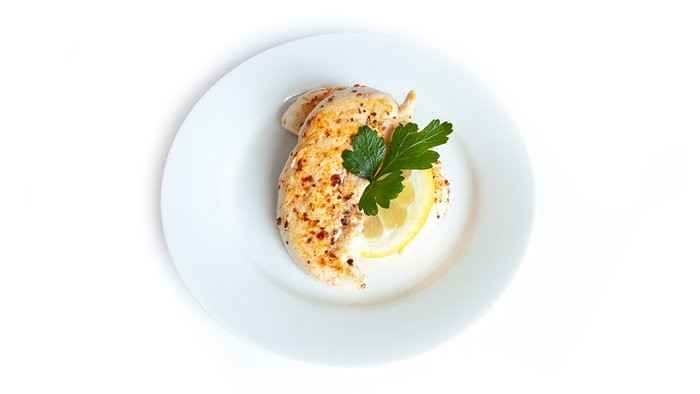 2. Instant Veggies
Stock up on precut stir-fry vegetable mixes, shredded carrots, and snow peas. These require zero prep and will cook in the microwave in 2 minutes. Stuff your meal containers with them for fiber and micronutrients.
One of the things that makes meal prep take a long time is weighing and measuring your portions. But with most non-starchy vegetables you can skip this step, since they add so few calories you can basically eat as many as you want. This makes calorie counting easier as well.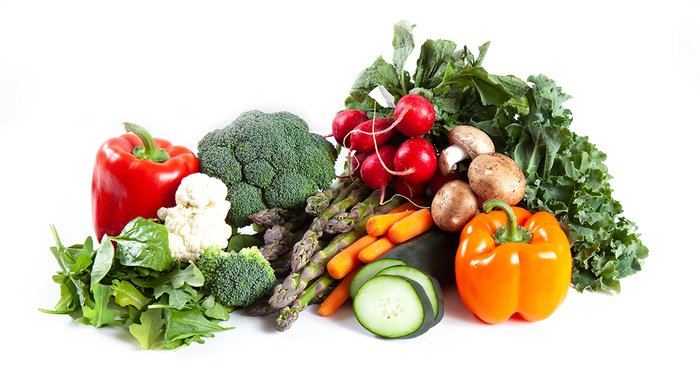 3. Formula Meals
Come up with one or two go-to meals with simple components that can be swapped out for endless variations. For instance, make ground meat with veggies and rice part of your repertoire.
You can alternate between beef, turkey, and bison. Try whatever veggies are in season, and experiment with seasonings. But every week at the store you know you need to pick up a package or two of ground meat, a few picks from the produce aisle, and a bag of rice. No list required.
4. No-Effort Potatoes
When you're making the "world's easiest chicken," throw a couple potatoes and sweet potatoes into the oven while it's hot. (Just remember to rinse them and prick with a fork so they don't explode!) They'll take a little longer to bake than the chicken (around 45 minutes), but you basically just got two of your macros done with the effort of one.
5. Prepackaged Everything
One area of nutrition where it's absolutely OK to cheat is meal prep. As long as a food is healthy and fits your macros, it doesn't matter if you prepped it yourself or someone did it for you. Prepacked individual servings of guacamole, hummus, nuts, and even hardboiled eggs are all fair game. Don't forget protein bars for a no-prep healthy snack.
5 Healthy Recipes That Make Meal Prep Easy
The "world's easiest chicken" can keep you out of the drive-thru, but let's be honest, there's only so much you can eat before you need a meal-prep makeover. What's going to keep you eating clean long term is a collection of truly delicious recipes that make you look forward to lunchtime. Here are five recipes from FitMenCook to get you started.
1. Southwest Stuffed Sweet Potatoes with Grilled Chicken Breast
This recipe features veggie-filled sweet-potato boats and several options for lean protein, making it a win-win for everyone. Whether you prefer to go the traditional route with chicken, or change things up with portobello mushrooms or tempeh, this meal's high complex carb and protein content are sure to meet your macros and win over your taste buds.
FitMenCook Southwest Stuffed Sweet Potatoes with Grilled Chicken Breast
2. Breakfast Omelet Roll-Ups
Who needs a burrito made of enriched white flour when you can use protein-rich eggs as the vehicle for your breakfast sandwich? Make your roll-ups a sit-down meal, or take your omelet to go with this protein-packed recipe.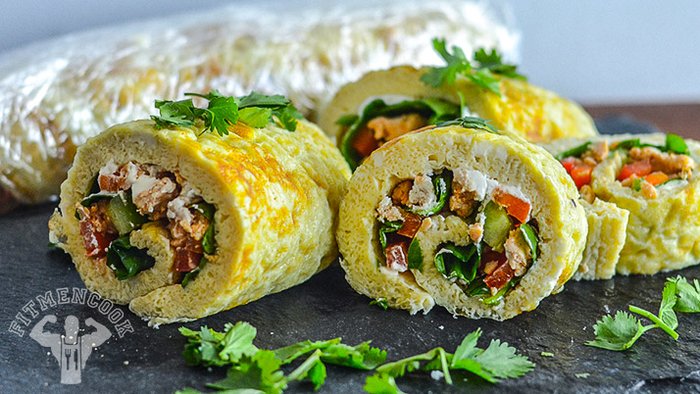 3. Balsamic Chicken
Fact: Having #StruggleChicken is the leading cause of failed meal prep and inconsistent diets everywhere! Don't fall victim by playing it safe—you can only eat so many dry, flavorless chicken breasts before you start sprouting wings. Spice up your chicken-based meal prep with a few ingredients you probably have in your kitchen.
FitMenCook Balsamic Chicken
4. Lean Turkey Lasagna Meal Prep
If you're trying to stay lean so you can soak up the last few moments of summer sun, this meal will get you there. It'll keep you full while you show off your hard-earned beach body.
FitMenCook Lean Turkey Lasagna Meal Prep
5. Post-Workout Sweet Potato Brownies
Store-bought brownies might not fit your macros, but that doesn't mean the squares of gooey, chocolaty goodness have to be taken off the table completely. Try these zucchini and sweet-potato brownies instead!
Sweet potatoes are a nutritional powerhouse and, more specifically, a great source of vitamins A and C, which have antioxidant properties. The shredded zucchini gives you an extra serving of vegetables while adding moisture to the brownies and guaranteeing they'll come out bakery-worthy.
In addition to packing a flavor punch, these brownies provide a healthy mix of carbs and protein to kick off muscle recovery and growth.
FitmenCook Post-Workout Sweet Potato Brownies
For more meal prep ideas and daily recipe inspiration, join Team FitMenCook on YouTube, Instagram or Facebook!