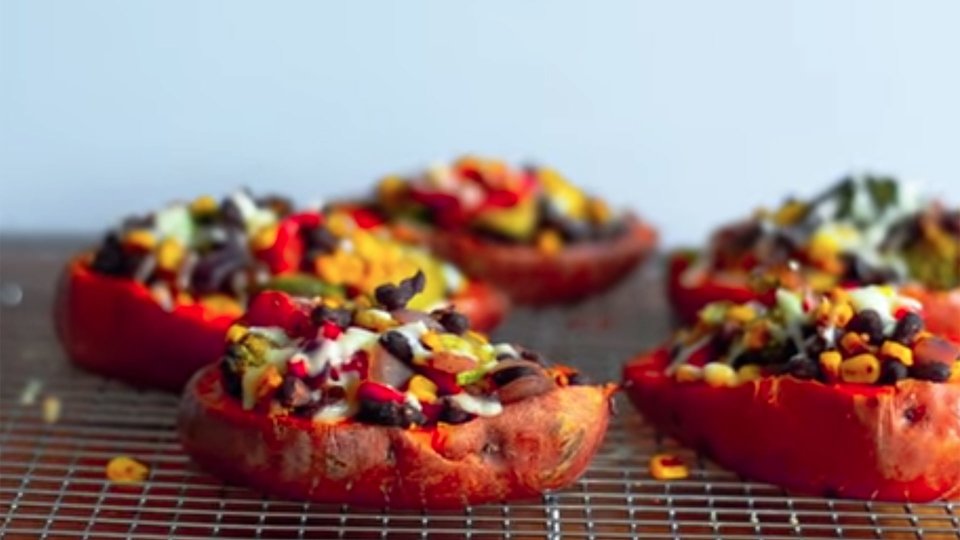 This recipe features veggie-filled sweet-potato boats and several options for lean protein, making it a win-win for everyone. Whether you prefer to go the traditional route with chicken, or change things up with portobello mushrooms or tempeh, this meal's high complex carb and protein content are sure to meet your macros and win over your taste buds.
Ingredients
32 oz chicken breast
3 whole sweet potato
1 cup black beans, drained and rinsed
1 cup broccoli
1 cup corn
⅔ whole diced red bell pepper
3 whole green onion, sliced
1 whole zucchini, sliced
5 tbsp mozzarella cheese
¼ tsp cayenne pepper
1 pinch paprika
salt to taste
dash black pepper
Directions
Preheat the oven to 405 F.
Wrap sweet potatoes in aluminum foil and bake until firm but soft, about 45-50 minutes.
Season chicken with Mrs. Dash Southwest Chipotle, cayenne, paprika, and dash of sea salt, and cook in a nonstick skillet. Set aside.
Chop vegetables into small pieces.
Saute garlic and corn in a nonstick skillet using spray coconut oil. Once corn is seared, toss in vegetables and black beans.
Slice sweet potatoes in half and carve out part of the insides. Set carved-out portions aside to be used later.
Spray sweet potato halves with coconut oil, then place back in oven for 5 minutes.
Fill sweet potatoes with vegetable mixture, then top with 1 tbsp mozzarella.
Bake for another 8 minutes at 405 F.
Serve chicken breasts on the side with stuffed sweet potatoes.
Tip: So as not to waste food, take the leftover sweet potato, mash it up, and add 1/3 cup Greek yogurt, 1 tbsp cinnamon, and 1 tbsp raw honey or 3 packets of natural sweetener. Enjoy this sweet potato mash hot or cold. For breakfast, heat it up and sprinkle with a little bit of granola and fresh blueberries.