While other eighth-graders slept in or sat groggily in front of the TV, Kate Jones was already laced up and ready to go. Her destination: the local YMCA. As soon as the facility opened in Wichita, Kansas, the then-14-year-old became a morning regular.
It's a drive and determination that most adults lack; yet to Kate, it was second nature. "It was only about a mile from my house," she recalls. "I would run there to get in my cross-country training and then do some upper-body work. Looking back, I never thought I was that disciplined; it was just something I enjoyed doing."
But Kate's childhood drive stalled as she entered her college years. Slowly, a lack of structure and dedication made the dreaded "freshman 15" a reality. Things snowballed as a full-time job combined with a hefty course load left Kate feeling overwhelmed.
It took her a few years to get back on track, but when Kate decided to change, she did a real 180. Take a lesson from Kate: When it comes to following your passion, don't let anything stand in your way.
How Did Your Fitness Journey Begin?
Weightlifting is in my DNA. I've always loved it. My uncle, in particular, has a huge influence on me. He was into powerlifting and was a bench-press champion. I remember him and my father working out every night. In the eighth grade, I took after them and started lifting in the mornings at my local gym.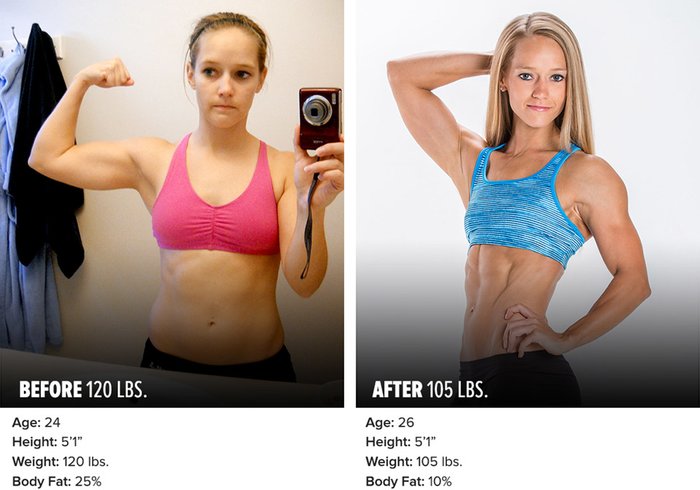 So Far, So Good. When Did Your Downward Spiral Start?
I ran cross-country and did track all through middle school and high school. I didn't have the hand-eye coordination needed for sports like softball and basketball, but I excelled at running for distance, so that became my focus. Unfortunately, I didn't do well enough to compete in college. Instead, I picked up cheerleading for a while. It was fun and different, but not something I could see myself doing competitively. We'd work out in the weight room, but we didn't follow serious programming and there was no real structure, which was something I needed and craved.
What Was Your Nutrition Like At That Point?
I basically thought the fewer calories, the better. I would eat 2-3 eggs for breakfast; a can of tuna, a few crackers, and a piece of fruit for lunch; and then, because I was still a struggling student, a pack of ramen noodles for dinner. It wasn't always the most nutrient-dense food; it was just small quantities. At that point, I had no idea about macronutrients, and my protein intake was poor. I was just trying to eat as little as possible.
What Was Your Wake-Up Call?
At that point in my life, I was going through a hard time. My health wasn't a priority, and I was probably a little depressed. Then, some teammates told me that my former running coach's health was poor. I called him, and of course, all he wanted to do was talk about me. The whole time I was thinking, "Man, I don't know what to tell this guy. I don't feel like I've done anything with my life." It was pretty eye opening for me.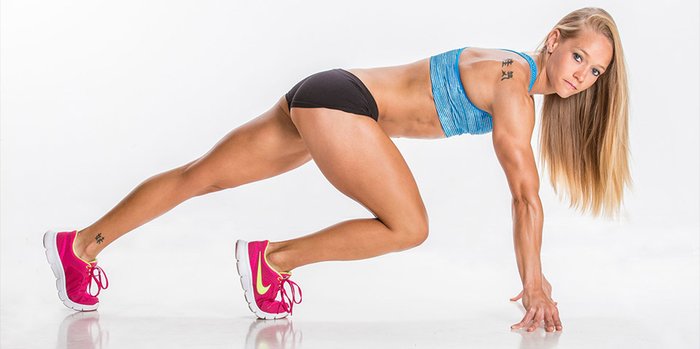 How Did You Reincorporate Fitness Into Your Life?
After speaking with my former coach, it all clicked. He was fighting so hard to live, and my life was stagnant. I was fed up with my health and who I'd become. It was then that I decided to sign up for a marathon. I'd always excelled at running, so it seemed like the logical choice. I didn't sign up for a marathon to lose weight—that was more of a byproduct.
Only after incorporating running into my routine did I think, "Hey, I've been running x amount of miles a week and I'm still kind of fat. What's up with that?" That's when I started turning my wheels about how to lose the rest of the weight.
You Ended Up Gaining Weight Shortly After. How Did That 180-Degree Change Happen?
I met my husband and moved in about three months after we started dating. That kicked off my "fat and happy" phase. I wanted to play the role of a model housewife. I'd make these elaborate dinners every night—from spaghetti and chicken parmesan to lasagna. At first it was great, but by the end of 2012, I'd gained back most of the 15 pounds I'd lost from running.
Was It Hard To Get Back Into The Workout Mindset And Convince Your Husband To Do The Same?
It wasn't hard to get back into the gym, but setting up a steady program was more of an issue. We met at the gym. We were both fly-by-the-seat-of-your-pants gym goers. I'd go in and do 3 sets of 12-15 reps of a few upper-body exercises, still totally ignoring any lower-body training. I was running, so that was my leg workout, right? Looking back, it was illogical, but it was really what I thought at the time.
How Did You Go About Adding Structure To Your Workouts?
I logged on to Facebook and asked for a good weightlifting program, which is when someone recommended Bodybuilding.com. I did a quick search and realized the website was a bodybuilding mecca.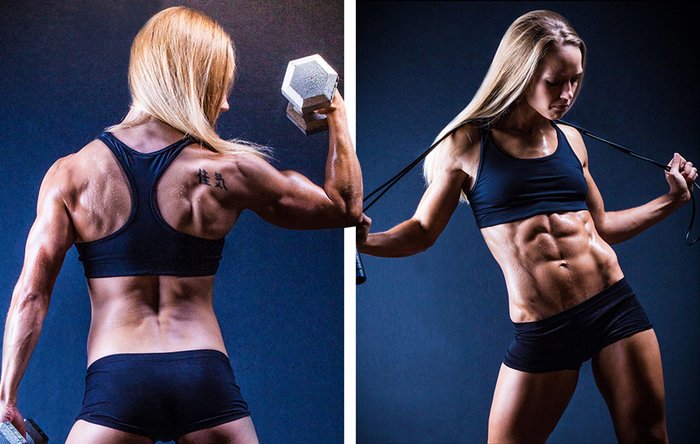 How Did You Decide What Program To Start With?
For a while, I didn't delve into a full-on trainer. I just focused on things that were easily accessible. There'd be an article featuring a leg workout, and that would be my workout that day. It was kind of haphazard, but I gained a lot of knowledge and a good base understanding of exercises from watching videos. A couple of months after looking around the site, I started Jamie's Eason's LiveFit trainer.
What Was The Most Challenging Part Of Livefit?
I actually struggled with the first phase of LiveFit because it was a lot more food than I was used to eating. This was the first time I was changing up my nutrition, and I knew nothing about macronutrients. Of course, the program called for a lot more protein, but Phase 1 also had no cardio.
My first thought was, "Oh my gosh, am I going to get fat again?" It was difficult for me to trust the process, and I had a lot of anxiety. I ended up taking the calories down just a bit, but it was still a lot more than I had been eating originally.
What Did You Take Away From Following Your First Structured Program?
Once I moved past the initial shock of the food intake, I realized it's not just about calories in versus calories out. There are certain things you need that can help make you more efficient. It was the first time I started paying more attention to what I was eating as opposed to how much.
The first phase was pretty eye-opening for me because I didn't lose a lot of weight, but I could tell my body was changing. Then, cardio got incorporated, and active rest just really kicked my butt. I loved it. At that point I realized this is what I'd been missing my entire life.
How Did Your Body Change Physically?
I lost inches—my arms got bigger, my back got wider, and my core was just awesome. My body responded really well to the weight training. When I started lifting on leg day, instead of solely running, I saw more definition in my legs and calves. It was around this time that I started thinking about taking things further and possibly competing.
Kate Jones, What Was Your Spark? | #thespark
Watch The Video: 05:40
What Does Your Current Workout Plan Look Like?
Right now, I'm doing a 5x5 program to put on size before I start cutting. I've also set three-month, six-month, and one-year goals to help me get to my one-rep max. In three months I want to bench 160, squat 185, and deadlift 200.
How Did This Translate Into Your Daily Life?
I became more self-confident. It's around this time that I started taking progress pictures and flexing. It was at that point that it crossed my mind I could take things further. That's when I saw the "Strong To The Cor" challenge. It lined up perfectly with the last six weeks of LiveFit, so I decided to go for it. It provided that little extra bit of accountability and helped me learn more about BodySpace and body groups.
Was It Difficult To Make The Transition From The Gym To The Stage?
I started seven months out, and for the first several months, I trained myself. I knew I wanted to give myself time to diet down the right way and get into stage-ready condition. I slowly turned to the competition-prep forums on BodySpace, and the members there were a wealth of information. I never thought anyone would help me that much for free. People were there to offer me advice, whether I had questions about how much cardio I should do or when I should reduce my calories. They were just so willing to help, and that's how I got through a lot of it.
One forum member, JP Faherty, really helped. Four weeks before my show, I started freaking out, and JP offered to help me with my diet and coach me through my peak week.
My first figure competition was the NANBF National Southern States Classic in Liberty, Missouri. I placed first in the open short division, second in the beginner short division, and took fourth in overall figure. I took a few months off and competed again in September at the NANBF St. Louis Gateway Classic in St. Louis, Missouri.
Did Anything You Came Across During Your First Time Doing Competition Prep Surprise You?
I was surprised by how mentally tough it was, especially when you get down to the nitty-gritty parts of prep. You work long days, and you still have to get to the gym. Then, at the end of day, you have to adhere to your nutrition plan. I knew the workouts would be exhausting, but when it was all said and done, I think my brain was more tired than my body.
Initially, being that disciplined while dealing with people not understanding my journey was overwhelming, but I knew I had to be true to my goals. I feel like I came out of the process stronger in my everyday life, even outside of the gym.
What Does Your Diet Look Like Now?
Diet has always been the hardest for me. I love going to the gym, but I live a very social life. I often have to tell myself that there are healthy options, even when out and about. I remind myself that food is for fuel, and use it as a tool instead of a treat.
Are You Taking Any Dietary Supplements?
I have been taking RSP Nutrition products since the beginning of my competition career. I love all of their products and don't use any other brand.
How Has Being Your Best Self Spilled Over Into Other Parts Of Your Life?
When you begin a physical transformation, you have no idea how much you will actually end up transforming mentally. I now volunteer for Ronald McDonald House Charities and oversee one of our largest fundraisers of the year: a kickball tournament that raises money for children in the Wichita area.
When I stepped onstage and challenged myself mentally, it made me want to be better in other parts of my life. Making time for the gym and prioritizing it made me take a look at how I was spending my time and affecting those around me. I really wanted to enrich myself as well.
As much as I hate to say it, I don't just volunteer because it's the right thing to do; I volunteer to make myself better, too. Once I made my health a priority, I was able to look at other parts of my life and ask, "OK, how do I need to change this to be a better person?"