The story of a football player who struggles after finishing their college career is a familiar one. Jackson Haen was one such athlete. Unfortunately, he was more unprepared for life after football than most, since a series of concussions ended his career prematurely.
Haen's third and final concussion led to a medical disqualification. His doctors discovered that he had vestibular/ocular motor issues. Translation: His brain and eyes weren't working together in a coordinated fashion. Haen spent several months in physical therapy to help correct it, but the physical repercussions weren't his only struggles. He was depressed and angry, too.
"In 2017, I had a full-scale nervous breakdown," Haen says. "When I got home from college, I basically did nothing but sit around. I couldn't stand it. But I remember looking at my dad and telling him I wanted to go get a lift in."
That day at the gym, Haen didn't count reps or sets; he went and clanged the iron around until he felt "done." As he sat there in the locker room post-workout, he realized that during the session everything that was messing with him mentally just faded away. And from there, an attachment to the gym began to form.
That whole summer, Haen busted his butt at Armbrust Pro Gym near his home in Colorado, a gym made famous by seven-time Mr. Olympia winner Phil Heath. After initially losing a lot of weight and tackling eating for purpose rather than pleasure, Haen ramped up his efforts and goals in changing his physique.
"I had always idolized the 'old school' bodybuilders, especially Arnold Schwarzenegger, and wanted to create a physique similar to that era," he says. "Around the same time, I stumbled on Calum Von Moger on Instagram and learned that there was a new division of bodybuilding called classic physique. I set my sights on competing and placed top five as a novice in my first competition this past fall."
This is his story.
Snapshot: Jackson Haen
Height: 6' 1"
Weight: 210 lbs.
Location: Laramie, Wyoming
Occupation: Student/Personal Trainer
Social Links: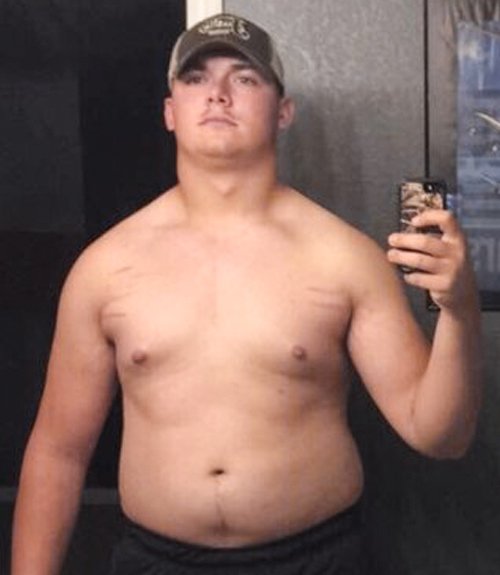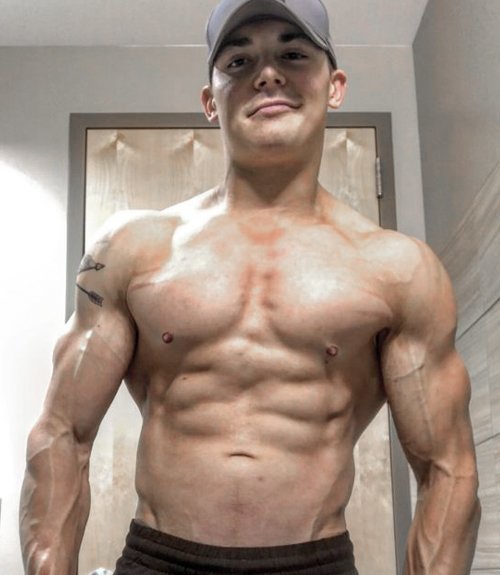 Was there an "aha" moment for you when you knew you needed to make a change?
When the doctor told me that I would no longer be able to play contact sports, I knew I'd have to change my lifestyle. I had enjoyed lifting weights ever since it had been part of our training protocol for football. Now that I no longer had to combine sessions at the gym with football practice, I began to enjoy the gym more and more. I had my "aha" moment when I lost the first 20 pounds. One day, when I had finished my planned workout, I felt this strong urge to keep going. I did a few more exercises and really went hard, revealing some vascularity in my arms and biceps for the first time. I remember looking in the mirror and thinking: "This is awesome. But I can do even better."
How did you accomplish your goals?
Consistency, commitment, and hard work. In the beginning, I got a lot of my motivation from a guy named Cameron Hanes. He had a phrase he'd use repeatedly: "Keep hammering." I took that to heart and even bought a hat with those words embroidered on it. With that in my mind, I couldn't allow myself to miss a day at the gym or have a "just this once" meal. As soon as I started to track what I was eating daily, I saw serious results.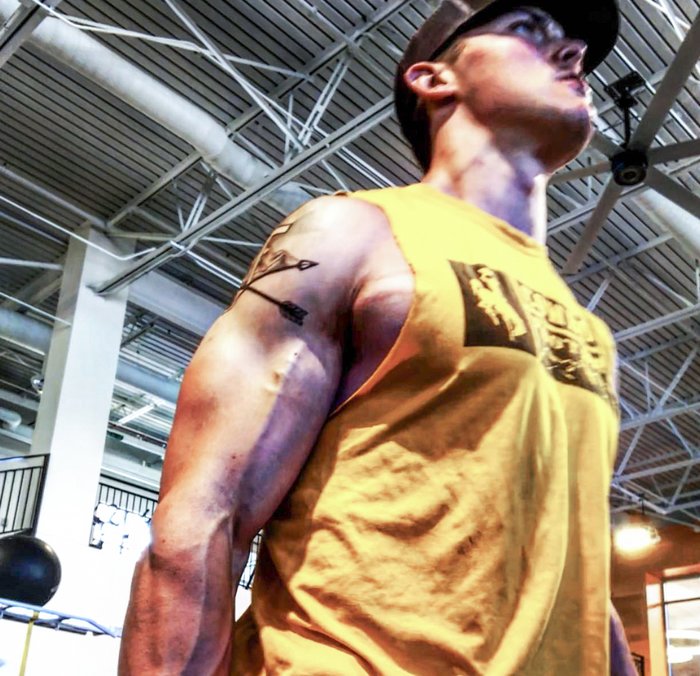 I did a ton of research about tracking macronutrients and testing out different ratios and training program designs, too. The most important thing I learned is that not every diet and training style works for everyone. But if something didn't work, I didn't give up, I just went back to the drawing board and tried to find something else to get me to my goals. After training through my own protocol for a while, I followed Arnold Schwarzenegger's Blueprint to Mass program.
What supplements helped you throughout the journey?
Primeval Labs Isolit
Primeval Labs Hurakan
What diet plan guided your transformation?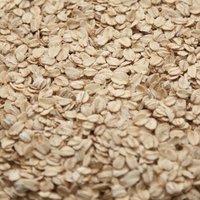 Oats
1/2 cup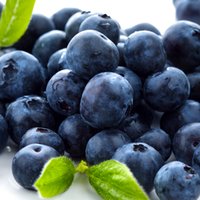 Blueberries
1 cup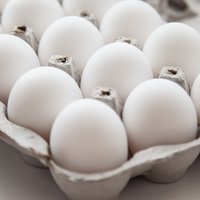 Eggs
3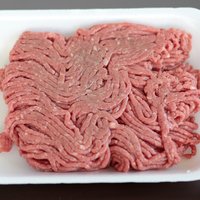 Ground Turkey
(93/7)
4 oz.
Spinach
to taste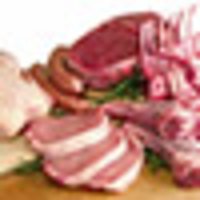 Lean Meat
(ground beef or steak)
6 oz.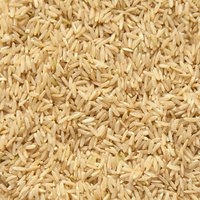 Brown Rice
1/2 cup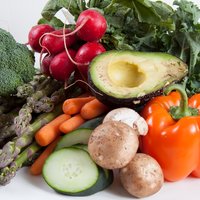 Vegetables
1 cup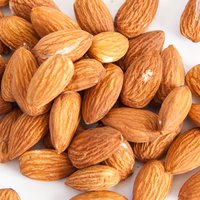 Almonds
1 handful
Chicken
(or lean turkey)
6 oz.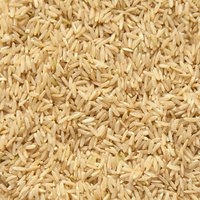 Brown Rice
1/2 cup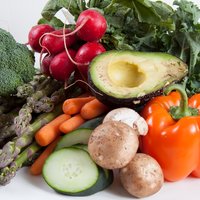 Vegetables
1 cup
Protein Powder
(Primeval Labs Isolit)
2 scoops
Oatmeal
1/2 cup
Greens Powder Supplement
(Universal Greens)
1 scoop
Chicken
(or lean turkey)
6 oz.
Salad
1 large serving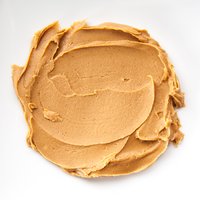 Peanut Butter
2 tbsp
Casein Protein
(Dymatize Elite Casein)
2 scoops
What did your training regimen look like?
Jackson Haen's Transformation Training Program, Monday
Jackson Haen's Transformation Training Program, Tuesday
Jackson Haen's Transformation Training Program, Wednesday
Jackson Haen's Transformation Training Program, Thursday
Jackson Haen's Transformation Training Program, Friday
Cardio
5-6 times a week for 20-30 min. I choose one of these options:
Stairmaster or spin bike: 2 min. low intensity, 60 sec. high intensity
OR chose one type of "Football" Cardio:
Half gassers: Full sprint the width of a football field and back, try to finish in no more than 30 sec., rest for a minute. 5-8 sprints total.
Stadium stairs: Find a length of stairs it takes 30 sec. to sprint up, rest for a minute. 5-8 sprints total.
Sled pushes: 15 yards, rest 45 sec., 8-10 rounds (using a weight that gave a good amount of resistance but still able to move at close to a run)
Tire flips: 10 yards down, 10 yards back, rest 60 sec., 5-8 rounds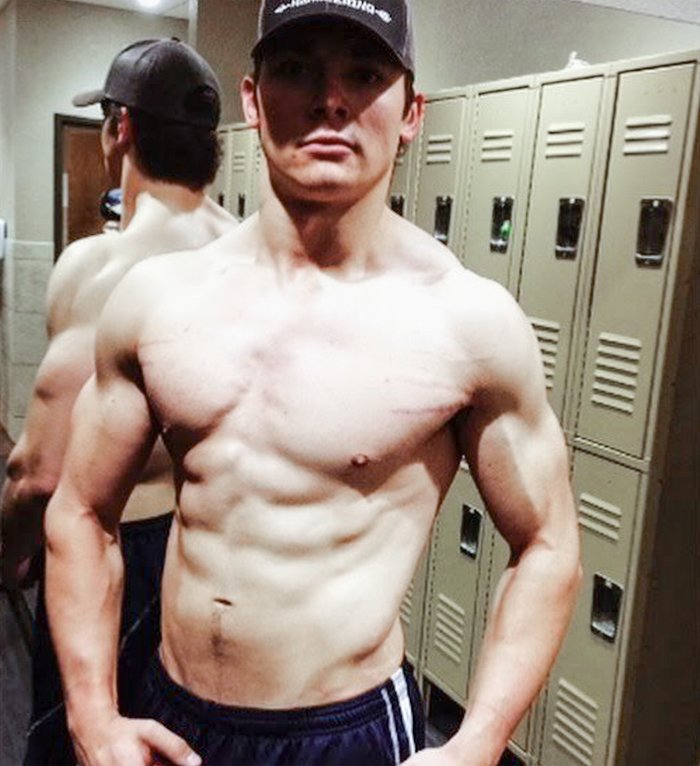 What was the most challenging aspect of your journey?
Going against what people in college consider "normal," and trying to rise above the tendency to do what's convenient. We live in a world where many people have embraced being lazy and inactivity is the norm. Because of this, people tend to give a lot of grief to those who embrace fitness and all that comes with it. Even college campuses make it difficult. Why would you prep meals for the week when there's free pizza and donuts at every turn? But the closer and closer I got to achieving my goals, the more I realized that all of those things would only set me back. I knew that eating my chicken and rice would get me closer to my goals than a free slice of pizza would. When I changed my mentality toward nutrition, it became easy to resist cravings.
If you could say one thing to someone aspiring to take on a major transformation of their own, what would it be?
There is so much bad information out there about how to change your physique. Don't fall for the "Lose five pounds today!" or other quick fixes. In many cases they call for drastic changes in short periods of time, which typically set you up for failure. The best transformation that you can make won't be just about your body, but your entire lifestyle. Going through the process of building a consistent diet and workout schedule will get you into a rhythm that you won't want to break!
What are your future plans or goals within fitness?
When I made my transformation, I wanted others to experience the same positive changes I did in their own lives. This fall I took the certification exam to become a personal trainer through the American Council on Exercise. I plan to expand on this with a sports nutrition certification. When it comes to bodybuilding, I plan to compete again in the summer. It's a lofty goal, but I want to earn my pro card in classic physique.