Declan had a deep interest in health and fitness. Just not his own. He was a frequent visitor to Bodybuilding.com and a fan of the transformation stories, but Declan was in denial about his own weight problems. It took an eye-opening visit to the doctor to convince Declan that he needed to do something.
At almost 400 pounds, Declan was struggling with selective eating disorder (SED), also known as avoidant/restrictive food intake disorder (ARFID).[1] SED is a lesser-known eating disorder characterized by a strict adherence to a very limited range of foods.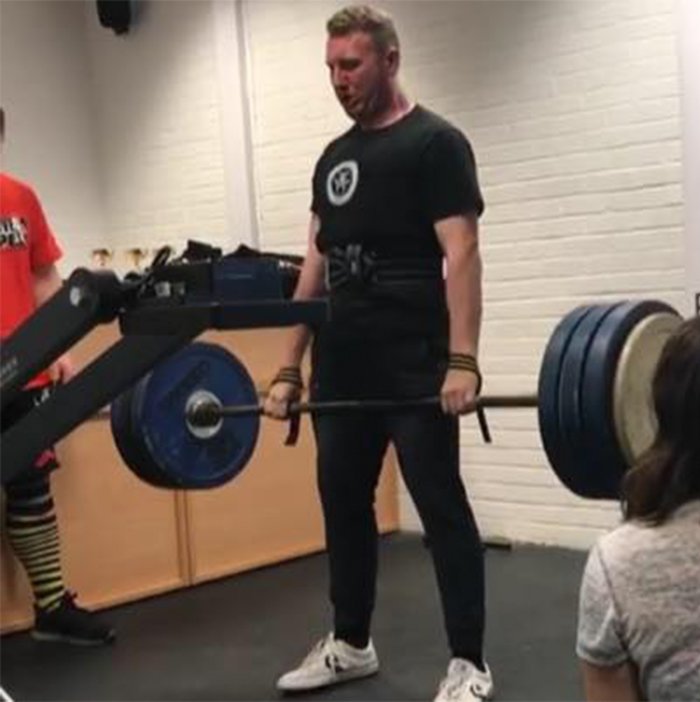 For Declan, SED was the primary reason for his poor health and high weight.
"I ate only certain types of food; mainly starch-based food and chocolate," Declan says.
This limited diet made it impossible for him to get the balance of nutrients that his body needed. The emotional struggles that Declan faced from his disorder only served to make his diet and health worse.
After a scary blood test, Declan finally had the motivation he needed to change. He began to improve his diet in ways that worked for him, while still making room for his favorite foods.
He also found another powerful motivator: The pro lifters competing in strongman and bodybuilding contests. Over the course of a year, he began to transform using the same intense disciplines that built his heroes.
This is Declan's story.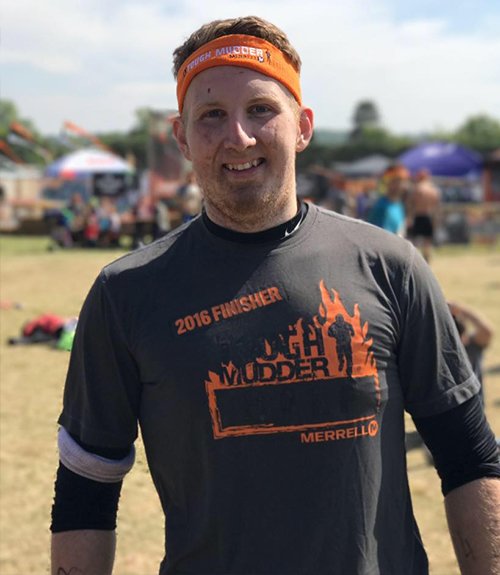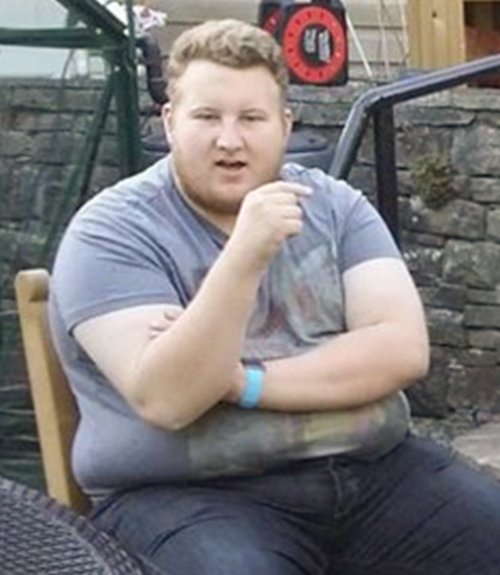 What motivated you to transform?
After many years of neglecting my health, my moods and sleep patterns became unbearably erratic. I went to the doctor's and took a blood test. It came back with results that were all borderline for a variety of health conditions. This hit me quite hard, as I had been in denial of my size for quite a long time. Accompanying this was the SED that I've had since I was three years old.
I was 386 pounds, but I didn't realized how big I was until I started losing weight.
How did you get into strongman training?
The first thing I did was start reading about proper nutrition and training. I looked at studies that had been done and learned about what I could do to change. I'd always wanted to try my hand at strongman competitions, so I looked for a gym that had all the equipment and ended up settling on the Commando Temple in London. I started going there to work out three days a week. I received lots of support from other people at the gym and they pushed me to train harder every single day.
I thought about quitting when it got hard, but who doesn't? On days that were tough, I would take a walk and listen to interviews or read articles with past bodybuilders like Arnold, Franco Columbu, Ronnie Coleman, and present fitness pros such as Calum von Moger, C.T. Fletcher, Ryan Terry, and Simeon Panda. Hearing their words reignited my passion for what I was doing. As I continued to push myself, the rewards kept on coming.
What did you learn about nutrition while trying to lose weight?
The first thing I learned about nutrition is that you can eat more and lose weight at the same time. Eating healthy foods high in protein and low in saturated fat is a perfectly legitimate way of losing weight. Starving yourself might work, but it's damaging your body at the same time. You need a good source of fuel to be at your best when you're working out!
It's all about burning off more calories than you consume per day. I recommend looking up your Total Daily Energy Expenditure (TDEE), then subtracting your total calories consumed from that. If you get anywhere between negative 200-400 you'll lose fat.
Did you use any supplements to help along the way?
The only supplement I took throughout my transformation was whey protein. I had two 1-ounce servings a day in a shake mixed with either water or skim milk. This was enough to help my muscles recover. I would have a shake immediately after working out and again right before bed. The rest of my protein I got from my diet.
What training approach did you use?
I started training regular bodybuilding three times a week and strongman three times a week, with one rest day. I also started doing cardio four nights a week, whether it was swimming 500 meters, running anywhere between 2-10 kilometers, or cycling. I've stuck with this cardio approach.
Today, my workouts are a bit different from regular workouts since I train in the strongman discipline. For strongmen, good cardio and maximum strength are the goal!
What was the biggest challenge in your transformation?
Keeping on a schedule was the thing that challenged me the most. Eating at the right time and training at the right time made my schedule difficult to follow. I overcame this by telling people about my training and my goals. It's surprising how consistent you can become when you let others know and have them to hold you accountable.
How have professional strongmen and bodybuilders helped to motivate you?
Listening to interviews and reading articles from fitness pros helped motivate me to put in the work necessary to lose weight and become a strongman myself. Now, due to my journey, I've had the opportunity to meet tons of fitness pros that I admire, including Hafthor Bjornsson (The Mountain from Game of Thrones), Laurence Shahlaei, Terry Hollands, C.T. Fletcher, Ryan Terry, and Simeon Panda.

How has Bodybuilding.com helped you reach your goals?
Throughout my journey I must have watched the series "Building Von Moger" 100 times. The more weight I lost, the more I watched those videos and thought to myself, "I can look like that one day." That day is still far away, but I'm much closer now than I was 15 months ago. I also read articles featuring Steve Cook, and read through the training and nutrition articles countless times for new ideas and ways to keep my training fresh.
What does your fitness future hold?
I plan on entering more powerlifting and strongman competitions. I would also like to cut down my remaining fat and get more into bodybuilding. Ultimately, though, the most important thing for me is that I continue to remain healthy.
Do you have any suggestions for people who see you as a role model now?
Start today! If you want to change, do it now. I used to be just like you. I would read the transformation articles on Bodybuilding.com all the time, but it took an alarming blood test to make me realize that I needed to change immediately. Don't wait as long as I did!
You don't need to make massive changes straight away, just change little things every week and eventually they will mount up to massive changes. Becoming fit and healthy is a marathon, not a sprint.
Finally, tell people about your goals and your aspirations. Having other people to hold you accountable will help to make them happen.

Follow Declan's fitness journey on his Instagram page. 
Do you have a transformation of your own that you want to share with our community? Send us your story.
If you or someone you know might be dealing with an eating disorder, there are experts who can help you. Reach out to the National Eating Disorders helpline, and talk to a doctor before starting any fitness or nutrition program.
References
1. Zimmerman, J., & Fisher, M. (2017). Avoidant/Restrictive Food Intake Disorder (ARFID). Current Problems in Pediatric and Adolescent Health Care, 47(4), 95-103.