Dani Grey is a mom of two boys who found herself carrying extra weight after her second child was born. By the time her youngest was 2, Grey was 230 pounds at only 5-feet-2-inches tall.
She felt lazy and tired. She overate constantly. And, she wasn't happy. What she saw in the mirror was not the person she knew herself to be. Just as bad, she said, was the poor example she was setting for her kids.
"There were some days I didn't even want to take them to the playground because the thought of leaving my house was exhausting," she recalls. "But then one day, I woke up and knew that I could do better. Not only physically, but mentally, too."
Soon, she dropped almost 120 pounds and earned a spot as a BPI Sports-sponsored athlete, but this wasn't the end of her transformation.
This is her story.
Snapshot: Dani Grey
Height: 5' 2"
Weight: 112 lbs
Occupation: Data Technician
Location: Pittsburg, PA
Social Links: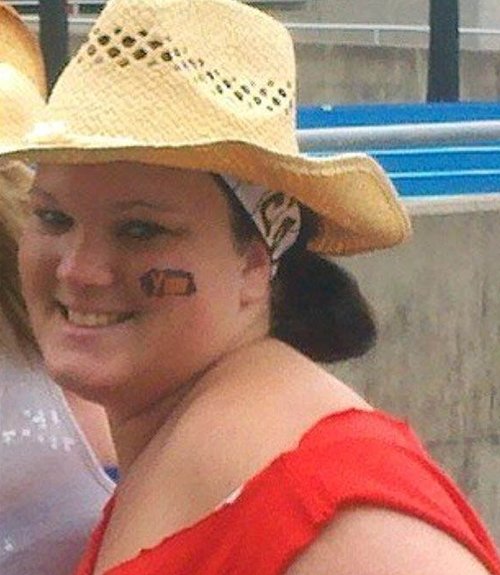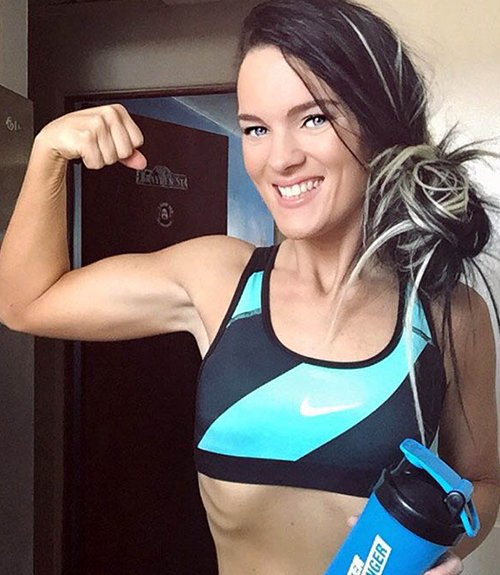 What prompted your transformation?
It was clear that I needed to change my life. I was starting to work out, but I wasn't fully committed yet. I was lifting in our home gym, when my kids came in one day and started lifting two-pound dumbbells with me and pretending to be their favorite bodybuilder, [four-time Mr. Olympia winner] Jay Cutler, asking each other, "Do you even lift bro?" and counting their abs. It was a great moment that I will never forget. I realized fitness could be fun for my kids, too, and that's when I really committed.
How did you accomplish your goals?
I always played sports growing up. I even wrestled in high school, which is not common for girls. I didn't realize just how active I was when I was young, and how being involved in so many activities had kept me fit. Food didn't affect me much, then. But suddenly, it did.
So, the first thing I did was create a diet plan for myself, and then I started meal prepping. I knew a lot of the weight gain and unhealthy habits were primarily due to what I was eating.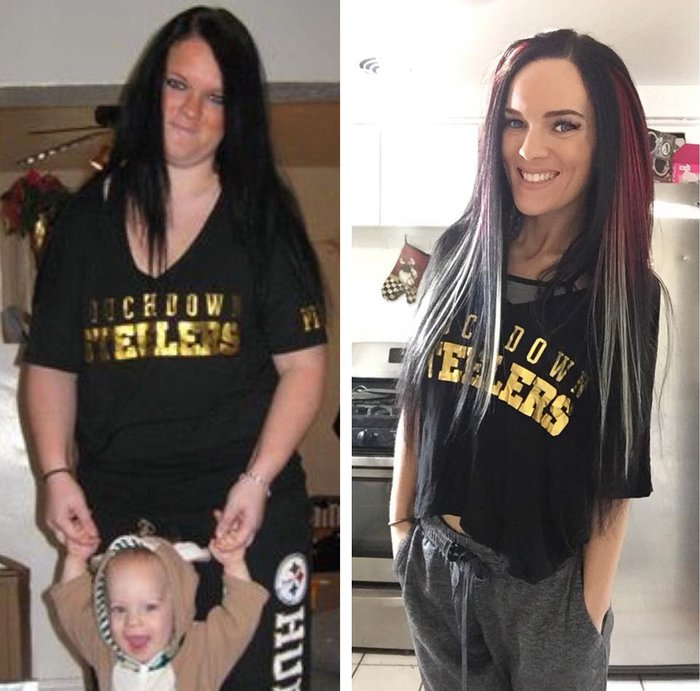 Lifting became my therapy. I never thought about quitting, although some days were better than others. It will always be that way. Overall, I was focused and knew where, and who, I wanted to be. I just didn't know how long it would take me to get there.
What training regimen did you follow?
At the beginning of my weight-loss journey, I didn't have a specific plan. I would do 40 minutes of cardio on an exercise bike each day, then do focused lifts for different body parts on different days of the week.
When I was a year into my transformation, James Grage, the co-founder of BPI Sports, made an Instagram post saying he was looking for people to train on his new 60-Day Revolution program. We had to send a short video telling him why we wanted to do it, and I was picked as one of three people in the United States to do the program.
At that point, I was looking to lose 30 pounds that I couldn't seem to lose on my own. Not only did the program help me to lose that extra weight, but James himself made me a better person. My problem had always been in setting goals within my comfort zone. Yet the best thing I ever did was step out of there, dream bigger than I ever imagined, and do things I never thought I could.
What supplements helped you?
BPI Sports Iso-HD (post-workout)
BPI Sports Best BCAA (intra-workout)
BPI Sports 1-MR (I didn't always need a pre-workout, but on days I struggled to find the motivation to get in and lift, this was my go-to).
BPI Sports B4 Fat Burner
What diet plan helped you transform?
Meal 1: Omelet with 3-4 eggs, spinach, and turkey bacon
Meal 2: Lean ground turkey on a wrap or mixed with salad
Meal 3: Chicken and rice with broccoli or asparagus
Snacks and extra meals depended on my gym routine for the day. On lower-body days, I would add more carbohydrates than the other days.
What aspect challenged you the most?
The dieting—and it's still a challenge! But, I have noticed that if I am focused on a specific goal and set a timeline to reach it, everything seems easier, and I don't have any desire to eat anything other than what I've planned. I've learned to eat foods to fuel my body, and I avoid junk food and snacks. It doesn't matter if I'm bored or craving something: If it's not fueling me, I avoid it.

How did you become a BPI Sports athlete?
I did such a great job with the transformation program that I was offered the job with BPI afterward. They have always supported my fitness goals and are such a great company to work for. I've been with them for three years now. I am not a salesperson, I simply promote things that I believe in. Every product I've used from them has helped me to reach my goals quicker. I am grateful to have them supporting me and watching alongside my journey! They have given me the opportunity to expand my social following and to do what I love, inspiring people who have parallel fitness struggles and journeys.
What are your future fitness plans?
I just started going to school with the Iron City Wrestling Academy (ICWA) here in Pittsburgh, Pennsylvania. I'm officially training to become a pro wrestler! I would never have gotten through that tryout if it wasn't for being in amazing shape, both physically and mentally. The first thing I had to do for the tryout was 200 bodyweight squats! My study with ICWA includes one mandatory class per week, and I'm also working as crew for events.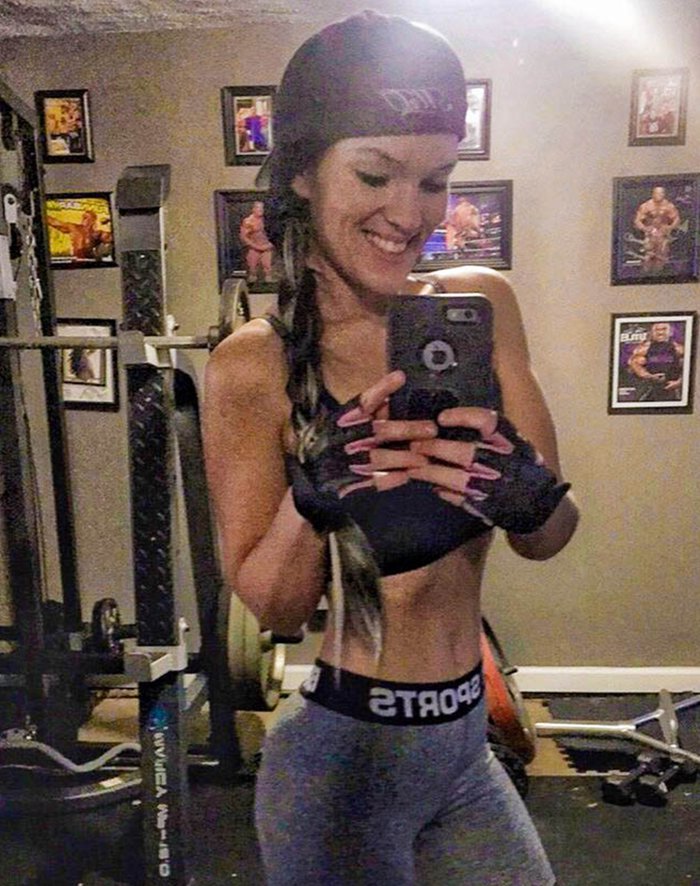 Being a fitness model is great, and I'm doing that, too, but nothing beats the passion that I have for what I am doing with wrestling. I'm kicking butt, dreaming big, and looking forward to my career change! I was not made to sit at a desk for eight hours a day.
Do you have any suggestions for aspiring transformers?
Sometimes I need to remind myself that being fit and happy doesn't always mean having a six-pack or eating less. In my daily life, I work at a pharmacy, take care of two kids and two dogs, and maintain a home. A lot of things come before what I want to do for myself. So, I had to learn to prioritize my life. As a mom, this was hard for me to understand, because my kids always come first. Yet it's possible to put the needs and wants of your family ahead of your own, while still prioritizing and managing your time to make fitness a part of your life. It's not always easy, but if you want it bad enough, you can do it.
Also, you need to learn to be happy with your body in all stages, and love yourself. Doing that helped me to find happiness.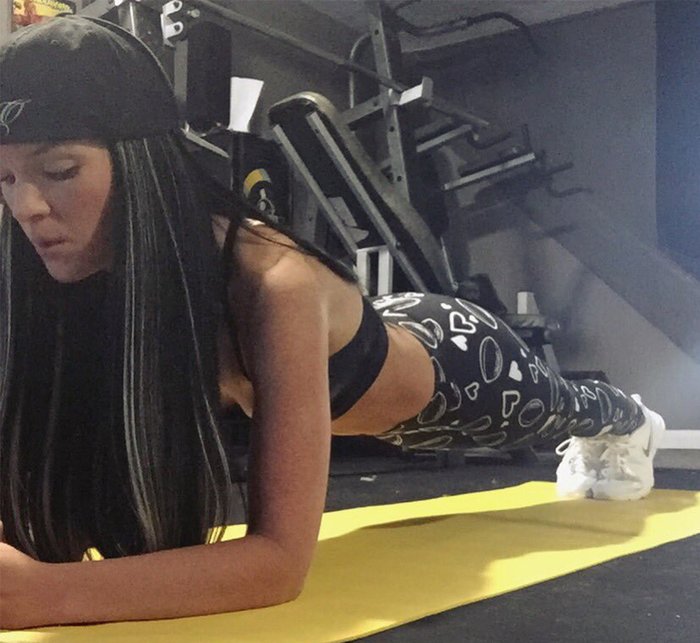 Don't ever stop believing that you can achieve the goals you set for yourself. You are your worst critic, but you're also the only one who has control over your life.
Lift the weights, eat right, and be the one that steps in and takes the wheel. Thinking about it doesn't make it happen. Day in and day out, put in the work.
How did Bodybuilding.com help you reach your goals?
I always buy all my supplements on Bodybuilding.com. They have the best deals and always have great sales on the brand I use. I've read past transformation articles and picked up a lot of fitness tips and advice from the website.