Does a sink full of shaker bottles have you singing the protein shake blues? Good news: With a little kitchen creativity and dash of cooking panache, you don't have to drown in a sea of shakers.
Gain all of whey protein's muscle-building benefits in complete meal form with these recipes, which offer delicious ways to incorporate protein in everything from breakfast smoothies and pancakes to dessert bars and brownies. Whip up one of these concoctions—they're sure to meet your macros and leave you in a better mood.
1. PB&J Protein Smoothie
IFBB Pro Alex Carneiro knows that going low(er) carb can be rough. Not only do you have to limit your bread intake, but childhood favorites are off limits—crustless peanut butter and jelly, anyone? Well, there's good news. It turns out you can have your protein PB&J and drink it, too!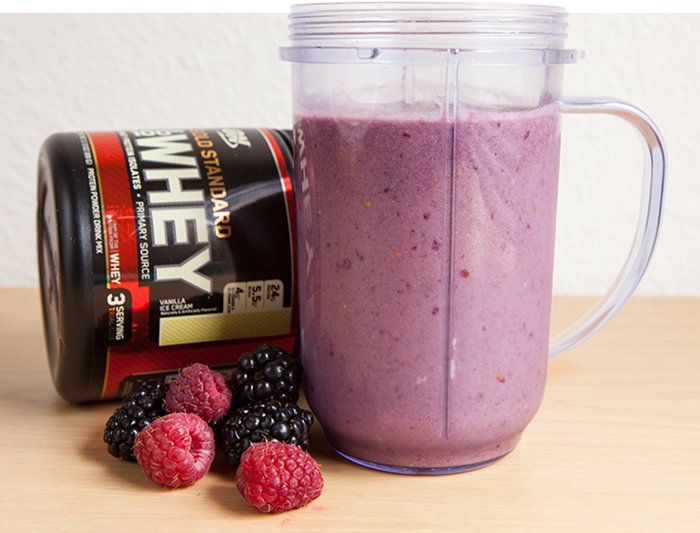 Ingredients
Optimum Nutrition Gold Standard 100% Whey Vanilla Ice Cream 1 Scoop
Almond Milk (unsweetened) 1 Cup
Peanut Butter 1 Tbsp
Raspberry preserves (Stevia sweetened) 2 Tsp
Raspberries 1/4 Cup
Blackberries 1/4 Cup
Ice 1 Cup
Directions
Blend all ingredients together.
Enjoy your super shake!
Nutrition Facts
Serving Size (1 shake)
Recipe yields 1 serving
Calories 347
Total Fat 9.5 g
Total Carbs 38 g
Protein 32 g
2. Sunrise Smoothie
Mornings can be rough. You wake up late, head into work flustered, and spill your morning cup of Joe on your new shirt. Follow Alex's suggestions: Lessen the blow and nix the caffeine with a sweet protein treat.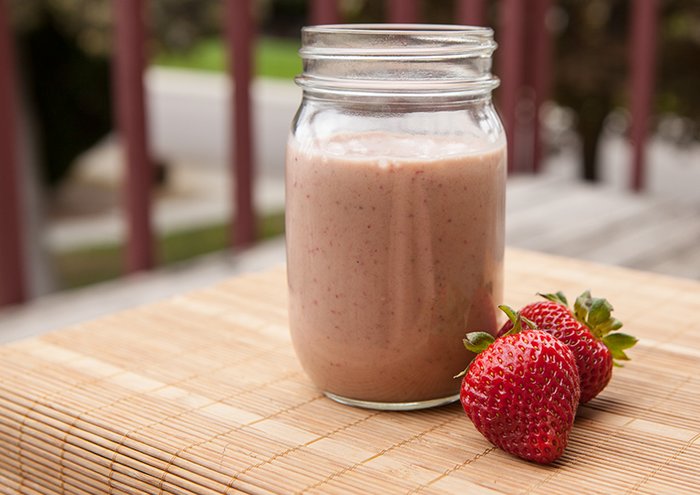 Ingredients
Directions
Blend all of the ingredients together.
Slam it!
Nutrition Facts
Serving Size (1 shake)
Recipe yields 1 shake
Calories 394
Total Fat 8.6 g
Total Carbs 37.5 g
Protein 29.8 g
3. Peanut Butter-Coconut Craving
Athlete Stephanie Toomey makes this shake every morning. The combination of coconut and almond milk makes for a silky smooth base, while peanut butter kicks the flavor profile up a notch. Go nuts with this flavor combination!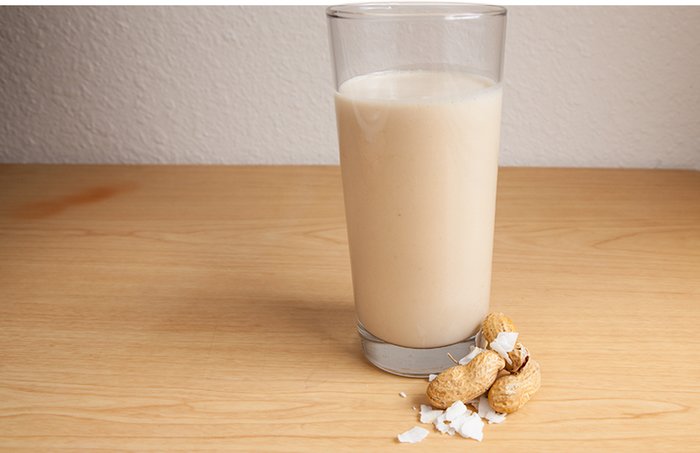 Ingredients
Directions
Blend and freeze.
Remove from freezer five minutes before serving. Enjoy!
Nutrition Facts
Serving Size (1 shake)
Recipe yields 1 shake
Calories 350
Total Fat 21 g
Total Carbs 7.5 g
Protein 29.3 g
4. Almond Butter Protein Pancakes
National bikini competitor Lindsey Renee prefers her protein in pancake form. Who could say no to a sizable stack of flapjacks first thing in the morning? Forget the tasteless, frozen variety and dig into these freshly baked hot cakes instead.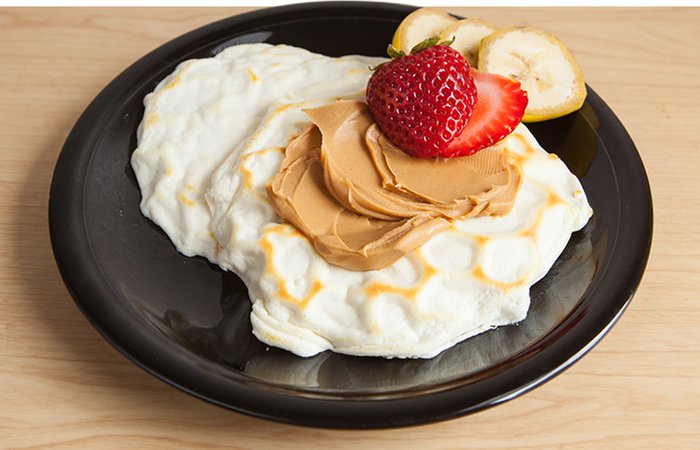 Ingredients
Directions
Mix ingredients in a bowl. If needed, add a bit more water.
Cook over medium heat.
Plate and spread 1 tbsp almond butter on top of the pancakes.
Sprinkle with 1 packet Splenda and drizzle with maple syrup.
If desired, add a few strawberries and bananas for deliciousness!
Nutrition Facts
Serving Size (2-3 pancakes)
Yields 1 serving
Calories 145
Total Fat 1.3 g
Total Carbs 3.6 g
Protein 34.8 g
5. Morning Breakfast Shake
Need a powerful morning punch? Noah Siegel has just the recipe. Peanut butter? Good. Berries? Good. Oatmeal? Really good! Really, what's not to love about this shake? With a healthy dose of healthy fats, vitamin C, fiber, and protein, it's a well-rounded meal in a glass.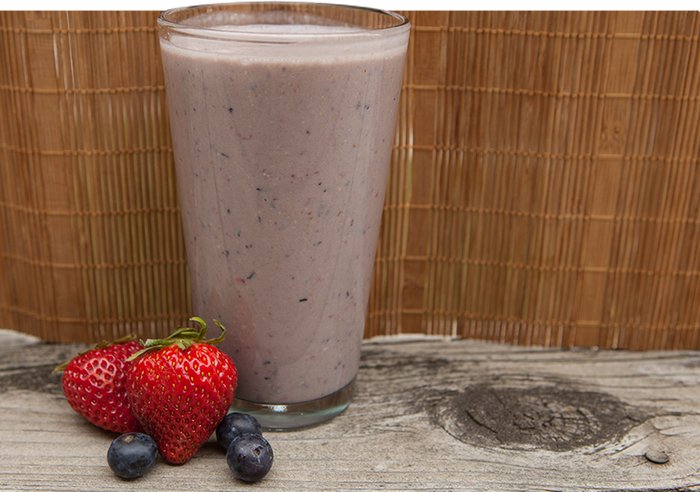 Ingredients
Directions
Blend ingredients together.
Enjoy!
Nutrition Facts
Serving Size (1 shake)
Recipe yields 1 shake
Calories 599
Total Fat 12 g
Total Carbs 46 g
Protein 57 g
6. Banana Pancakes
Why limit banana flavor to bread? Try this recipe by Jaquelyn Kastelic, Optimum Nutrition athlete and owner of Crossfit Unrivaled. Break the standard baking mold by serving up a batch of these fruit-flavored pancakes.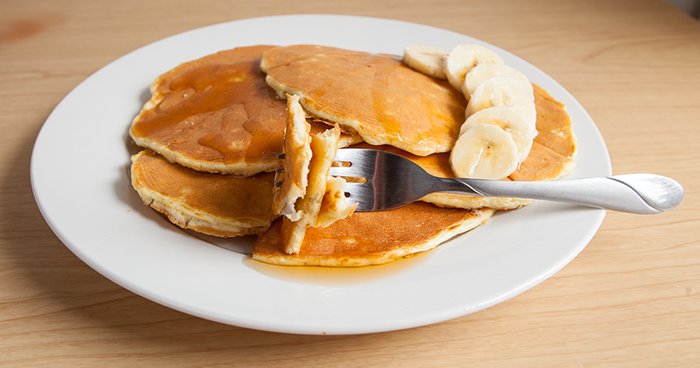 Ingredients
Coconut Flakes 1/4 Cup (Unsweetened)
Optimum Nutrition Gold Standard 100% Whey Vanilla Ice Cream 1-2 Scoops
Whole Eggs 6
Coconut Oil 1 Tbsp
Banana 1 (whole)
Cinnamon to taste
Syrup to taste (Suger-free)
Directions
Preheat your pan to 300 degrees.
In a bowl mix eggs, 1/4 cup coconut flakes, 1/2 of a mashed up banana, and 1/2 drop liquid Stevia.
Melt coconut oil in microwave and add to mix.
Stir in flax meal and protein to a desired creamy consistency. Add cinnamon.
Pour on pan and cook a few minutes on each side.
Once all pancakes are made, slice up the remaining 1/2 banana and top the pancakes with zero-calorie maple syrup.
Nutrition Facts
Serving Size (1 pancake)
Recipe yields 8
Calories 127
Total Fat 6.5 g
Total Carbs 5.5 g
Protein 11.7 g
7. Pumpkin Protein Bars
Power-up on protein with these tasty bars! Spices like cinnamon and clove will awaken your flavor palate while alternatives to butter like applesauce spell a lower fat content while still providing the moisture necessary for a delicious cake.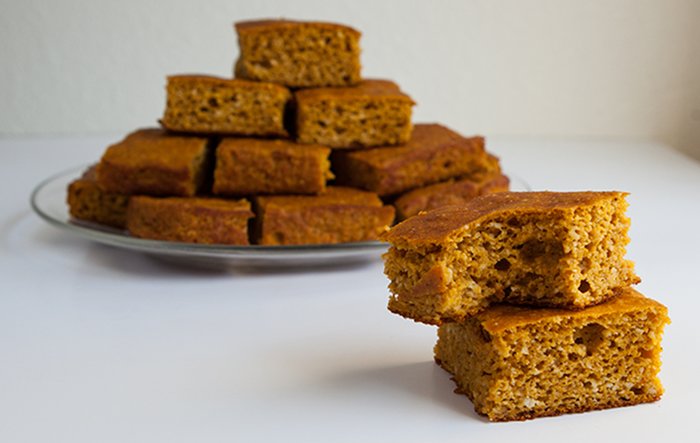 Ingredients
Stevia Powder 1-2 Tsp
Applesauce 4 oz (Baby Food Jar)
Cinnamon 2 Tsp (Ground)
Ginger 1 1/2 Tsp (Ground)
Clove 1/2 Tsp (Ground)
Baking Powder 1 Tsp
Baking Soda 1 Tsp
Salt 1/2 Tsp
Vanilla Extract 2 Tsp
Egg Whites 4 Large
Can of Raw Pumpkin 15 oz
Oats Flour 2 Cups
Optimum Nutrition Gold Standard 100% Whey Vanilla or White Chocolate 2 Scoops
Walnuts Chopped 1/2 Cup
Directions
Preheat the oven to 350 degrees Fahrenheit.
Spray a 9 X 13 Pyrex dish with non-stick spray.
Combine first 11 ingredients and mix well.
Add the final 3 ingredients and mix together.
Spread batter into the Pyrex dish and bake for 30 minutes.
Allow to cool. Then cut into 30 squares.
Nutrition Facts
Serving Size (1 square )
Recipe yields 30
Calories 41
Total Fat 0.5 g
Total Carbs 6.2 g
Protein 2.9 g
8. High-Protein Ezekiel French Toast
Breakfast doesn't have to come in the form of a protein shake. Serve up healthy slabs of French toast for your next brunch with this recipe from Noah Siegel.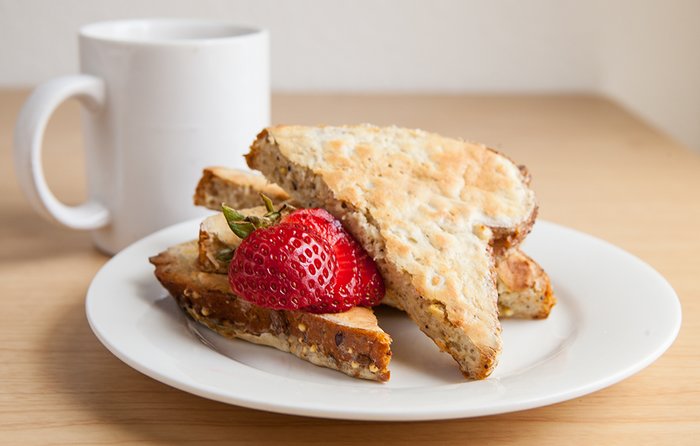 Ingredients
Ezekiel Bread 2 Slices
Cinnamon 1 Tsp
Optimum Nutrition Gold Standard 100% Whey Cinnamon Graham Cracker protein 1 Scoop
Directions
Spray pan with non-stick spray and place on medium heat.
Combine egg whites, protein powder, and cinnamon together in a large casserole dish.
Place a slice of Ezekiel bread in mixture and let each side sit until thoroughly saturated with mixture.
Place bread in pan, turning so both sides get done before the center is completely cooked. Make sure temperature is low enough to cook thoroughly without burning.
Remove from pan and let cool for about 2 minutes. Add toppings.
Nutrition Facts
Serving Size (2 slices)
Recipe yields 1 serving
Calories 334
Total Fat 2 g
Total Carbs 34 g
Protein 45.7 g
9. Mocha-Cappuccino-Cinnamon Brownies
Get your coffee fix in protein brownie form with this recipe from IFBB Pro Bikini competitor Anna Starodubtseva.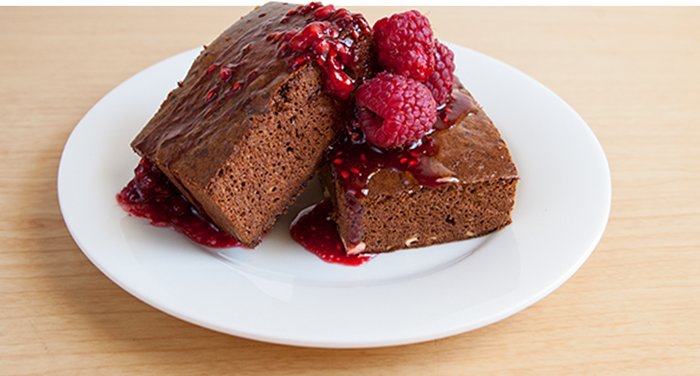 Brownie Ingredients
Eggs 2
Cream Cheese 8 oz (Fat-Free Philadelphia)
Optimum Nutrition Gold Standard 100% Whey Mocha Cappuccino 4 Scoops
Cocoa Powder 3 Tbsp (Raw)
Truvia 4 Tsp
Cinnamon 2 Tbsp (Ground)
Baking Powder 1 Tsp
Vanilla Extract 1/2 Tsp
Fresh Expresso 1 Shot
Directions
Blend egg white separately from yolks until they become foam.
Add yolks, Truvia, cacao powder, cinnamon, baking powder, Fitness Fiber, and protein powder and mix in a blender.
Manually mix in cream cheese.
Bake for 30 minutes.
Optional
Sauce Ingredients
Raspberries 5 oz
Stevia
Coconut Oil 2 Tbsp
Directions
Heat a pan with coconut oil.
Mix berries with Truvia in a bowl. Cook on medium heat for 3-5 min until the juice comes out of the berries.
When the brownies are ready, place them in a fridge for two hours. Serve with warm berry sauce on top.
Nutrition Facts
Serving Size (1/5 of batch)
Recipe yields 1 batch
Calories 204
Total Fat 3.9 g
Total Carbs 14.4 g
Protein 31 g