I love eating at restaurants. The food is delicious, and usually much different than my typical at-home fare. However, I'm a fit, calorie-conscious person, and eating at restaurants isn't something I do very often. I say that with some regret because eating a restaurant meal means I didn't have to plan, cook, or clean up after myself!
Instead of wallowing in my linen-napkinless life, I decided to bring the restaurant to my kitchen. By reworking the ingredients and restructuring the recipes, I have completely remodeled five of my favorite restaurant meals.
Each of these recipes is gluten-free, contains no added sugar, and comes complete with zero guilt. They're all 175 calories or fewer and packed with all-natural, nutrient-dense ingredients. Your healthy diet does not mean you'll be stuck with microscopic portions of bland food.
With these ideas in your fit-recipes stash, you'll be able to add more yum into your diet!
1
COCONUT SHRIMP WITH SWEET AND SPICY DIPPING SAUCE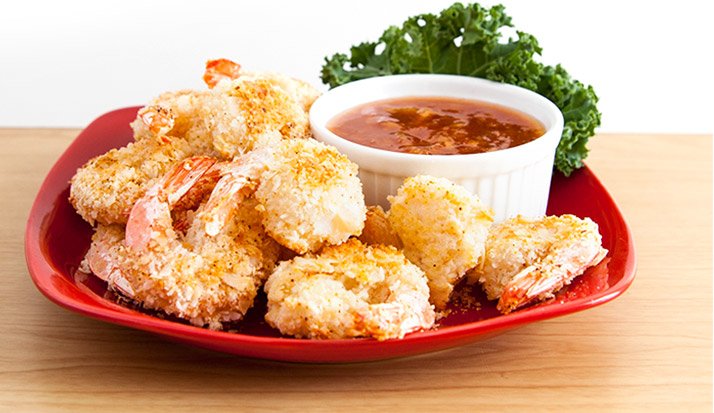 This recipe was a serious hit with my taste tester. With under a third of the calories found in your standard restaurant version and none of the gluten, this recipe is perfect for any fit kitchen. Because the recipe is super simple, it's doable for even the most novice cook. It's great for an appetizer, party snack, or main dish!
Ingredients

---
---
---

---

---
sugar free marmalade
4 tbsp
---

---

water
---
Directions
Preheat oven to 375 degrees F.
Whip egg whites until stiff peaks form.
In a separate bowl, add Stevia to unsweetened coconut flakes and mix well.
One at a time, coat shrimp in cornstarch, then coat in whipped egg whites. The more volume the better.
Coat the shrimp in coconut flakes, and place on parchment paper or a silicone baking sheet.
Bake at 375 degrees for 10-15 minutes, turning over after about 7 minutes. Because there is no flour on the shrimp, they will not turn golden brown like a typical breaded shrimp. When they are done, the coconut will be toasted and the tail will be pink. The egg white, if exposed, will still be white.
While the shrimp are in the oven, mix marmalade with Sriracha. More chili sauce will give it more heat. Add a little water to thin out the dipping sauce. The entire amount of dipping sauce is only 40 calories, so dip to your heart's content!
---
Nutrition Facts
Serving Size: 4 shrimp
Recipe Yields: 6
Amount per serving
Calories 168
2
CRISPY CHICKEN WITH SWEET MUSTARD DIP
If you're missing the crispy goodness of fried chicken, this recipe will fill the void. A typical serving of fried chicken has about 325 calories. This recipe has only half the calories—with just as much crunch and flavor! I listed the spices I like to use, but you could easily omit some or add your own to personalize the flavor.
Ingredients
---
---

---

---

---

---
boneless chicken breast
20 oz
---
olive oil spray
---
nonfat greek yogurt
1 tbsp
---

---
---
Directions
Preheat oven to 350 degrees F.
Place cereal in a bag. Use a rolling pin or can to crush into small pieces. Be careful not to turn it into a powder.
Place crushed cereal in a large bowl and add onion, salt, and pepper. Mix well.
In a separate bowl, mix the egg whites and water, and stir well.
Pat the chicken dry with a paper towel.
Dip a piece of chicken into the egg whites and allow the excess to run off.
Dip chicken in the cereal mixture. Press down to help it stick. Coat thoroughly.
Place chicken on a baking sheet and lightly spray each piece with olive oil spray.
Bake at 350 degrees for 8-10 min. Flip the chicken and spray lightly. Bake another 8-10 min.
As chicken bakes, mix together Greek yogurt, mustard, and sweetener to make dipping sauce.
---
Nutrition Facts
Serving Size: 4 oz
Recipe Yields: About 5
Amount per serving
Calories 169
I made this variation to replace the Mongolian BBQ I missed so much after giving up gluten. Sadly, soy sauce and noodles have gluten. I promise this is filling and yummy, even without the noodles!
Ingredients

---
---
---
---
Gluten-free szechuan sauce
to taste
---
---

---
---
---
Directions
Add turkey, onion, garlic, and pepper to a large wok or pan and cook over medium heat until turkey is lightly browned.
Add eggplant and Szechuan sauce. Cover and cook, stirring occasionally, until eggplant is browned.
Add bamboo, water chestnuts, sprouts, cilantro, and liquid aminos or soy sauce.
Cover and let simmer for about 8 more minutes.
---
Nutrition Facts
Serving Size: 1/5 recipe
Recipe Yields: 5
Amount per serving
Calories 175
This recipe has a Tex-Mex-inspired flavor. Once the chicken is prepared, you can use it in tacos, serve it over rice, or even try it in burritos. This is by far one of the easiest things in the world to cook; you can use your rice cooker or crock pot to make it. It only has a handful of ingredients and is a healthy and delicious way to eat chicken.
This recipe can feed an army; it will make 12 4-ounce servings. I usually prepare a week's worth at once. If you want to make less, divide all the ingredients accordingly.
Ingredients
---
---
---
---

red chili peppers
1/4 cup
---
Directions
Put all ingredients in the slow cooker, and mix by folding them over a few times.
Set the cooker for 4 hours or more. From my experience, you can't really overcook this recipe. I've set it for 6 hours and it turned out the same. I've even put in frozen chicken and cooked for 7 hours. It still turned out great.
When it's finished, stir the contents. The chicken should fall apart without much effort on your part. This is a sign it is done.
Serve how you like! My personal favorite is on black rice with a little avocado and lime juice.
---
Nutrition Facts
Serving Size: 1/12 of recipe
Recipe Yields: 12
Amount per serving
Calories 120
5
TURKEY BURGER ON EGGPLANT BUN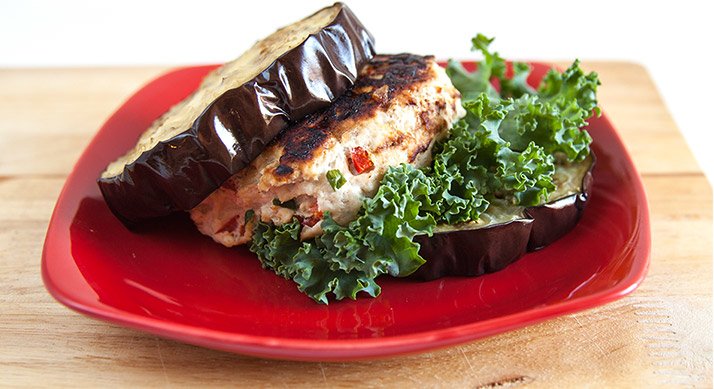 This is a great way to satisfy your craving for a delicious, juicy burger without having to worry about the extra carbs or calories you'd get with a regular bun. These burgers are moist and full of flavor. I hope you like them!
Ingredients
---

---
olive oil
---

---

---
---
bell pepper
1/2 cup diced
---
---
---
Directions
Put eggplants into large bowl and fill with water. Add salt.
Stir until salt is completely dissolved. Trim ends off eggplant and slice into pieces about 3/4 inch thick.
Soak eggplant in salt water for at least 20 minutes. They will float, so cover with something heavy to keep the slices of eggplant submerged.
Remove from salt water and pat dry. Lightly spray or brush with olive oil and place on an oven tray. I find that a tray with slits works best.
Broil the eggplant 8 inches from heat for 5-7 minutes, or until slightly browned. Flip, lightly oil, and broil for another 5-7 minutes.
While eggplant cooks, combine turkey, egg whites, flaxseed, bell peppers, shallots, and garlic in a bowl. Mix well.
Form 7 patties from the meat and place them on a cookie sheet.
Broil patties about 8 inches from heat until they are slightly brown. Flip over and broil another 5-7 minutes. You can also grill them if you prefer, but I find they hold together better on the cookie sheet.
Place a patty between two slices of eggplant. Add condiments of your choice, but keep in mind they will add calories not calculated in my total. I like to eat these with some nutritional yeast sprinkled on top for a cheesy taste and some kale for texture.
---
Nutrition Facts
Serving Size: One burger with bun
Recipe Yields: 7
Amount per serving
Calories 149