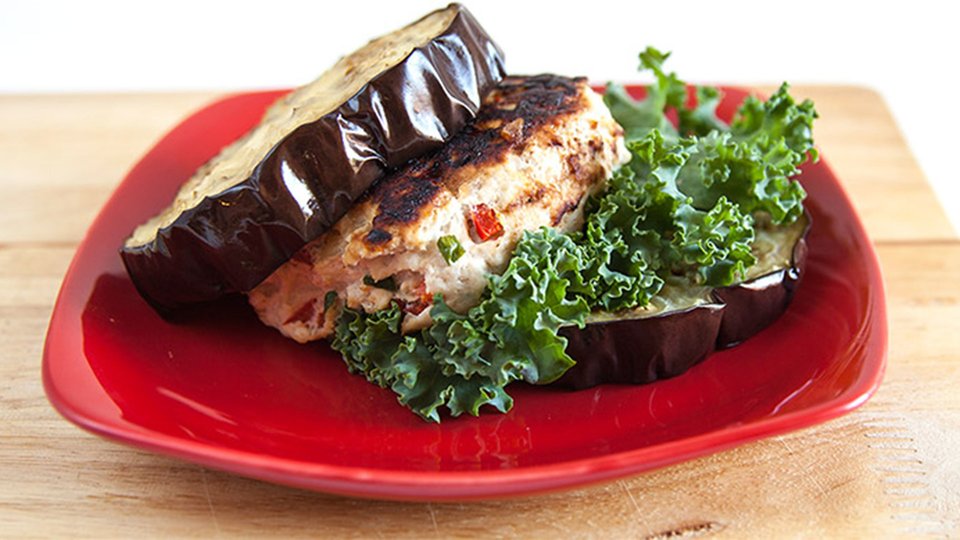 This is a great way to satisfy your craving for a delicious, juicy burger without having to worry about the extra carbs or calories you'd get with a regular bun. These burgers are moist and full of flavor. I hope you like them!
Ingredients
2 eggplant, peeled (yield from 1-1/4 lb) eggplant
2 tbsp salt
1 lb ground 99% fat-free turkey breast
3 egg whites
4 tbsp chopped shallots
½ cup diced red bell pepper
2 tbsp ground flaxseed
1 tbsp garlic, minced
Directions
Put eggplants into large bowl and fill with water. Add salt.
Stir until salt is completely dissolved. Trim ends off eggplant and slice into pieces about 3/4 inch thick.
Soak eggplant in salt water for at least 20 minutes. They will float, so cover with something heavy to keep the slices of eggplant submerged.
Remove from salt water and pat dry. Lightly spray or brush with olive oil and place on an oven tray. I find that a tray with slits works best.
Broil the eggplant 8 inches from heat for 5-7 minutes, or until slightly browned. Flip, lightly oil, and broil for another 5-7 minutes.
While eggplant cooks, combine turkey, egg whites, flaxseed, bell peppers, shallots, and garlic in a bowl. Mix well.
Form 7 patties from the meat and place them on a cookie sheet.
Broil patties about 8 inches from heat until they are slightly brown. Flip over and broil another 5-7 minutes. You can also grill them if you prefer, but I find they hold together better on the cookie sheet.
Place a patty between two slices of eggplant. Add condiments of your choice, but keep in mind they will add calories not calculated in my total. I like to eat these with some nutritional yeast sprinkled on top for a cheesy taste and some kale for texture.