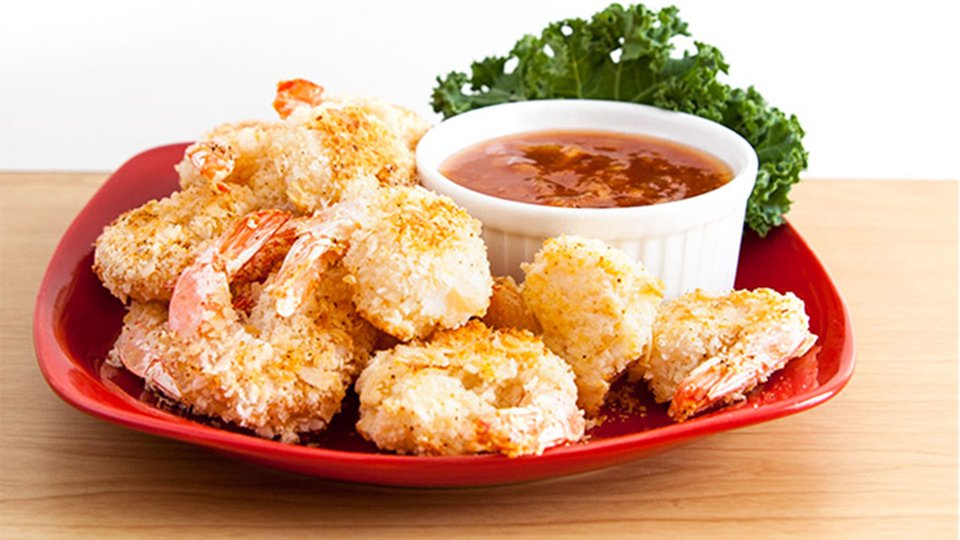 This recipe was a serious hit with my taste tester. With under a third of the calories found in your standard restaurant version and none of the gluten, this recipe is perfect for any fit kitchen. Because the recipe is super simple, it's doable for even the most novice cook. It's great for an appetizer, party snack, or main dish!
Ingredients
3 egg whites
2 tbsp powdered Stevia
6 tbsp dried unsweetened coconut flakes
24 shrimp small shrimp, peeled and deveined
3 tbsp corn starch
4 tbsp marmalade, reduced sugar
½ tsp red chili sauce
Directions
Preheat oven to 375 degrees F.
Whip egg whites until stiff peaks form.
In a separate bowl, add Stevia to unsweetened coconut flakes and mix well.
One at a time, coat shrimp in cornstarch, then coat in whipped egg whites. The more volume the better.
Coat the shrimp in coconut flakes, and place on parchment paper or a silicone baking sheet.
Bake at 375 degrees for 10-15 minutes, turning over after about 7 minutes. Because there is no flour on the shrimp, they will not turn golden brown like a typical breaded shrimp. When they are done, the coconut will be toasted and the tail will be pink. The egg white, if exposed, will still be white.
While the shrimp are in the oven, mix marmalade with Sriracha. More chili sauce will give it more heat. Add a little water to thin out the dipping sauce. The entire amount of dipping sauce is only 40 calories, so dip to your heart's content!